The Eagles' Massive Offseason Gamble Is Already Coming Back to Haunt Them
Following a shocking Week 1 victory over the Atlanta Falcons, the Philadelphia Eagles are seemingly coming back to down to earth.
They lost an ugly game at home to the San Francisco 49ers in Week 2 and were absolutely massacred by the Dallas Cowboys on Monday Night Football in Week 3. They lost 41-21 — one of the more embarrassing losses in team history.
A lot of issues are plaguing the Eagles at the moment. The coaching is below average. The quarterback play is poor. Injuries are stacking up, etc. However, one specific offseason gamble must be highlighted following back-to-back poor showings from the team's offense.
Eagles first-round pick DeVonta Smith is off to a slow start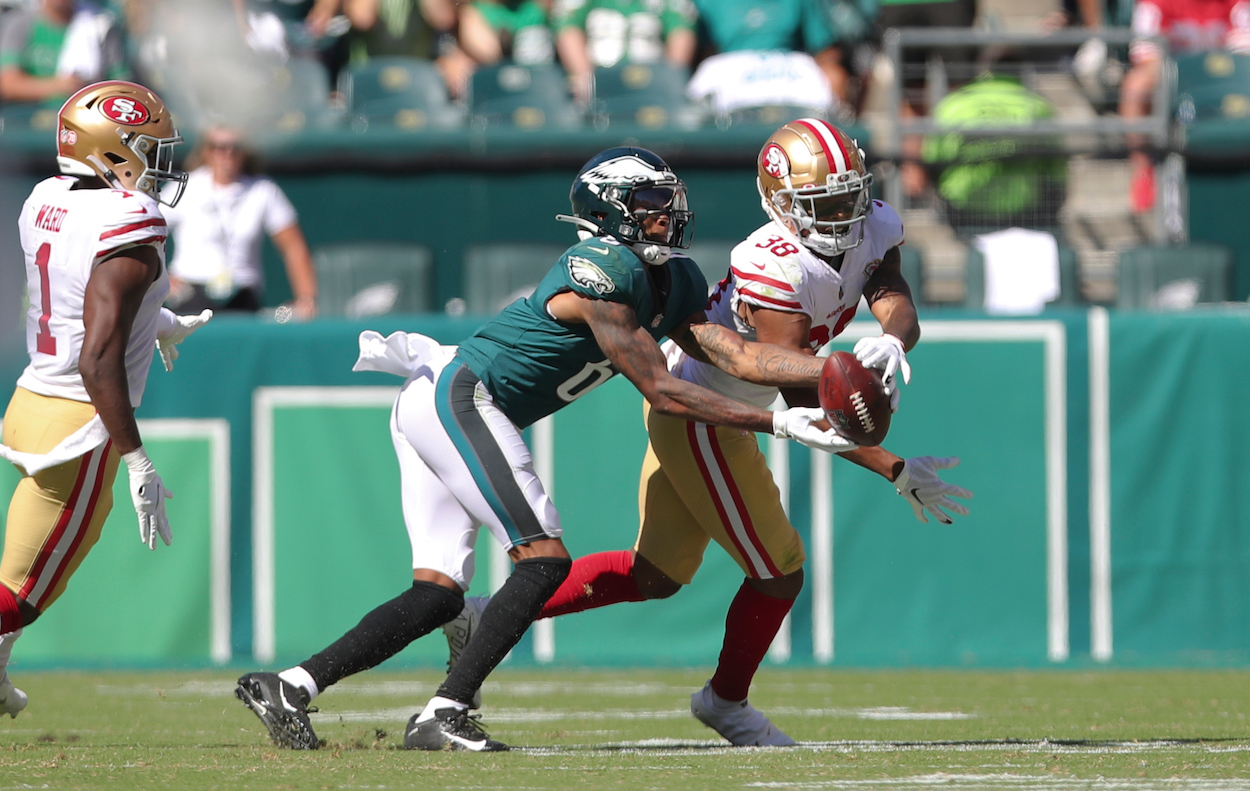 The Eagles entered the 2021 NFL Draft with a long list of needs. Many speculated the team would go full "rebuild" and draft a new quarterback or left tackle, while others hoped the organization would prioritize the defensive side of the ball for a change.
Instead, Eagles general manager Howie Roseman double-downed on his desire for a young, flashy offensive star and drafted Alabama wide receiver DeVonta Smith. Technically speaking, Roseman actually traded up for Smith, leap-frogging the New York Giants on draft night. However, it's worth mentioning the Eagles were initially set to draft sixth overall before trading down to 12 and then back up to 10 for Smith.
Most Eagles fans were ecstatic with the selection. Smith is coming off a Heisman-winning season, and Philly has been void of a true WR1 for quite some time.
However, just a few games into his rookie season, Smith's biggest flaw is starting to shine through. This flaw caused many analysts to label the Eagles' selection of Smith in the top-10 as a serious gamble.
Smith is struggling to create separation
The biggest knock on Smith coming out of college was his size. More specifically, his body weight. Websites around the internet vary with what they list Smith at. However, a combine report from Albert Breer had him clocked in at 6-foot, 166 pounds.
That is extremely light.
The fear from scouts and analysts alike was that Smith's lack of overall size and muscle would cause him to struggle with creating separation against bigger, stronger defensive backs in the NFL. This didn't look like it would be a problem after an impressive Week 1 debut. However, the two games after were a completely different story.
Smith caught a measly two passes for 16 yards against the 49ers (seven targets) and three passes for 28 yards against the Cowboys (six targets). Smith noticeably struggled against Cowboys CB and former teammate Trevon Diggs, who plays at roughly 195 pounds.
While it'd be easy to chalk Smith's struggles up to Jalen Hurts playing poorly, a closer look at some in-depth numbers tells a different story. According to Next Gen Stats, Smith is currently averaging 2.0 yards of separation. That ranks sixth-worst in the NFL.
Yes, you read that correctly — sixth-worst in the entire NFL.
What should the Eagles do?
It's still extremely early, but this number should be an alarming one to Eagles coaches and front-office executives.
At such a small body weight, the only way Smith will survive in the NFL is by creating acres of separation. He's simply too skinny to thrive as a contested-catch specialist. Most NFL corners weigh in at 190-plus pounds; they'll have zero issues beating Smith at the catch point.
The Eagles' new-look coaching staff will presumably look to manufacture more touches for Smith moving forward. However, that's a bandaid solution to a much greater problem. Smith is a top-10 pick who is supposed to be an elite route runner. He should be able to get open by his lonesome.
Jaylen Waddle, for example, is another undersized WR who the Miami Dolphins drafted in the top-10 this past spring. Waddle is averaging 4.4 yards of separation heading into Week 4, which is tied for third-best in the NFL. He's having zero issues getting open, and it shows on the field (Waddle already has 22 catches this year).
The Eagles desperately need Smith to be special moving forward. If he can't find a way to start getting open more consistently, a conversation will need to be had about having the rookie put on size.
All stats courtesy of Pro Football Reference.
RELATED: The Cowboys Came Dangerously Close to Drafting Eagles QB Jalen Hurts: 'We Certainly Had Interest in Him'