The Eagles Need to Take Drastic Action to Save the Career of Their Busting First-Round Pick
The Philadelphia Eagles are fresh off an embarrassing Week 12 loss. The New York Giants beat them 13-7, ending any momentum they established by beating the New Orleans Saints the week prior.
While Jalen Hurts' abysmal passing performance is the primary reason the Eagles lost (three interceptions), second-year wide receiver Jalen Reagor found himself in the fan base's crosshairs after the loss.
Reagor dropped two massive passes late in the game, including a ball near the end zone, which would have likely caused the Eagles to win had he caught it. Reagor's poor performance against the Giants will keep angry fans on his tail for months. However, this is nothing new for the former TCU receiver. He's been struggling to adapt to NFL life since Philly drafted him in 2020.
Jalen Reagor is approaching bust territory for the Eagles
Heading into the 2020 NFL Draft, Howie Roseman and the Eagles had one goal on their minds. They needed to draft a new No. 1 wide receiver.
The Eagles' offense labored through the 2019 season, with former college quarterback Greg Ward Jr. finishing the year as the WR1. Carson Wentz found a way to make things work and actually led the Eagles to an NFC East title that season. However, it was abundantly clear the front office needed to do something drastic at the position. Banking on veterans Alshon Jeffery and DeSean Jackson to return to the lineup healthy wasn't going to work.
The Eagles were connected to Jerry Jeudy, CeeDee Lamb, and Justin Jefferson all offseason long leading up to the draft. However, they ultimately settled on selecting TCU product Jalen Reagor No. 21 overall, one pick before Jefferson went to the Minnesota Vikings.
To put it bluntly, the pick was a disaster the moment it happened. Reagor finished 2020 with a whopping 396 receiving yards, while Jefferson broke all sorts of records in Minnesota.
Even in 2022, with a new quarterback and new head coach, Reagor hasn't improved. In fact, he's getting worse. He's currently averaging 16.8 receiving yards per game, just under 20 yards fewer than his rookie season.
The Eagles should consider a last-ditch effort to save Reagor's career
Following Reagor's drop-filled game against the Giants in Week 12, the cries for him to be outright released are growing louder and louder. For what it's worth, such an idea isn't outlandish. He's not a good fit in the Philly offense, and the Eagles have gotten better production out of fellow second-year WR Quez Watkins.
Why not expedite the process and cut ties with Reagor sooner rather than later?
The answer to that question is GM Howie Roseman. Love him or hate him, he's proven countless times his desire to hang onto players he's drafted until the very last minute. Considering how often he's criticized for selecting Reagor over Jefferson, he's presumably willing to do whatever it takes to make Reagor look like a good player.
With that in mind, the Eagles should begin exploring drastic actions to save Reagor's career. He's clearly not a good wide receiver. Why not try him at running back?
More and more teams are leaning on WRs-turned-RBs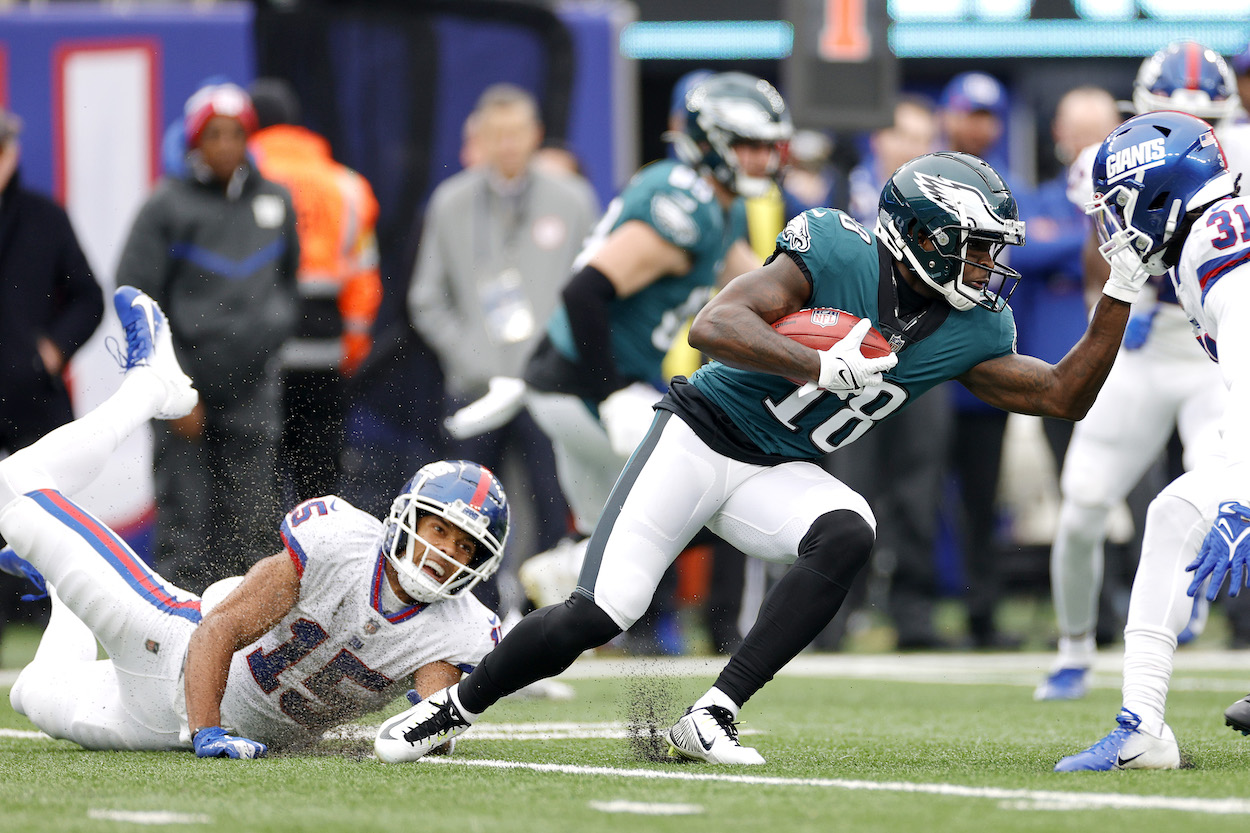 As silly as such an idea sounds, it's important to highlight that more and more teams around the NFL are leaning on WRs-turned-RBs. The Atlanta Falcons are finding a ton of success with Cordarelle Patterson this season. The San Francisco 49ers have also developed Deebo Samuel into one of the most exciting payers in the NFL.
One could reasonably argue Reagor isn't the same type of athlete as those two players. However, he's a 22-year-old who had success as a vertical threat in college. He's definitely fast.
There's no guarantee such an idea would work, and the Eagles' running back room is already crowded as is. However, if Roseman wants any shot at turning his 2020 first-round pick into a contributing player, he needs to get adventurous. Reagor isn't an NFL-caliber wide receiver. However, he could carve out a role as an intriguing third-down RB if given a chance.
All stats courtesy of Pro Football Reference.