Eagles QB Jalen Hurts Is Staring Down an Absolutely Terrifying Scenario Against Brian Burns and the Carolina Panthers
The Philadelphia Eagles looked fairly competitive during their Week 4 showdown with Patrick Mahomes and the Kansas City Chiefs. Their offense mustered up 30 points, and their defense even snagged an interception off the Chiefs' MVP-caliber quarterback.
Alas, Mahomes and the high-powered Chiefs' offense ended up being too much for the Eagles to handle. Thanks to a massive game from Tyreek Hill, Kansas City dropped 42 points and sent Philly plummetting to a 1-3 record on the year.
Moving forward, life isn't set to get much easier for Jalen Hurts and the Eagles.
The Carolina Panthers are a sneaky good opponent
The Eagles' Week 5 opponent, the Carolina Panthers, haven't been the greatest of teams since Cam Newton and Ron Rivera departed a few years back. However, it appears they've finally put the puzzle back together thanks to a few sly additions by new general manager Scott Fitterer.
Acquiring quarterback Sam Darnold is at the top of the list. The former New York Jets gunslinger is off to a red hot start and currently leads the entire NFL in rushing touchdowns (5). Darnold's completion percentage, passer rating, and quarterback rating are on career-high trajectories as well.
While the Panthers' offense is much-improved and should give the Eagles' struggling defense serious issues on Sunday, it's their defense that deserves the most amount of attention. Led by standout pass-rusher Brian Burns, the Carolina defense is a force to be reckoned with in more ways than one.
Following some recent injury news out of Philly, Jalen Hurts should be worried.
The Eagles are dealing with multiple O-Line absences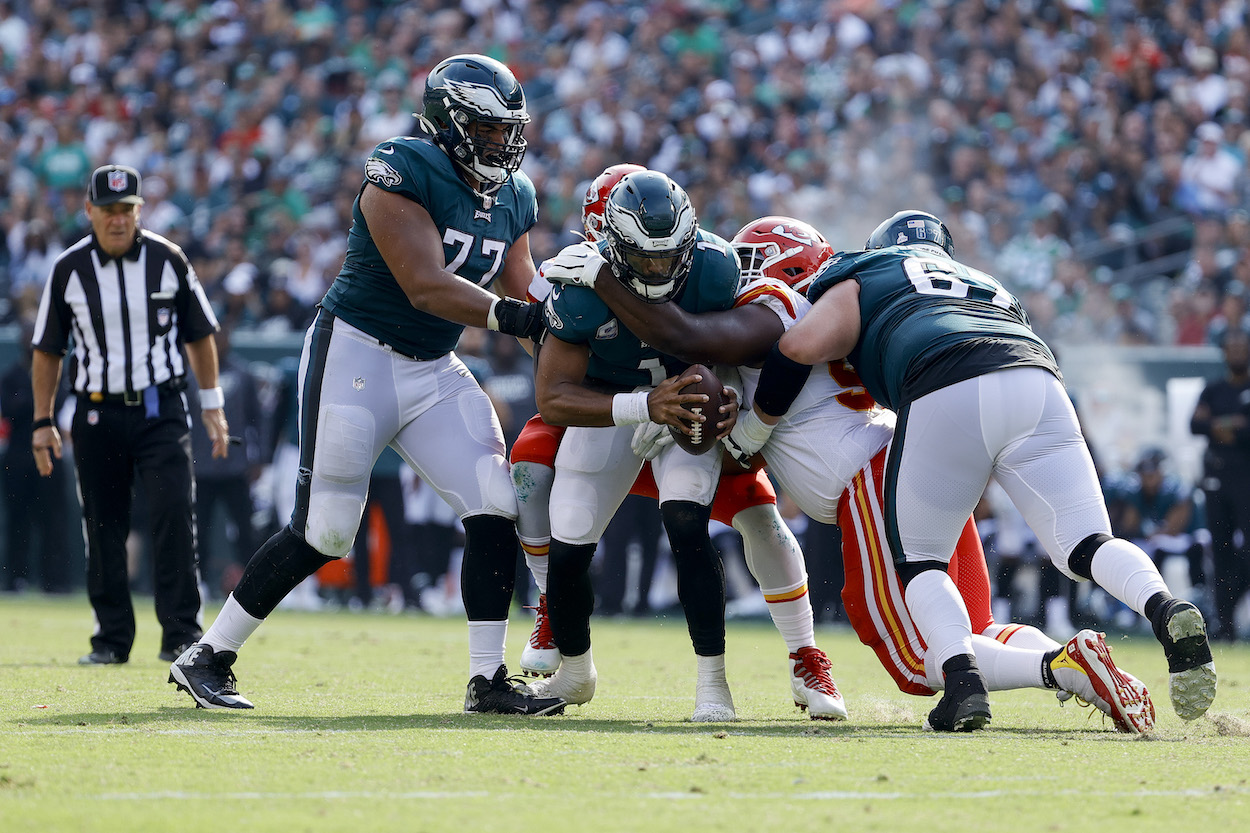 The Eagles' top priority against Carolina is keeping Burns away from Hurts.
Hurts is one of the more mobile quarterbacks in the NFL, but that isn't going to matter to Burns. The star pass-rusher already has 3.0 sacks this season and will be able to bring Hurts down if he gets close to him.
The terrifying aspect of this scenario for Philly is that they're currently missing both of their starting offensive tackles. Left tackle Jordan Mailata missed Week 4 with a knee sprain and just returned to practice sporting a massive knee brace, while right tackle Lane Johnson is expected to miss his second consecutive game dealing with a personal issue.
Philly is also missing both starting guards due to injury.
Four backup linemen against Burns and the Carolina D-Line? That's a recipe for disaster.
The Eagles will look to gameplan around their weak line
While the Eagles ultimately lost their Week 4 duel with the Chiefs, their offensive line held up admirably well. They got above-average production from all their backup linemen, giving Hurts just enough time to fire in a short pass or take off and run.
One can only assume Nick Sirianni and the Eagles coaching staff will employ a similar strategy against Carolina. Lots of screens, curls, and short routes — the less time Hurts is in the pocket, the better.
The Eagles are 1-3 and the Panthers 3-1. The odds were in Carolina's favor even before all these offensive line injuries. The chance of an upset simply worsened for Philly.
All stats courtesy of Pro Football Reference.
RELATED: The Eagles Have a Massive $54 Million Problem That Their Controversial Front Office Can No Longer Ignore