Eagles Quarterback Jalen Hurts' Fandom Increased By 500% After His Breakout 2021 Performance
Philadelphia Eagles quarterback Jalen Hurts has had an exciting few years. A standout college player at Alabama and Oklahoma, Hurts was selected by Philadelphia in the second round of the 2020 NFL Draft. Even after a pretty impressive rookie performance, the critics were out for the Texas native ahead of his second season. Nonetheless, Hurts is already emerging as a fan favorite.
Jalen Hurts' performance in Week 1 surprised critics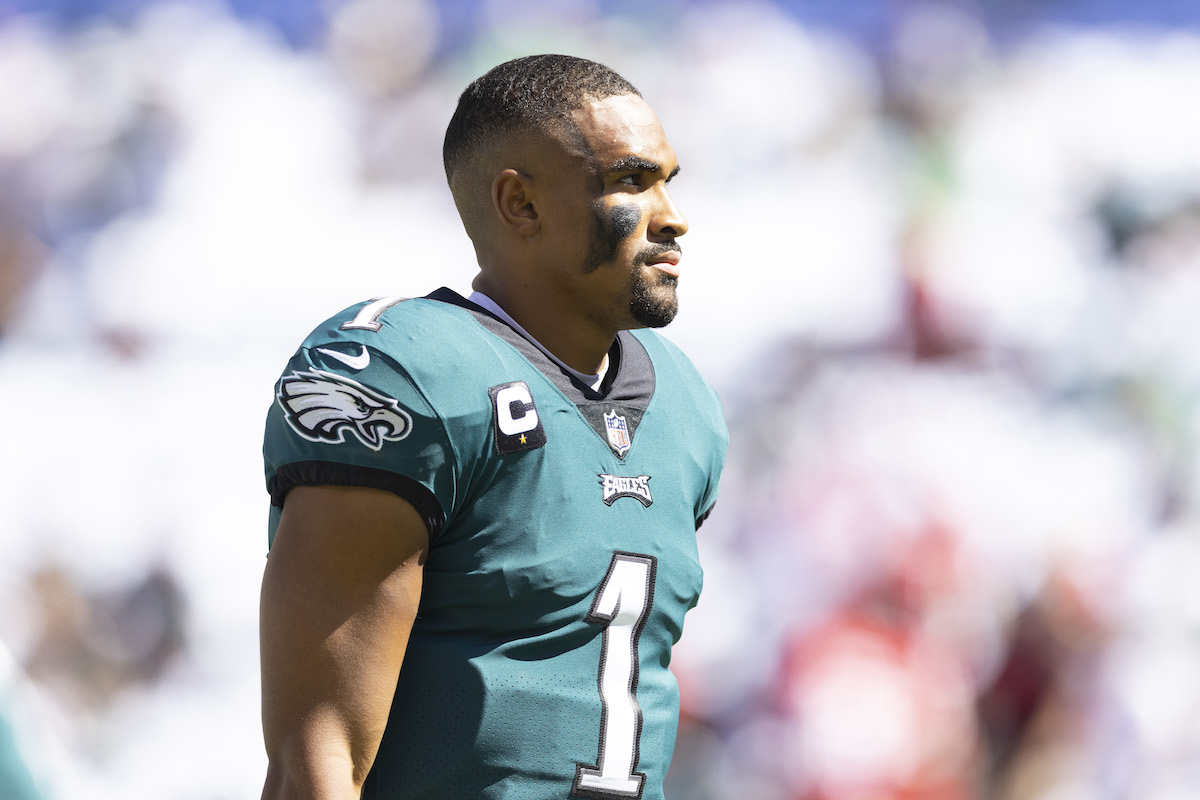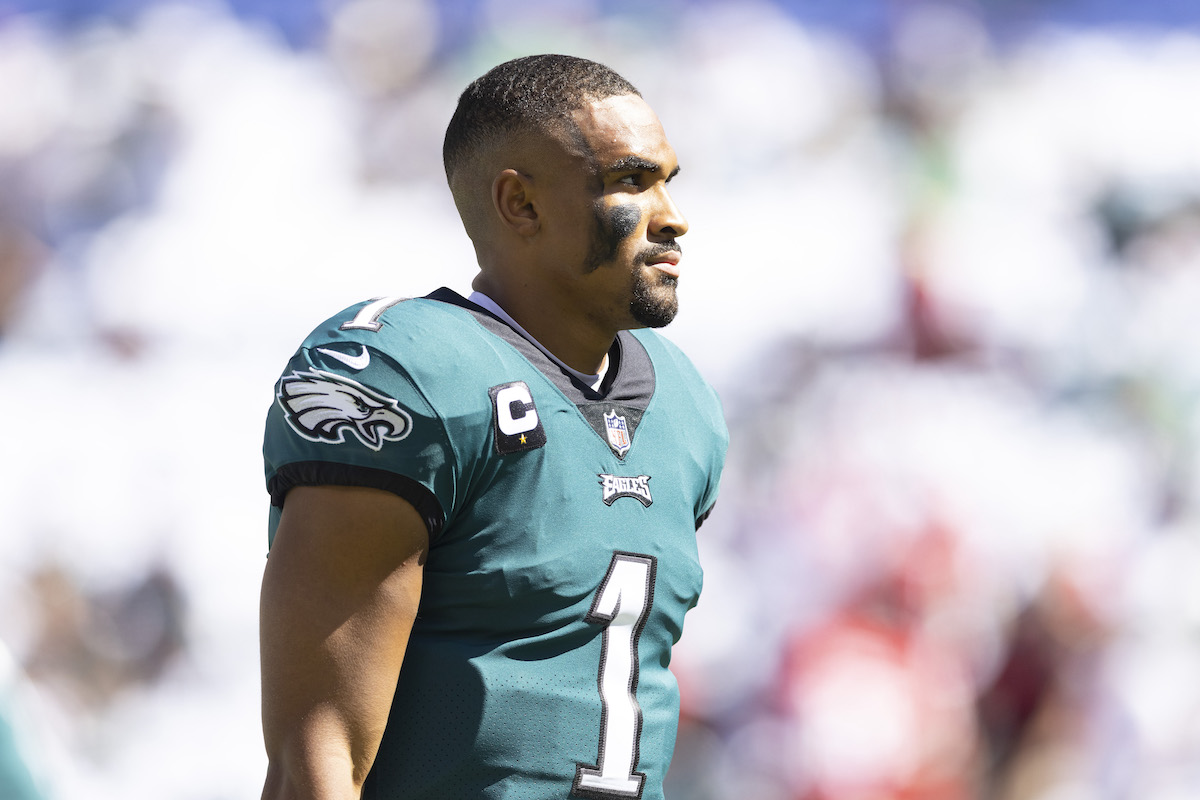 After a short stint in the NFL, commentator and critic Chris Simms has become known for his offseason quarterback rankings. Fans were surprised when he didn't place Hurts in his 40-person ranking. Then, Simms went on to shade the quarterback's rookie season.
While Simms noted that he thought Hurts was a better runner than he expected, he "had to put him on the outside" after reviewing tape of his passing and throwing from Hurts' first season. Hurts' unimpressive, first-season pass completion rate of 52% was complemented with a lot of success running the ball — likely where the criticism originated.
With the Eagles in a rebuild, many were unsure if Hurts would even be the starting quarterback. However, Hurts was ready to go in Week 1, achieving 27-of-35 for 265 yards with three touchdowns and 62 yards rushing. With a 32-6 defeat of the Atlanta Falcons, he more than silenced the criticism he received.
Despite the critics, Hurts had supporters in his fellow Eagles. Rookie wide receiver Devonta Smith spent his Friday nights at Alabama working out with Hurts in lieu of partying. Lane Johnson, veteran right tackle for the Eagles, praised Hurts' confidence as well as his ability to move on the field and take pressure off the offensive line.
Likewise, Hurts has already connected well both in his first season and preseason games with wide receiver Quez Watkins. He even gave the Eagles their first touchdown of the season in August. It's safe to say Hurts isn't having any trouble connecting with his team, and they are trusting in him with good reason. Hurts even made headlines thanks to his good demeanor and strong character.
After a wardrobe upgrade and visit to the Philly mall, Hurts spent the rest of his first paycheck by paying for his brother's wedding, paying his sister's future college tuition, donating to charity, and putting the rest in savings. Between this and his performance on the field, fans are quickly jumping on the Hurts bandwagon.
Hurts' jersey saw a 500% increase after his Week 1 game
As if silencing critics weren't enough, Hurts' jersey saw a 500% sales surge following his outstanding performance in the season opener, according to ESPN. This was the largest one-day spike of any NFL player, and it was the No. 2 best-selling product behind Patriots quarterback Mac Jones as of September 14. DeVonta Smith also saw a 166% boost in sales between Saturday and Sunday, as well as being the top seller for non-quarterback rookies.
While these young players are undoubtedly excited, veteran players are not as pleased, for a different reason. Traditionally, football jersey numbers identified certain positions, helping players to know who they're dealing with. For example, the star players (quarterbacks, kickers, punters, and wide receivers) traditionally were Nos. 1-19. The NFL recently changed the rule. Now, any position can choose from the wider range of numbers — a major move.
Tom Brady is one NFL star who has criticized the rule. He noted that it provides the defense with an advantage, and it makes it difficult to know who to block. With the iconic player's career so far, Brady knows a thing or two about why this rule presents a problem.
What are some top-selling NFL jerseys of all time?
While the jersey rule is a disappointment for players, fans are still buying football jerseys like crazy. Many storied NFL players are among the league's top sellers. Brady has consistently had a top-selling jersey throughout his 20 years in the NFL, including record-breaking sales at the close of the 2020 season.
According to Reuters, the top merchandiser of NFL apparel, Fanatics, noted that he has become the "best-selling NFL player ever for the two-week period between the conference championship games and the Super Bowl," an impressive accomplishment. However, Brady is far from alone in the popularity club.
Green Bay Packers quarterback Aaron Rodgers has continued to sell jerseys even after 15 years in the NFL. Drew Brees, another 20-year veteran, is also a popular player who has garnered merchandise records. Brett Favre, Ray Lewis, and Deion Sanders are some other well-loved and talented players with long careers who likely sold quite a bit of merchandise before their retirements.
RELATED: Jalen Hurts' Legs Can Make Up for the Eagles' Biggest Weakness