The Eagles Are Quietly Considering Starting Gardner Minshew Over Jalen Hurts for the Second Time
Immediately after the Philadelphia Eagles Week 14 win over the New York Jets, Eagles head coach Nick Sirianni shut down all speculation regarding a potential quarterback controversy. Despite Gardner Minshew II playing impressively well during his debut start wearing midnight green, Sirianni quickly stated that second-year quarterback Jalen Hurts would be returning to the starting lineup.
Fast forward over a week later, and the Eagles are preaching a different tune.
Jalen Hurts and Gardner Minshew are splitting first-team reps at practice
When the Eagles first revealed Hurts was dealing with an ankle injury of sorts after Week 13; there was some general confusion. First, the injury was described as nothing more than a sore ankle. Later, it was reported as a sprain.
The Eagles opted toward holding Hurts out of the team's Week 14 game against the Jets. With the team's bye week taking place directly after, the expectation was that Hurts would have plenty of time to heal and return for the Eagles' Week 15 game against the Washington Football Team.
However, that isn't what happened. With just a few days to go before the Eagles and Football Team square off in a game with massive postseason implications, Hurts remains on the injury report as limited. According to various reports, Hurts and Minshew are splitting reps with the first team during practice.
Despite 10 days to heal during the Eagle bye week, quarterback Jalen Hurts may not start against Washington. Of course, he could start, too.

Nick Sirianni has no idea, yet, and the head coach said Hurts and backup Gardner Minshew will split reps during Wednesday's walkthrough as the team prepares to host Washington on Sunday after having the last 10 days off.

Ed Kracz, Sports Illustrated
Are the Eagles lying about their lack of a QB controversy?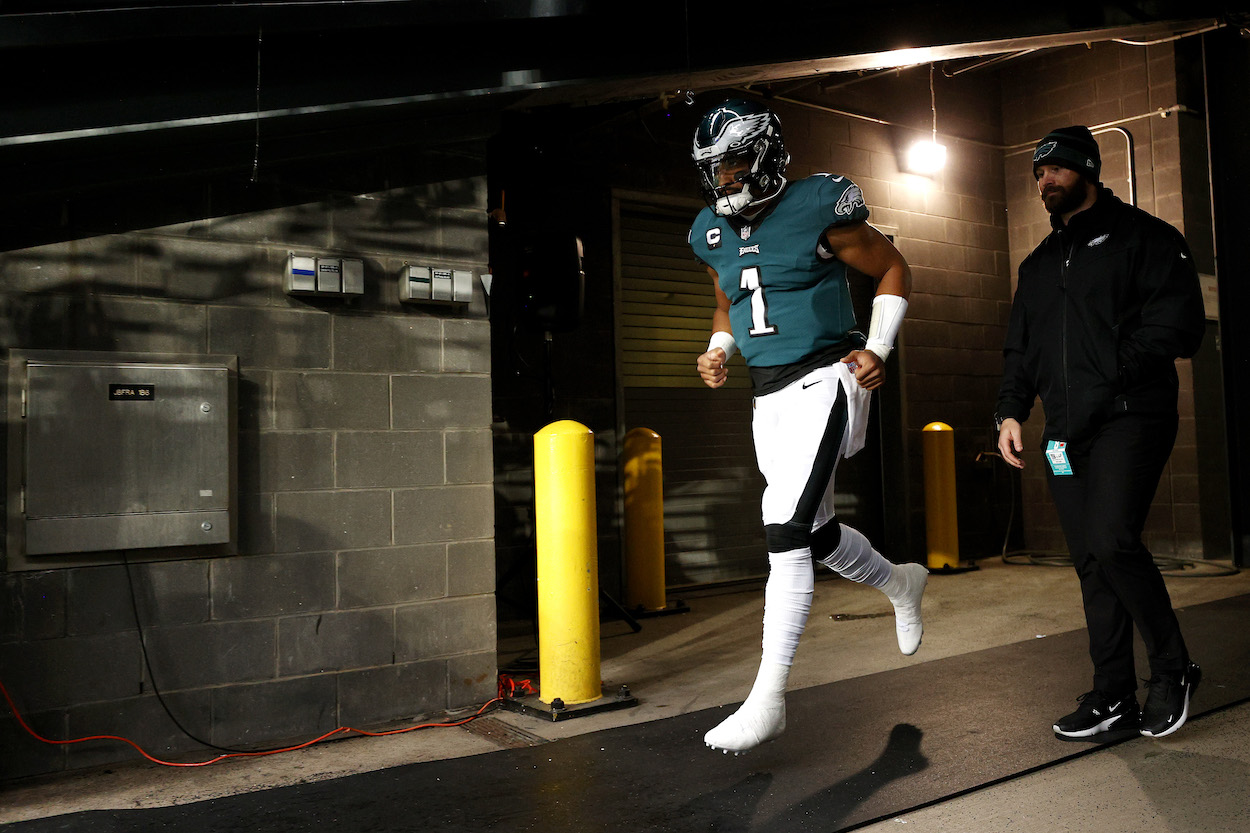 On the surface, the Eagles have been telling anyone and everyone that Hurts is their guy moving forward. They've done everything in their power to build him up as the face of the franchise this season, going as far as completely restructuring their offense into a run-first scheme several games into the season.
However, it's worth questioning whether Minshew's impressive day passing the football against the Jets changed some opinions in Philadelphia. Sure, it was against the Jets, but Minshew's performance came exactly one week after Hurts threw three interceptions against the lowly New York Giants.
This isn't to say Hurts isn't injured. By all accounts, he has a sprained ankle. However, it's pretty standard for professional athletes to play on sprained ankles these days (Carson Wentz even played on two earlier this season).
It's hard not to see this as the Eagles' way of justifying Minshew getting some more run at the QB position.
What does this mean for the Eagles' postseason odds?
Ultimately speaking, it shouldn't matter who's under center for the Eagles come kickoff against the Football Team. Washington's defensive line is seriously depleted due to COVID-19 protocols, and the Eagles have an above-average run game.
Minshew can hand the ball off to the running back just as well as Hurts can.
Only time will tell if the Eagles go with Hurts or Minshew during Week 15. However, it's something to keep an eye on nevertheless. The split-reps at practice signal the team is at least preparing for Minshew to be the guy for the second game in a row.
All stats courtesy of Pro Football Reference.