The Eagles and Raiders Nearly Agreed to a Massive Blockbuster Trade That Would've Completely Flipped the AFC West Upside Down
The NFL trade deadline has come and gone, and for the most part, it was a relatively dull spectacle. The Los Angeles Rams pulled off a surprise trade for pass-rusher Von Miller, but other than that, minimal notable moves occurred. However, that doesn't mean teams didn't get close. According to several credible reports, the Philadelphia Eagles and Las Vegas Raiders came dangerously close to agreeing to a trade that would've completely flipped the AFC West upside down.
The Eagles nearly traded Pro Bowl defensive tackle Fletcher Cox to the Raiders.
Fletcher Cox was almost traded to the Raiders
Primarily due to an outburst of emotion that took place after Week 7, Cox found himself the subject of heavy trade rumors rolling into the year's deadline. He was bluntly expressing his frustration with the Eagles' new defensive scheme under first-year coordinator Jonathan Gannon, and his salary ranks atop the Eagles' roster.
If there was ever a time for Philly to bite the bullet and trade a player who'd been a cornerstone piece the past decade, it was now.
According to Jay Glazer, several teams were inquiring about Cox's availability. Despite the mountain of drama that Las Vegas just navigated past (Jon Gruden), they tossed themselves into the mix for the Eagles DT.
According to ESPN's Adam Schefter, the Raiders got quite close to finalizing a deal during the waning hours of the trade deadline. The Eagles and Raiders discussed draft compensation, and Cox even hinted at a departure via his personal Instagram.
Why did this Eagles/Raiders trade fall through?
Plenty of deals collapse on deadline day. However, this was a trade that made sense for all involved parties. The Eagles are rebuilding and need to free up cap space moving forward. The Raiders are trying to contend and need defensive tackle help. Cox is seemingly unhappy in Philly and would presumably welcome a fresh start elsewhere.
So why did this deal fall through?
According to Schefter, the Raiders can blame Von Miller and the Rams. The Broncos trading Miller to LA for a second and third-round pick caused Howie Roseman and the Eagles to jack up their asking price.
"Fletcher Cox was receiving interest around the league, there were teams calling about Fletcher Cox. And I think the team that really had an interest in him was the Las Vegas Raiders. I think what happened is, when Von Miller got traded on Monday for a [second-round pick] and a [third-round pick], I think that emboldened the Eagles to ask for even more.

"Hey, if Von Miller's worth a two and a three, even though the Broncos paid the majority of his salary, well Fletcher Cox has got to be worth something similar." Right? And I think the Von Miller deal perhaps impacted any potential Fletcher Cox deal, to the point where it didn't get done."

Adam Schefter via 97.5 The Fanatic
The Raiders would've been serious contenders with Fletcher Cox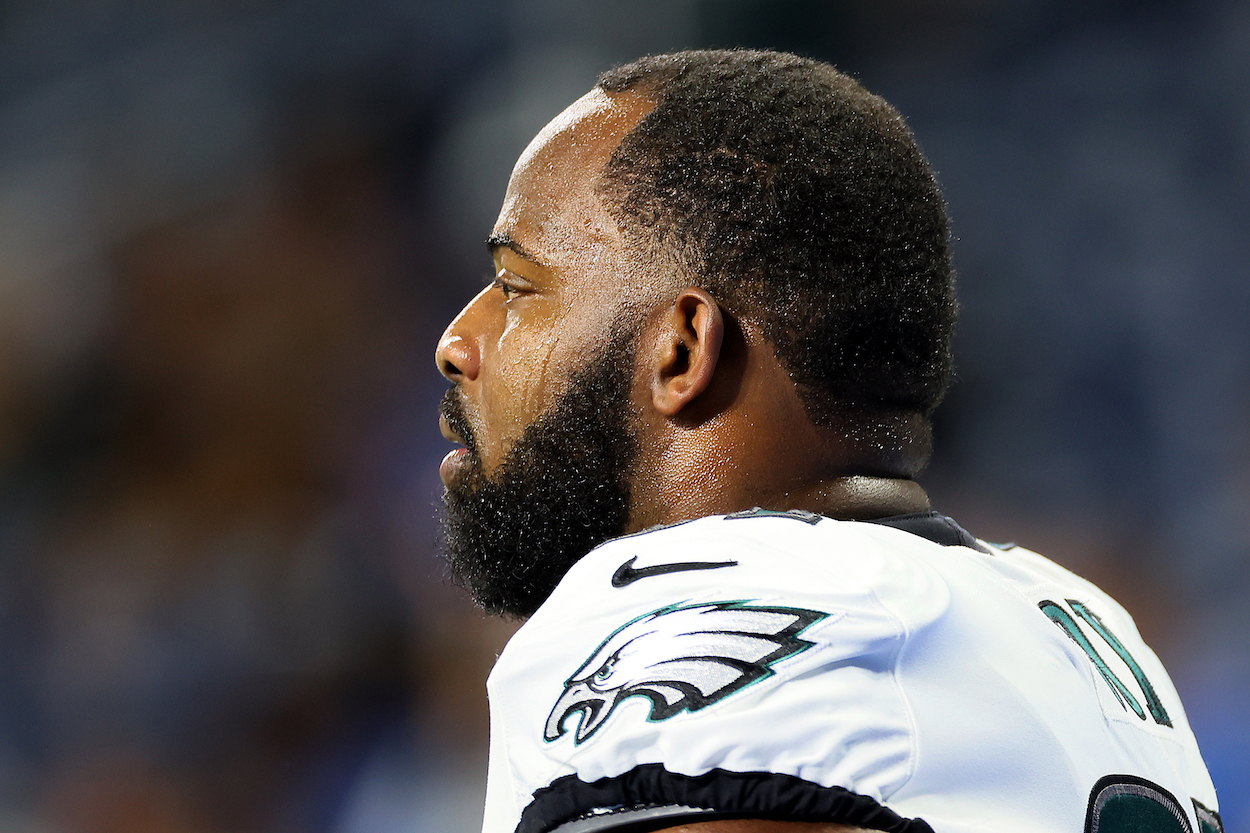 The Raiders are 5-2 through seven games and currently sit atop the AFC West. They're pushing for a postseason run this year and are quietly establishing themselves as legitimate contenders.
Imagine if they had added Cox to their roster.
Derek Carr is playing like a top-tier quarterback, but the Raiders' defensive line has been equally impressive. Maxx Crosby and Yannick Ngakoue are solidifying themselves as one of the NFL's better one-two defensive end punches. They've already combined for 9.0 sacks this year.
Adding Cox — a six-time Pro Bowler and Super Bowl champion — to that D-Line would have given the Raiders one of the best defensive lines in football.
It's a shame the Eagles got greedy at the last second.
All stats courtesy of Pro Football Reference.
RELATED: The Eagles' Latest Crushing Injury Could Signal the End of an Era in Philadelphia