Eagles Rumors: NFL Insider Still Claims They Want Deshaun Watson
This past week, the Philadelphia Eagles went to bat for quarterback Jalen Hurts at the scouting combine. When asked about the future of their starting QB position and whether Russell Wilson and Deshaun Watson were in consideration, both GM Howie Roseman and HC Nick Sirianni doubled down on their belief in Hurts as the long-term answer in Philadelphia.
On the outside looking in, the Eagles are 100% committed to Hurts as their franchise quarterback of the future.
However, Roseman isn't exactly known for his honesty. According to at least one notable NFL insider, the Eagles are still expected to make a run at Watson this offseason should his legal situation permit it.
NFL insider Albert Breer believes the Eagles will pursue Deshaun Watson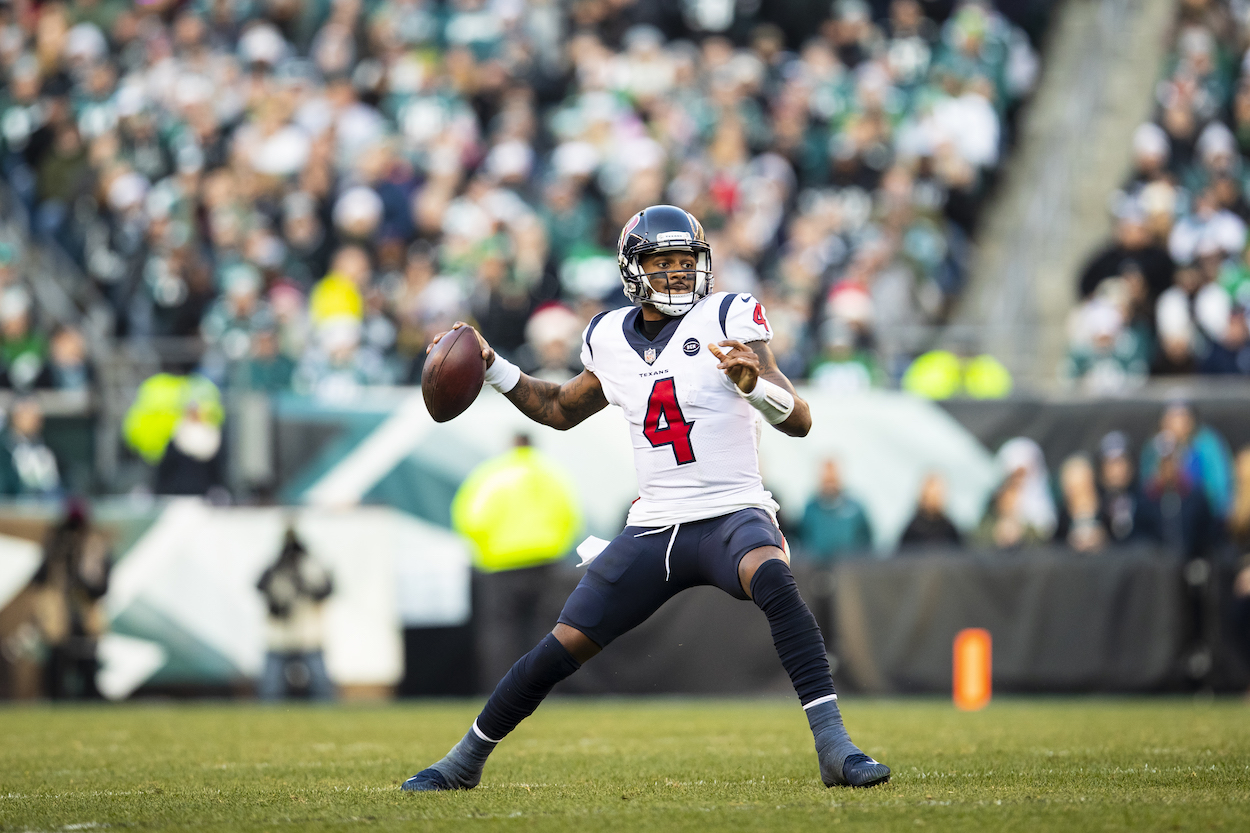 Speaking in a mailbag article for Sports Illustrated, NFL insider Albert Breer was asked to clarify Watson's situation with the Houston Texans. The whole ordeal is quite murky. Watson has yet to clear his off-the-field legal issues, and the Texans are still reportedly asking for a war chest of assets in return for their star quarterback.
Until Watson can arrive at a conclusion with his legal issues, it's impossible to imagine him being traded for anything of value.
With that said, according to Breer, should Watson become available to play this season, he has the Eagles and Denver Broncos pinned as the teams who will make a serious run at him.
As for who he lands with, the Broncos and Eagles are two teams that I believe would make strong bids, depending on how a few other things play out (the availability of Rodgers and Russell Wilson, etc.). I'd think the Panthers will try to reenter the picture too, and it's hard to rule out a dark horse or two (Cleveland? Tampa?) for getting involved. We should know more soon enough.

Albert Breer, Sports Illustrated
Why would the Eagles bail on Jalen Hurts for Deshaun Watson?
Jalen Hurts is an ascending talent with a lot less baggage than Watson. At just 23 years old, he led the NFL in quarterback rushing yards and helped guide the Eagles to a playoff spot.
However, we can't ignore Howie Roseman's track record. He's notorious around the NFL for his aggressive ways and his obsession with improving the quarterback position. After all, he's the man who coined the phrase "QB factory."
Roseman traded up to No. 2 overall in 2016 to draft Carson Wentz just a few weeks after inking Sam Bradford to a new extension. Roseman also flipped Wentz for draft picks in 2020 and replaced him with Hurts. The Eagles GM has a history of exchanging quarterbacks like they're arcade tickets.
Philadelphia has reportedly been interested in Watson dating back to the 2021 offseason. Yes, Hurts had a strong first-year starting. However, his ugly playoff performance likely left a sour taste in Roseman's mouth. It's reasonable to assume he hasn't lost all interest in Watson as a potential replacement and upgrade.
Howie Roseman doesn't need to make a decision right now
This offseason, a lot of pressure is being placed on the Eagles to take a big swing at the quarterback position due to their three first-round picks. However, Roseman is never afraid of wheeling and dealing come draft day. It makes a lot of sense for him to trade back once or twice, accumulating future capital in the process.
By moving at least one of his first-round picks to 2023, Roseman gives himself another entire season to evaluate Hurts while simultaneously staying involved in the Watson market.
Should Watson become available at the trade deadline or during next year's offseason, the Eagles will still be able to pursue him, as Breer suggests.
Either way, despite what Roseman and Sirianni said during their press conferences, there's still a significant amount of smoke connecting Philadelphia to Watson and Russell. This feels like a story that's still developing.
All stats courtesy of Pro Football Reference.
RELATED: The Dolphins Shutting the Door on Deshaun Watson Reveals Their True Feelings About Tua Tagovailoa