Eagles Running Back Miles Sanders Is Primed for a Major Breakout Season According to 1 ESPN Reporter
Miles Sanders has experienced an up-and-down career with the Philadelphia Eagles thus far.
As a rookie, the former Penn State running back had to earn first-team reps. Once Sanders established himself as a reliable go-to runner for the Eagles, he exploded with productivity down the stretch.
Sanders finished 2019 with 1,327 total scrimmage yards and 6 touchdowns despite starting just 11 games; an impressive season.
Fast forward to 2020, and Sanders took a noticeable step back. He struggled with drop issues and overall health, finishing with 1,064 total scrimmage yards and an abysmal 53.8% catch rate. Sanders' sophomore struggles were a major reason the Eagles limped to a four-win finish in 2020.
Now entering his third year as a pro, under the guidance of a new head coach and offensive coordinator, some predict a major breakout year for the speedy RB.
ESPN reporter Tim McManus pinned Eagles' Miles Sanders as a major breakout candidate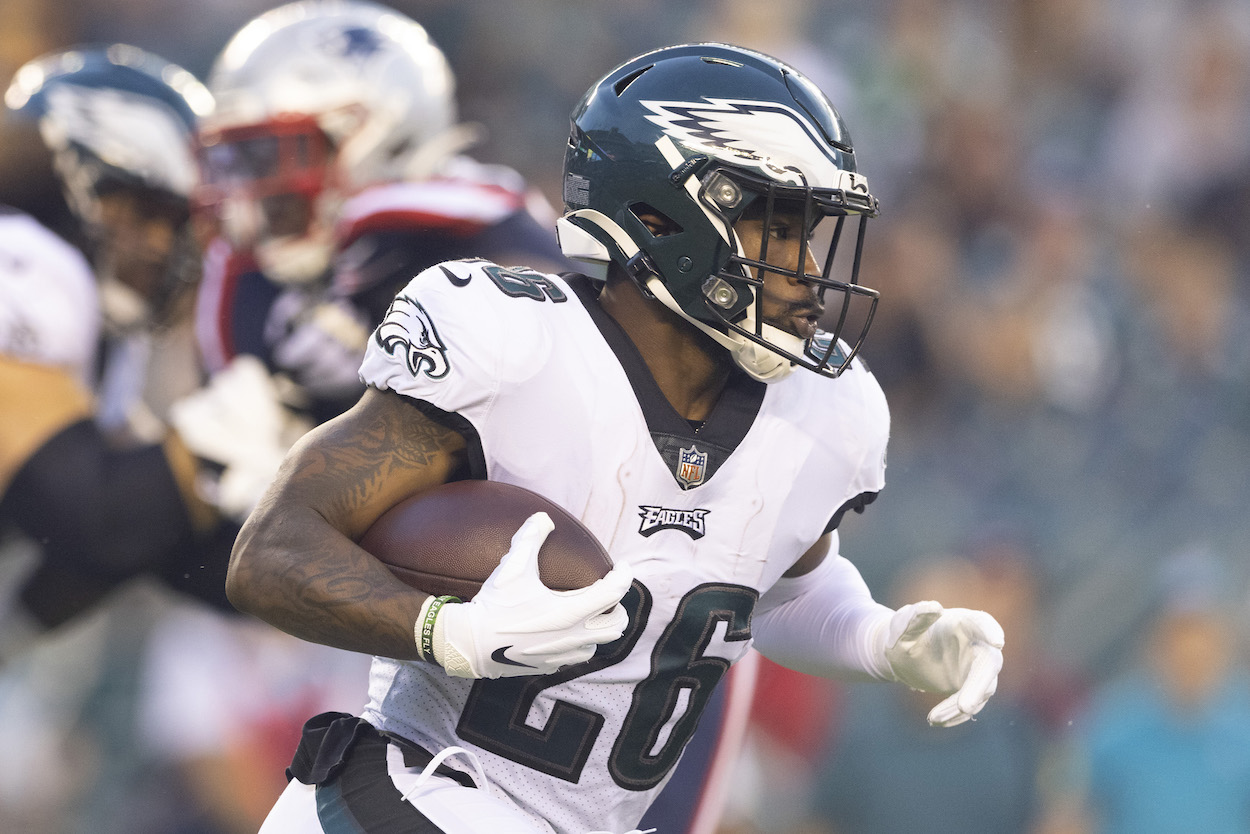 The forecast for the 2021 Eagles is murky and unclear. However, at least one ESPN reporter believes the team's starting RB should be considered a major breakout candidate regardless.
Tim McManus lays out a few reasons to be high on Sanders moving forward. He first emphasizes the RB's reportedly improved health:
Improved health

Sanders, 24, dealt with a hamstring strain for the bulk of training camp last year and was sidelined for Week 1. Then he hurt his knee in October against the Baltimore Ravens and missed the next two weeks. He was never quite right. A rash of injuries along the offensive line made things even trickier, as the Eagles set an NFL record by having 13 different offensive line combinations in the first 14 weeks.

"Man, my confidence is through the roof with this offensive line," Sanders said. "I'm not going to lie, I'm not going to sugarcoat it. We can do a lot of special things with this O-line. They know that, everybody else in this building knows that. We're going to go as they go."

Tim McManus via ESPN
Sneaky-strong numbers, Jalen Hurts, Nick Sirianni, and Kenneth Gainwell
McManus claims there's further reason to be high on Sanders entering year three (alongside his improved health).
Sanders' big-play ability in 2020 was exceptional, quarterback Jalen Hurts is a runner himself (which will cause defenses to focus less on Sanders), Nick Sirianni is coming from a heavy run offense in Indianapolis, and rookie Kenneth Gainwell projects to be the team's primary receiving back which takes pressure off Sanders in an area he struggles with.
In theory, Sirianni will draw up 20+ touches a game for Sanders primarily running behind the Eagles' above-average offensive line. Throw in the occasional read option with Hurts, and Sanders is undoubtedly being put in a position to succeed.
The pressure is on Miles Sanders to live up to the Eagles' expectations
This all sounds perfect on paper. However, the reality of the situation is that Sanders still needs to prove he's capable of being the team's workhorse RB.
His major drop issues persisted throughout training camp and the preseason, which is concerning, and he's yet to start a full season from beginning to end. With the NFL increasing the schedule to 17 games this year, Sanders very well may run into more injury issues.
If Sanders cannot breakout for the Eagles in 2021, as McManus suggests, it wouldn't be all that surprising to see the team invest in a new starting RB the following offseason. Sanders isn't getting any younger, and running backs rarely get a second contract from the team that drafts them.
In the meantime, the stage is set for Sanders to have the best year of his career. The Eagles did their part. Now it's up to Sanders to follow through on his end of the bargain.
All stats courtesy of Pro Football Reference.