The Eagles Took a Massive $81 Million Gamble That Could Easily Come Back to Bite Them Down the Road
Poor drafting has become a trademark of Howie Roseman's Philadelphia Eagles career. While the controversial general manager successfully led the organization to their first-ever Super Bowl win during the 2017 season, his track record afterward has been less-than-admirable.
He blatantly passed on DK Metcalf and Justin Jefferson for separate wide receivers during their respective drafts. The selection of Jalen Hurts in 2020 (No. 53 overall) is still questionable. While Hurts has looked promising during his first full season as a starting quarterback, the initial selection set off a chain reaction that ultimately resulted in Carson Wentz being traded and multiple Eagles coaches being fired.
The Eagles view their 2018 draft class as a major success
Amidst all the poor drafting, Roseman and the Eagles have quietly held out hope with their 2018 class. They only made five picks that year. However, four of them have turned into potential long-term starters in Philadelphia.
Dallas Goedert (No. 49), Avonte Maddox (No. 125), Josh Sweat (No. 130), and Jordan Mailata (No. 233) have all received notable contract extensions this season, seemingly locking them into long-term futures with the Eagles. Even the fifth player drafted by Roseman that year, Matt Pryor (No. 206), was traded to the Indianapolis Colts for a Day 3 pick, recouping the initial asset spent on him.
On the surface, the 2018 draft class looks like an absolute masterclass by Roseman and the Eagles. Extending 4/5 players from one class rarely happens. However, a different narrative emerges upon digging a tad deeper — especially into the team's more recent extensions.
The Eagles recent extensions are massive gambles
The Eagles first extended Mailata and Sweat at the start of the season. Those moves have already been talked about enough. However, the team's recent decision to lock up both Goedert and Maddox deserves a closer look.
Goedert is a fantastic athlete and one of the best blocking tight ends in the NFL. While his receiving numbers have yet to reflect his elite potential (37.1 yards per game in his career), he was also stuck behind Zach Ertz in the depth chart for the first three years of his career. The Eagles are betting on him blossoming into a certified No. 1 target moving forward.
Roseman handed Goedert a four-year/$59 million extension, making him the second-highest-paid TE in the league moving forward (Over The Cap). That's a lot of money.
On the other hand, Maddox is having the best year of his Eagles career as their starting slot corner. Opposing quarterbacks have a 76.6 passer rating when targeting him. However, this is the first season Maddox has established himself as a reliable starter. He struggled to hold a full-time starting role during his first two years and had a downright miserable 2020 season upon being asked to play on the boundary (108.3 passer rating when targeted).
Roseman handed Maddox a three-year/$22.5 million extension, making him the 25th-highest-paid cornerback in the league moving forward (Over The Cap). That's a sizable commitment for a guy who's exclusively a slot corner.
Goedert and Maddox were paid like elite players, despite not being elite players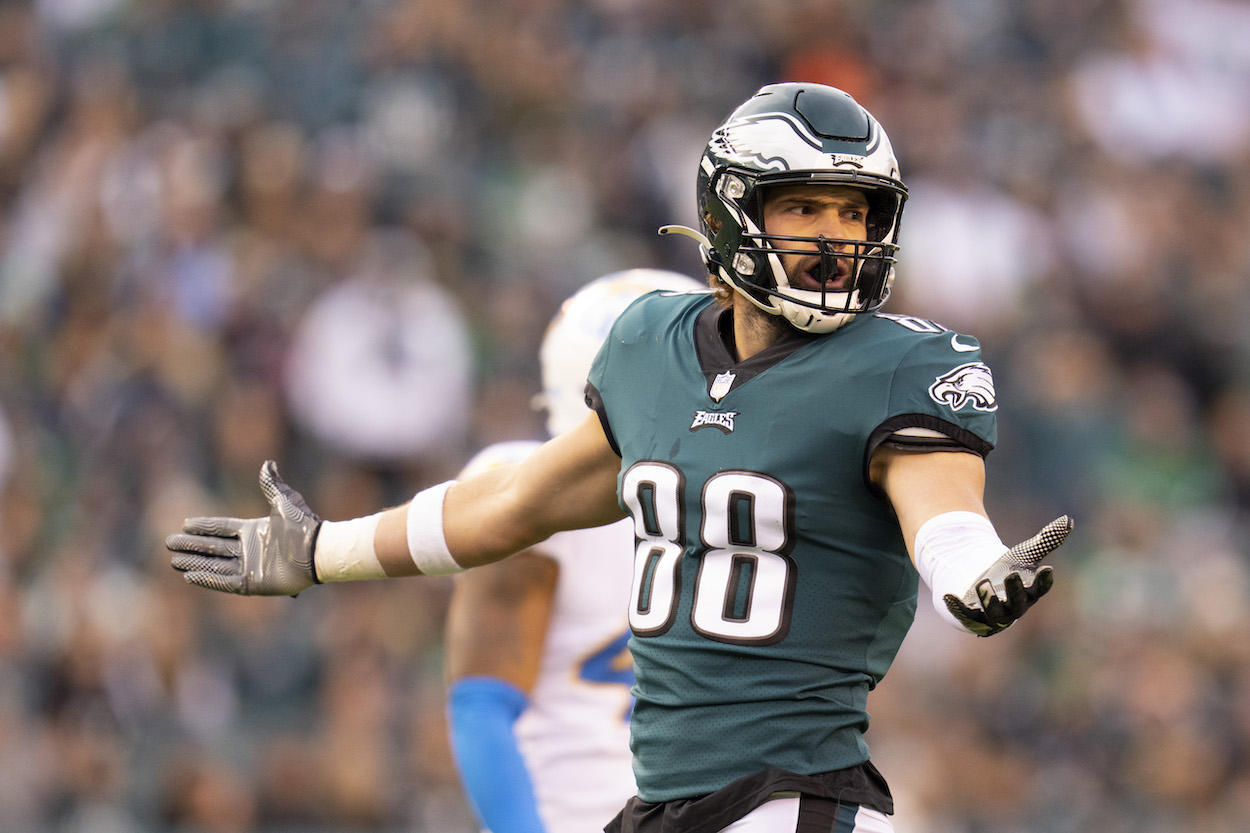 Roseman and the Eagles paid Goedert and Maddox like two of the top performers in the league at their respective position. Goedert's annual average value is higher than guys like Travis Kelce, Mark Andrews, and Darren Waller. Maddox is now one of the highest-paid slot corners in all of football.
The Eagles are banking on Goedert and Maddox to continue developing. However, there's no guarantee this will happen. Sure, the storyline of drafting and extending players is a nice touch (GMs love to take credit whenever they can), but it's impossible to look at these deals as anything but massive gambles. The Eagles paid top-of-the-market money for two players who most NFL fans outside of Philadelphia don't know by name.
If Goedert and Maddox don't blossom into elite-caliber starters over the next few years, the Eagles will look back on these extensions with profound regret in mind. $81 million worth of regret to be exact.
All stats courtesy of Pro Football Reference.