Eagles Trade Rumors: Fletcher Cox Could Be on the Move
The Philadelphia Eagles are looking to add talent this offseason. They have a good chunk of available cap space ($17.3 million), and a war chest of first-round draft picks to trade. Philadelphia has already been connected to wide receivers, edge rushers, and defensive backs — it's only a matter of time before they land someone notable.
However, the latest rumors out of Philly are suggesting something entirely different. The Eagles are reportedly starting to field calls on long-time franchise defensive tackle Fletcher Cox.
Cox has been one of Philly's best overall players since 2012. However, he's started to slow down in recent years due to nagging injuries and general wear and tear. It's not impossible to imagine Eagles GM Howie Roseman moving him for draft capital while his value is still moderately high.
Eagles DT Fletcher Cox might be back on the trade block
This isn't the first time Cox's name has been mentioned as a likely Eagles trade candidate. In fact, he was nearly dealt away at the 2021 NFL trade deadline.
Granted, the Eagles were in an entirely different spot around that time. They had limped out to a slow start to the season and were expected to treat the trade deadline as an opportunity to offload aging talent in return for draft capital. For example, they had already moved former starting tight end Zach Ertz to the Arizona Cardinals.
The deadline came and went, and Cox remained an Eagle. More importantly, the Eagles surged in the second half of the season and snuck their way into the postseason. It appears their rebuilding timeline has been sped up quite dramatically.
On paper, it appears Philadelphia is looking to contend sooner rather than later. However, this doesn't seem to be affecting the front office's opinion of Cox. They would still trade him, as long as the return is appropriate.
Some money maneuvering would need to occur
If the Eagles agree to trade Cox this offseason, plenty of teams will call for the former All-Pro defensive tackle. Even at his age, Cox is still one of the better pass-rushing defensive tackles in all of football. If anything, a change of scenery could help rejuvenate Cox a bit as he enters the closing stages of his NFL career.
With that said, it's not as simple as swapping Cox for a second-round pick or two and calling it a day. Trading Cox would incur a $40 million dead cap charge for Philadelphia. The Eagles are just now freeing themselves of Carson Wentz's large dead cap. It's unlikely they're looking to take on another penalty.
Cox and the Eagles have two options. First, Cox could agree to rework and restructure his contract to make it easier to trade. This, of course, requires him to be on board with being moved this offseason. Second, the Eagles would have to wait till after June 1 to make a move, which helps lower the dead cap number.
Trading Cox this offseason isn't impossible, but it would take some work to get it done.
What would the Eagles do at DT moving forward?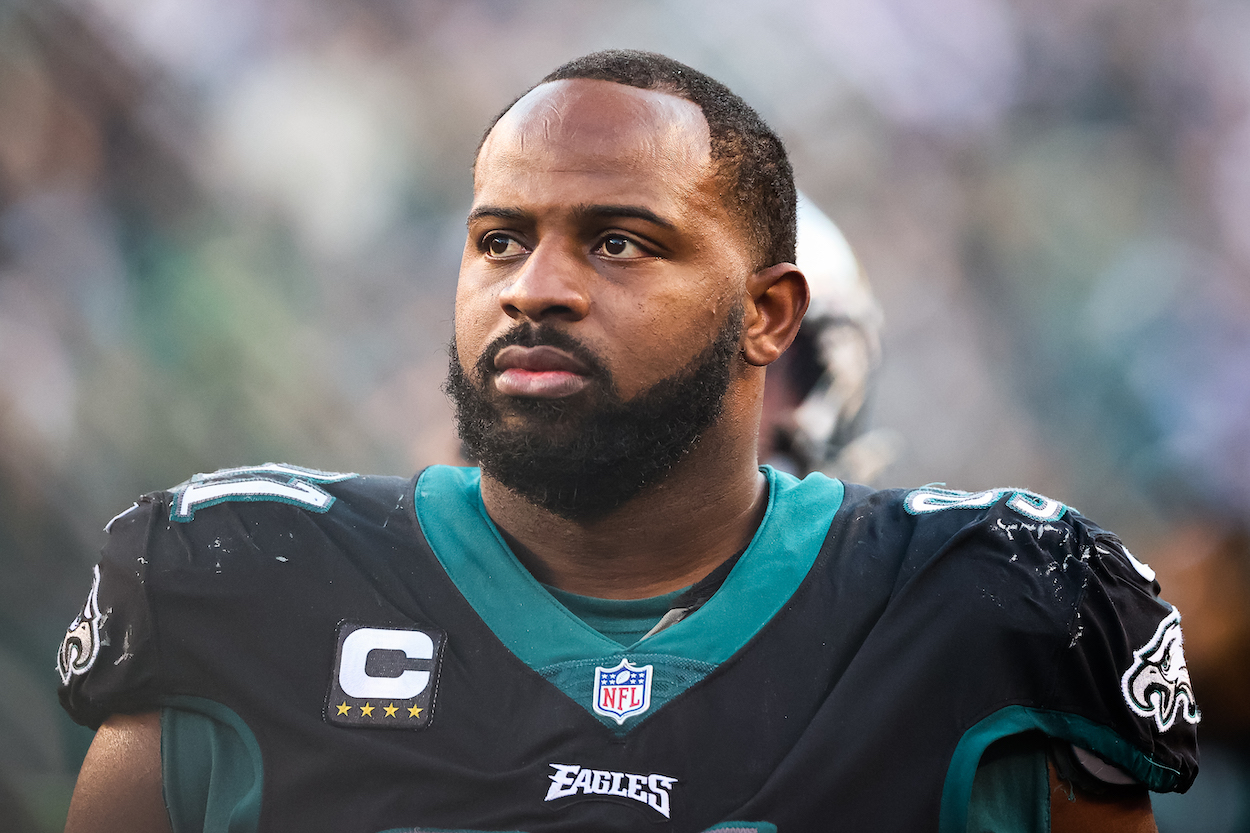 Let's say the Eagles pull the trigger and trade Cox to a new team this offseason; what happens to their DT unit?
Philadelphia has Javon Hargrave under contract, a prime candidate to receive an extension this offseason. After a slow start to his Eagles career in 2020, he did a great job establishing himself as a true DT1 in 2021. The Eagles should feel good about building their D-Line around him moving forward.
Additionally, the Eagles could use one of their three first-round picks on a DT. Georgia's Jordan Davis is a popular name these days due to his stellar combine.
There's no guarantee Cox will get moved this offseason. However, if he does, the Eagles have options to replace him.
All stats courtesy of Pro Football Reference.
RELATED: Russell Wilson Just Helped Reveal Eagles' True Feelings on Jalen Hurts