The Eagles' Ugly Week 18 Loss Proves the Need to Replace Jalen Reagor Sooner Than Later
Exiting Week 18, there are few takeaways worth talking about from the Philadelphia Eagles and Dallas Cowboys' final regular-season showdown. The Eagles were resting starters from as soon as kickoff, giving Dallas a prime opportunity to run the score up and boost player stats.
Mike McCarthy and the Cowboys were clearly leaning into the idea that momentum heading into the postseason is important. At the same time, Nick Sirianni and the Eagles put a greater emphasis on player health via rest. Only time will tell which point of view yields better long-term results.
With all of that said, how the Eagles approached their glorified preseason game does give us some critical information regarding how they view the ability of some of their talent.
Former first-round pick Jalen Reagor played with the Eagles' backups
Once DeVonta Smith officially broke the Eagles' single-season rookie receiving record (916 yards), Sirianni rolled out the red carpet for his team's backups to get significant playing time. The offense was made up of guys like Gardner Minshew II, Kenneth Gainwell, and Andre Dillard, while the defense was constructed of a slew of players making their season debuts.
No matter how you slice it, it was a shell of what this year's Eagles' team typically looks like. Philly's secondary, in particular, was severely lacking in the talent department.
However, as the game progressed, Eagles fans started to notice that 2019 first-round pick Jalen Reagor had yet to be subbed out. The team's regular starting WR alongside Smith, Reagor played snaps with second and third-stringers on Saturday night.
To make matters even worse, Reagor wasn't even performing all that well despite being the only "starter" on the field for Philly. He finished the game with five touches for 29 total yards and zero touchdowns.
Nick Sirianni revealed his true feelings about Jalen Reagor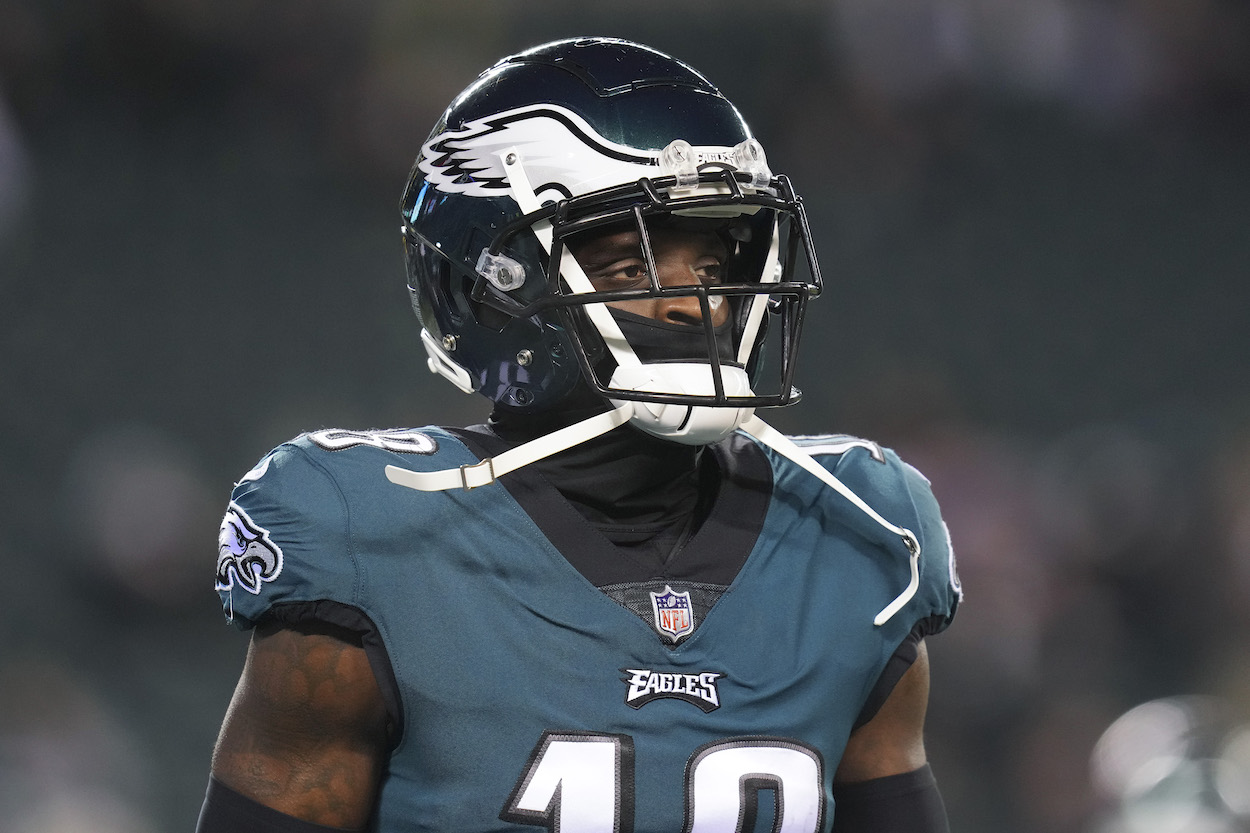 Drafted to be the team's new WR1 in 20200, Reagor really struggled during his rookie season with the Eagles. The hope was that a new coaching staff and less pressure in 2020 would help elicit better production out of the former TCU product. However, that hasn't been the case. Reagor has fewer yards this season (299) than he did as a rookie (396).
With all of the starters on the sideline relaxing, Reagor was forced to run routes and compete with the Eagles' B-Team in Week 18, ultimately revealing Sirianni's true feelings regarding his current WR2.
Sirianni knows Reagor is a backup-type talent — not someone capable of being a starting WR on a playoff team.
The Eagles need to get a new WR2 this offseason
2020 sixth-round pick Quez Watkins is proving to be a nice player (647 receiving yards this season). However, the Eagles need to add a difference-maker at WR this offseason, someone to replace Reagor alongside Smith in the starting lineup.
Dipping back into the draft would be surprising, considering the Eagles have taken a WR with a first or second-round pick three straight seasons in a row. Instead, general manager Howie Roseman will likely poke around the veteran free agency market. Someone like current Los Angeles Chargers WR Mike Williams, for example, makes a lot of sense.
Regardless of who or how, the Eagles showed their cards against Dallas. They don't believe in Reagor, and they need to look into replacing him sooner rather than later.
All stats courtesy of Pro Football Reference.