Earth Miraculously Keeps Spinning After Bill Belichick Apologizes to Media for Being Cranky
We will probably never know what happened to Bill Belichick from the time he left the podium on Saturday night in Indianapolis to the moment he stepped up to the dais on Monday morning in Foxboro. But clearly the New England Patriots head coach, infamous for 20 years of curt and curmudgeonly postgame comments after a loss, had a change of heart over the weekend.
Maybe it was watching Tom Brady get shut out in Tampa on Sunday night that opened an untapped vein of empathy for the world. Maybe he found out he's getting all-new hoodies this week and was feeling some Christmas spirit. Or maybe, just maybe, his trusted dog Nike gave him a prolonged judgy face all day Sunday until Bill caved and changed his ways.
All we know for sure is that when Belichick began his Monday morning session with the media, two days after a dispiriting and somewhat controversial 27-17 loss to the Indianapolis Colts on Saturday night, he was a changed man. He was contrite and apologetic. He was introspective. He was the best version of himself, but a version rarely seen in these type of media settings.
And to the genuine surprise of Patriots fans and haters alike – and maybe even to Belichick himself – this display of humanity and cooperation did not, in fact, cause the world to end.
But what about that field goal that 4th-and-7, Bill? He's glad you asked.
Belichick did what he thought was best against the Colts, then did what he does best with the media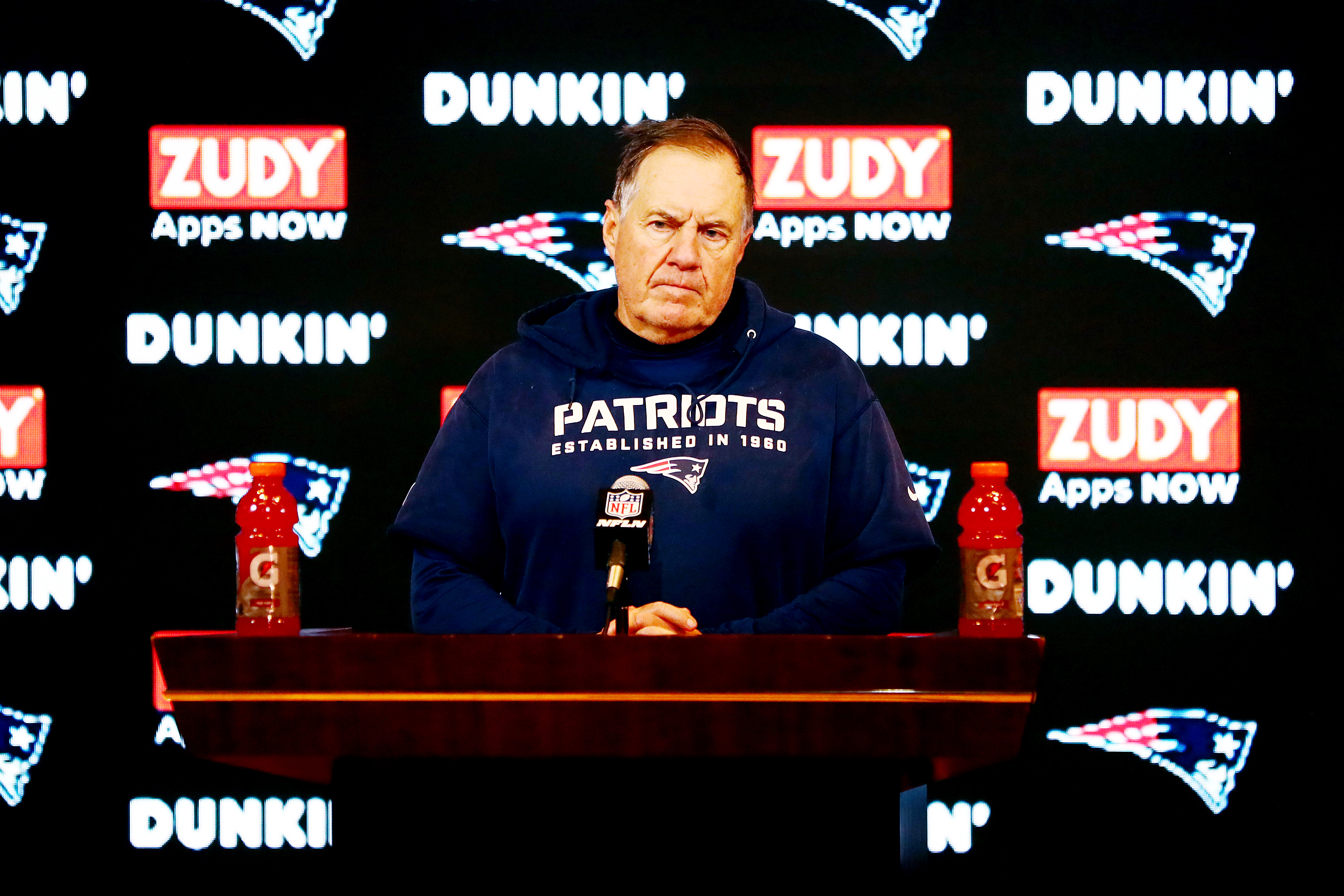 After the loss to the Colts, the media's focus in the postgame press conference was singularly focused. Beyond the bad penalties and the blocked punt and the general poor play of his team, with a chance to get within six points with nine minutes left after trailing by 20, why did Belichick kick a field goal on 4th-and-goal from the 7?
His answer, quite predictably, was a sour-faced non-answer, as he has done so many times before over his 20 seasons in New England.
"I did what I thought was best for the team," was the extent of the analysis, other than the usual, "We didn't play well, we didn't coach well," boiler-plate response to all defeats.
And that was apparently that. Move along, nothing to see here.
In 2014, after the Patriots got blown out by the Kansas City Chiefs on Monday Night Football to fall to 2-2, and with the football world almost gleefully shoveling dirt on his team and specifically the too-old-to-play-at-37 Tom Brady, Belichick famously and defiantly answered five straight questions the next day with "We're on to Cincinnati." It was arguably the most belligerent performance of Belichick's career, and the team responded by winning the Super Bowl. So, there would be no apologies forthcoming, thank you very much.
On Saturday night, without saying so, it appeared Belichick had clearly moved on to Buffalo and the rest of the NFL media got the message, shrugged and moved on, too.
Then came Monday.
'It's not your fault,' and nothing is real in Patriots Nation anymore
Belichick stepped up to the microphone to begin the weekly Monday media session. But before he took any questions, he made a personal statement, unlike anything the man had said at that podium in his Patriots career.
"I apologize if it seemed like I was a little short with you after the game," Belichick said. "Obviously it was a frustrating game. Down 20-0, didn't do anything well enough. There really isn't much to say at that point without watching the film. Clearly, we had problems in every area so there was no simple answer. Every play could have been better, every area of coaching could have been better, every area of playing could have been better and any of that would have helped.
"So, not really trying to be short but there wasn't really too much to say. I don't know that there's much more to say now but it's not your fault. It was a frustrating game."
But wait, stunned readers. Apparently, there was indeed more to say. Having had 48 hours to chew and stew on it, Belichick opened up and gave his thoughts on the 4th-and-7 decision.
Upon further review, Belichick had a really good answer for why he kicked the field goal
In fairness to the man, when he wants to talk football and openly and freely share his thoughts, there are few coaches out there as articulate, thoughtful and able to provide context and perspective as much as Bill Belichick. He has it in him. He just chooses not to share it very often.
Monday was a day of sharing in New England.
"It's still a two-possession game and now it's a field goal," Belichick explained. "I thought there was enough time left (nine minutes) that we would have enough possessions to be able to score 10 points, which we conceivably could have.
"I didn't feel great about converting 4th-and-goal from the 7. Had there been less time and there's a situation where you would go for it or I would go for it on 4th-and-goal at the 7, absolutely. I didn't think, in that game situation, that would've been the best decision. I thought that would've passed up three points and that would've taken two touchdowns. At the end of the game, especially in the dome, having a chance at a 50-plus yard field goal, I think it's a lot better chance than scoring a touchdown and having a six-point differential as opposed to a three-point differential, relative to the chances of converting a 4th-and-7."
And with that, life moved on. A giant sinkhole did not swallow the room whole. Dogs and cats continued with their choice to not sleep together. Maybe it was just a little Christmas Miracle. We're on to New Year's Eve.
Stats courtesy of Pro Football Reference