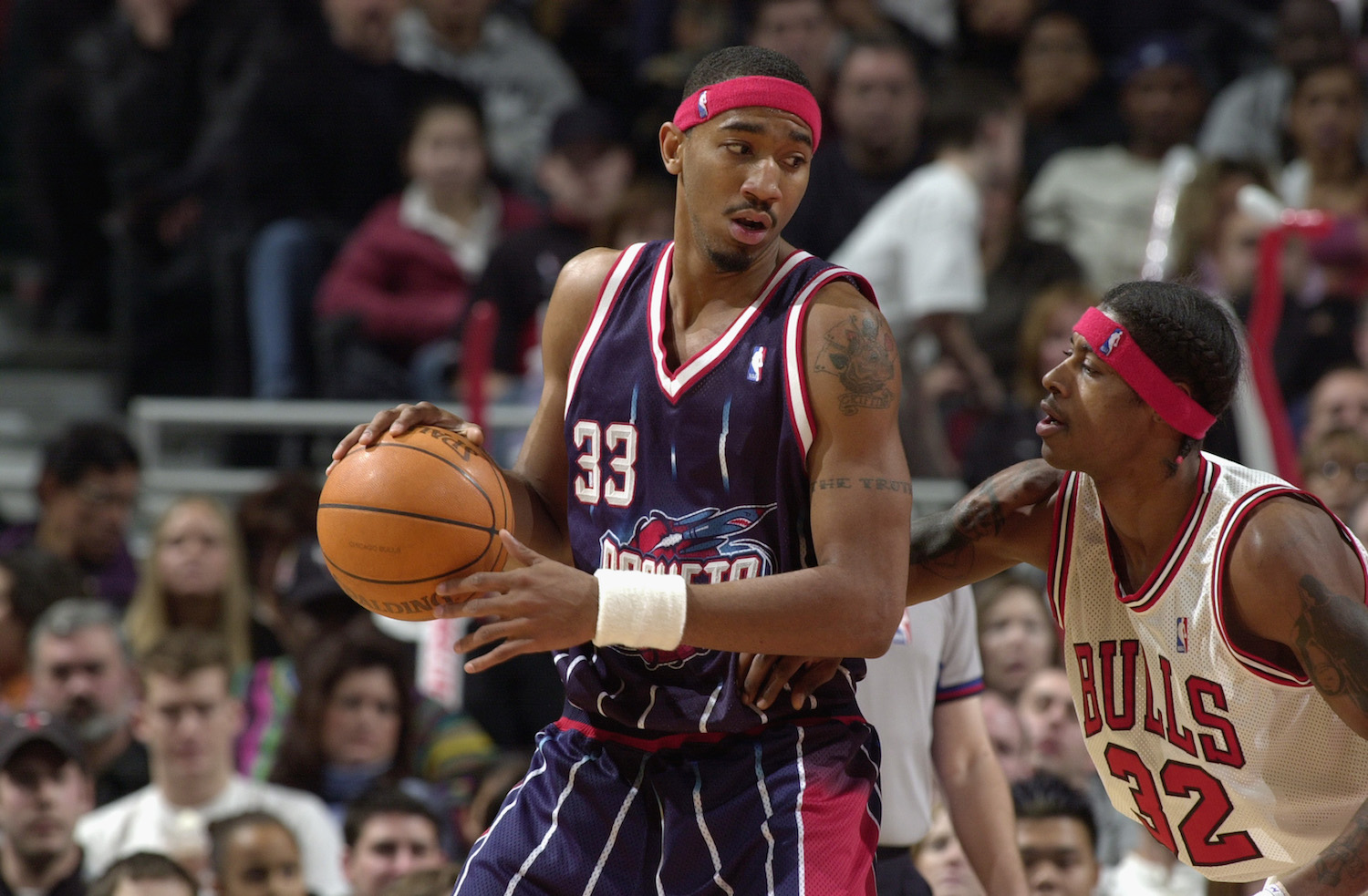 Eddie Griffin's Demons Destroyed His Promising NBA Career and Tragically Ended His Life When His Car Struck a Train and Exploded Into a Fireball
Eddie Griffin was a top NBA draft pick with a promising future. Unfortunately, he also had demons that tragically cost him his life in a fiery explosive crash with a train.
Eddie Griffin appeared destined for superstardom as one of the top picks in the 2001 NBA draft. With the Houston Rockets, the 6-foot-10 Griffin made his presence known on the inside swatting away shots on a regular basis. And he was versatile. He had a smooth stroke from deep and never shied away from taking the three. 
Off the court, Griffin battled a variety of demons. They affected his life to the point where he missed an entire NBA season. Upon returning, those who knew him well hoped he could regain his old form and elevate his game to the next level. It never happened. Tragically, his career and life came to an end in 2007 when Griffin drove his car into the side of a passing train, resulting in a fiery explosion that left his body unrecognizable and unidentified for days. 
Eddie Griffin was a top NBA pick
The New Jersey Nets selected Eddie Griffin with the No. 7 overall pick in the 2001 NBA draft but immediately traded him to the Houston Rockets in exchange for three picks. During his rookie season, the 19-year-old Griffin flashed glimpses of greatness. He became only the eighth player in NBA history to make 100 3-pointers and record 100 blocks in the same season.
During his sophomore season, Griffin teamed up with Yao Ming, the No. 1 overall pick that year. Griffin started 77 games and averaged 8.6 points, 1.4 blocks, and six rebounds per contest. The Rockets missed the playoffs for a second straight year, and head coach Rudy Tomjanovich left due to health issues. 
The Rockets released Eddie Griffin and he missed the entire 2003-04 season dealing with off-the-court issues. He returned to the NBA the following season with the Minnesota Timberwolves. He remained with the team for three seasons, where he averaged 19.2 minutes, 5.7 points, 5.7 rebounds, and 1.8 blocks per contest.
Eddie Griffin struggled with depression and alcohol
While Eddie Griffin's absence during the 2003-04 season revealed there were off-the-court issues, no one knew how bad they were. At the time, he underwent six weeks of treatment for clinical depression. What most didn't realize, though, he often battled that depression with alcohol.
There were multiple incidents throughout his career where Griffin would go missing and not show up for team functions. He had help along the way from John Lucas, the No. 1 overall pick by Houston in 1976, who rebounded from substance abuse issues of his own and counseled others. Still, it wasn't enough.
Eddie Griffin had multiple run-ins with the law. In March 2006, Griffin slammed his Cadillac Escalade into a parked Chevy Suburban in front of a Minneapolis food store. Griffin admitted to the car owner he was drunk, begged him not to call the police, even offering to buy him a new car, according to Grantland. 
Despite that incident, Griffin returned to the Timberwolves for the 2006-07 season. However, he didn't stay long and the team waived him after 13 games. Out of basketball, he returned to Houston.
Dies in a fiery crash with train
In 2007, Eddie Griffin was arrested for two separate fighting incidents and charged with assault. Both charges were eventually dismissed. He then started working with former Houston Rockets great and Naismith Basketball Hall of Famer Calvin Murphy in an effort to return to the game, with an eye toward playing overseas.
According to Houston authorities, on August 17, 2007, around 1:30 a.m., Griffin disregarded the railroad warning sign and drove his Nissan SUV through the railroad arm straight into the side of a passing Union Pacific train. A fiery explosion enveloped the vehicle.
His friends and family tried to contact him for days to no avail. Four days later, through dental records, authorities identified Eddie Griffin. An autopsy determined his blood-alcohol level was 0.26, more than three times the legal limit in Texas.