NBA
Elgin Baylor Dominated the NBA and Served His Country in the Army at the Same Time
When you hear the name Los Angeles Lakers, you think of Kobe Bryant, Magic Johnson, Wilt Chamberlain, Kareem Abdul-Jabbar, and Shaquille O'Neal. One legendary Laker who may not come to mind is Elgin Baylor. Throughout the '60s, Baylor not only had impressive stats with the Lakers, but he also served in the U.S. Army. While his stats speak for themselves, Baylor remains one of the most underrated NBA Hall of Famers of ever.
Elgin Baylor goes to the Minneapolis Lakers
Baylor was selected as the No. 1 overall pick in the 1958 NBA Draft by the Minneapolis Lakers. He signed with the Lakers for $20,000 per year, roughly equivalent to $180,000 today. Baylor played for the Lakers throughout his entire fourteen season career and was with the team as they relocated from Minneapolis to Los Angeles before the 1960-61 season.
Baylor started his collegiate basketball career at the College of Idaho. He played his freshman season at Idaho before transferring to Seattle University. He would play his sophomore and junior seasons at SU, leading the NCAA in rebounds during his junior year.
Baylor actually skipped his senior year at Seattle University to join the league. It was a risk that paid off as he earned the 1959 NBA Rookie of the Year Award. Baylor averaged 24.9 points, 15 rebounds, and 4.1 assists per game during his rookie season. It was Baylor's impressive performances that took the Lakers from last in the league during the 1958 season all the way to the 1959 NBA finals.    
Balancing basketball and active duty
RELATED: Should the Lakers Early NBA Championships Not Count?
Along with being a world-class basketball player, Baylor was a U.S. Army Reservist. He was called up to active duty during the 1961-62 season, and was stationed in Fort Lewis, Washington. Baylor now had to contend with balancing basketball and active military duty.
Baylor learned how to carry his load well. He continued playing for the Lakers throughout his military responsibilities. While others used their weekend passes to go back home or party, Baylor used his to play for the Lakers.
Due to his active duty responsibilities, Baylor could only play 48 games during the 1961-62 season, reports Basketball-Reference. Despite this, he still managed to score over 1,800 points on the season, averaging 38 points, 19 rebounds, and five assists in the 48 games that he played. 
Elgin Baylor's career achievements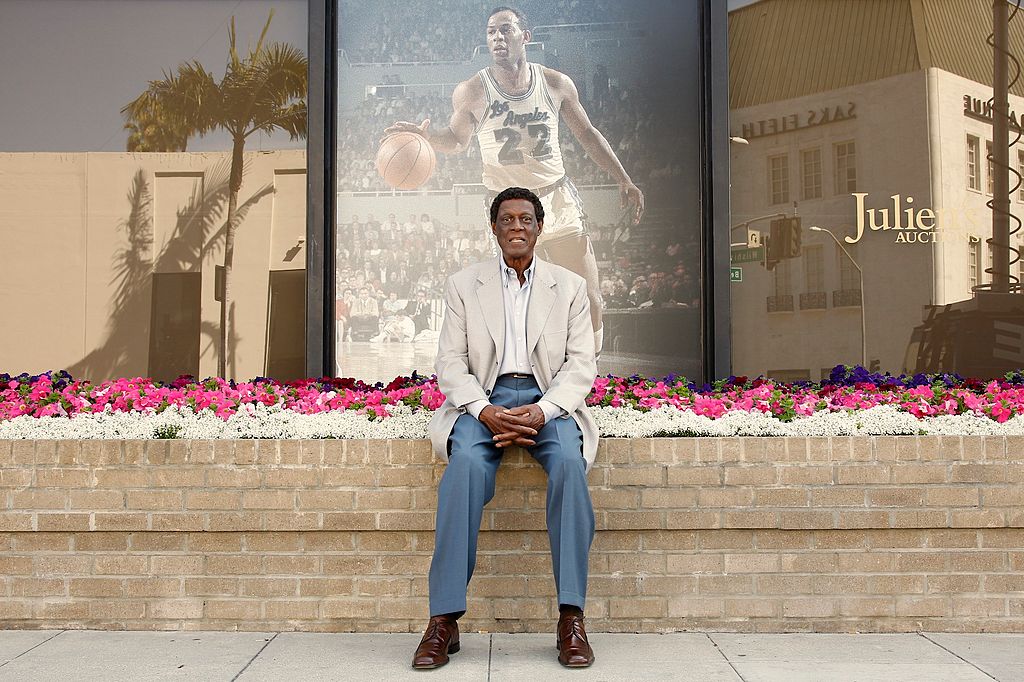 RELATED: The NBA Player With the Most Championships Will Probably Never Be Topped
After dealing with nagging knee problems throughout his last few seasons, Baylor decided to retire nine games into the 1971-72 season. It was during that season that the Lakers went on to win the 1972 NBA Championship. Baylor was awarded a 1972 Championship Ring despite having retired earlier in the season.
Along with the impressive stats and individual honors that Baylor accumulated, he was a pure phenomenon to watch. Baylor was the hang time king. He was known for his signature running bank shot, which allowed him to get shots off effectively over taller players. As Kobe saw it, Baylor was Dr. J and Michael Jordan, before Dr. J and Michael Jordan. Baylor was the first player to bring entertainment to the NBA. 
Baylor finished his career with 23,149 points, 3,650 assists, and 11,463 rebounds in the 846 league games he played. Five years after his retirement, Baylor was inducted into the Naismith Memorial Basketball Hall of Fame in 1977.
The Lakers would retire Baylor's No. 22 jersey in 1983. Along with both of these impressive achievements, the Lakers unveiled a statue outside of the Staples Center in Baylor's honor during 2018. A touching tribute that finally gives Elgin Baylor the respect and acknowledgment he deserves for dominating the league and helping build the Laker legacy.