Eli Manning Dishes Honest Truth on Odell Beckham Jr.'s Success With Rams Despite Uneasy Giants Tenure: 'He's Grown Up Some'
Four years ago, Eli Manning was throwing passes to Odell Beckham Jr. with the New York Giants. Now, Manning is retired and calling Monday Night Football games with his brother, Peyton, while Beckham prepares for Super Bowl 56 with the Los Angeles Rams.
So much has changed since those two were in New York, and Beckham's career has been through more ups and downs than a roller coaster ride at Six Flags. Nonetheless, Manning couldn't help but express his happiness as Beckham prepares for his first-ever Super Bowl appearance.
At the same time, the former Giants quarterback offered some reasoning as to what has made Beckham successful in LA despite the two having their differences in New York.
Eli Manning dishes the honest truth on the success of Odell Beckham Jr.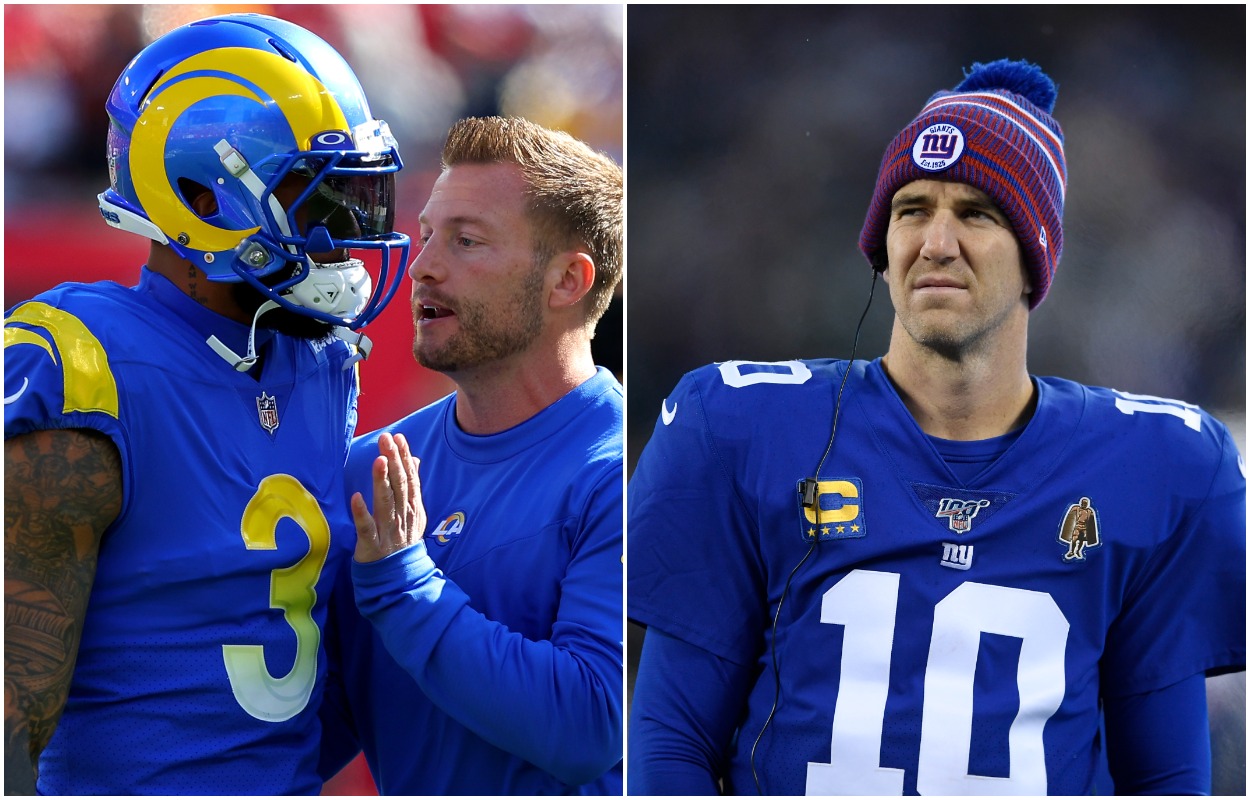 Beckham has done a complete 180 since playing with the Cleveland Browns less than a year ago. After much turmoil and frustration from Beckham, they released him, and he became a free agent for the first time in his career.
Then, he landed with the Rams and became a key contributor for the NFC Champions. During Super Bowl week, Manning spoke highly of Beckham and admitted he is happy for him during an interview on Morten Andersen's Great Dane podcast (h/t Patricia Traina of SI).
"They're winning playoff games and are in a Super Bowl now (with) a chance to win a championship. Happy for him being a part of that."

Eli Manning on Odell Beckham Jr.
Manning is happy for his former teammate, especially after all he has been through. Beckham was traded from the Giants, dealt with injuries in Cleveland, and then landed with the Rams in a prove-it situation.
However, Manning also explained why Beckham has been able to find so much success this season.
"Yeah, you wouldn't think LA, drama, and Odell — on paper it doesn't work. I think it's just the fact that, you know, he's just learned his lesson a little bit. He's grown up some."

Eli Manning
According to Manning, Beckham has "grown up." But whatever the reason, it has paid off in a massive way for the former Giants star.
Beckham and Manning were a dynamic duo in New York but had a falling out
In the 2018 season, Beckham made known his frustrations with the Giants — and specifically Manning. When asked if the Giants had a quarterback issue, the wide receiver didn't back down.
"I don't know. I feel like he's not going to get out the pocket. He's not — we know Eli's not running it. But is it a matter of time issue? Can he still throw it, yeah, but it's been pretty safe, and it's been, you know … cool catching shallow [routes] and trying to take it to the house. But I'm, you know, I want to go over the top of somebody."

OBJ on Eli Manning back in 2018
These comments swirled around the internet, and the Giants ended up fining OBJ for them. Despite that, Beckham still finished the 2018 season with 1,052 yards and six scores before being traded in the offseason.
In hindsight, Beckham was much better off catching passes from Manning than with Baker Mayfield. Just look at the numbers.
Despite Manning and Beckham's tension with one another, the former Giants QB is happy that his old teammate has a chance to win the Super Bowl against the Cincinnati Bengals on Sunday.
Can Beckham help the Rams to a Super Bowl victory?
Despite being sent away from both the Giants and the Browns, Beckham has become a different person in LA. People seemed concerned about Beckham and the Hollywood lifestyle when he signed with the Rams. However, it has been just the opposite.
The Rams needed him to step up, and he has, including 113 yards against the San Francisco 49ers in the NFC title game. Can he do that against the Bengals and help the Rams win the Super Bowl in their stadium?
For now, it's all water under the bridge for Manning and Beckham, and rightfully so. Both players have moved on — Manning to retirement and Beckham to a team of his choosing.
Beckham has entirely bought into the Rams' plan for him, and with Cooper Kupp drawing almost all of the attention, the pressure is alleviated off his shoulders just a bit.
Things have gone his way, and adding a Super Bowl ring to his mantle would be the icing on the cake, not to mention earning Beckham a nice added paycheck.
RELATED: A Rams Super Bowl Victory Will Net Odell Beckham Jr. Another $1 Million Paycheck With Far More Waiting in Free Agency