Eli Manning Admits to Giving Brother Peyton the Worst 'Monday Night Football' Ideas Just to Keep Him on His Toes: 'How About We Don't Wear Shirts'
One of the biggest storylines of this young NFL season so far has had nothing to do with the play on the field, but rather what's going on in the booth (well, kind of). Throughout the first two weeks of the 2021 campaign, fans have been captivated by Peyton and Eli Manning's Monday Night Football telecast for ESPN.
Peyton and Eli are giving fans a whole new viewing experience, as they make the broadcast funny but also informational, given the vast amount of football knowledge both of them have. However, it also sounds like Peyton likes to run things his way, similar to the way he did during his NFL career. So, because of that, Eli recently admitted that he gives his brother the worst ideas just to keep him on his toes.
Peyton and Eli Manning kicked off their 'Monday Night Football' telecast this season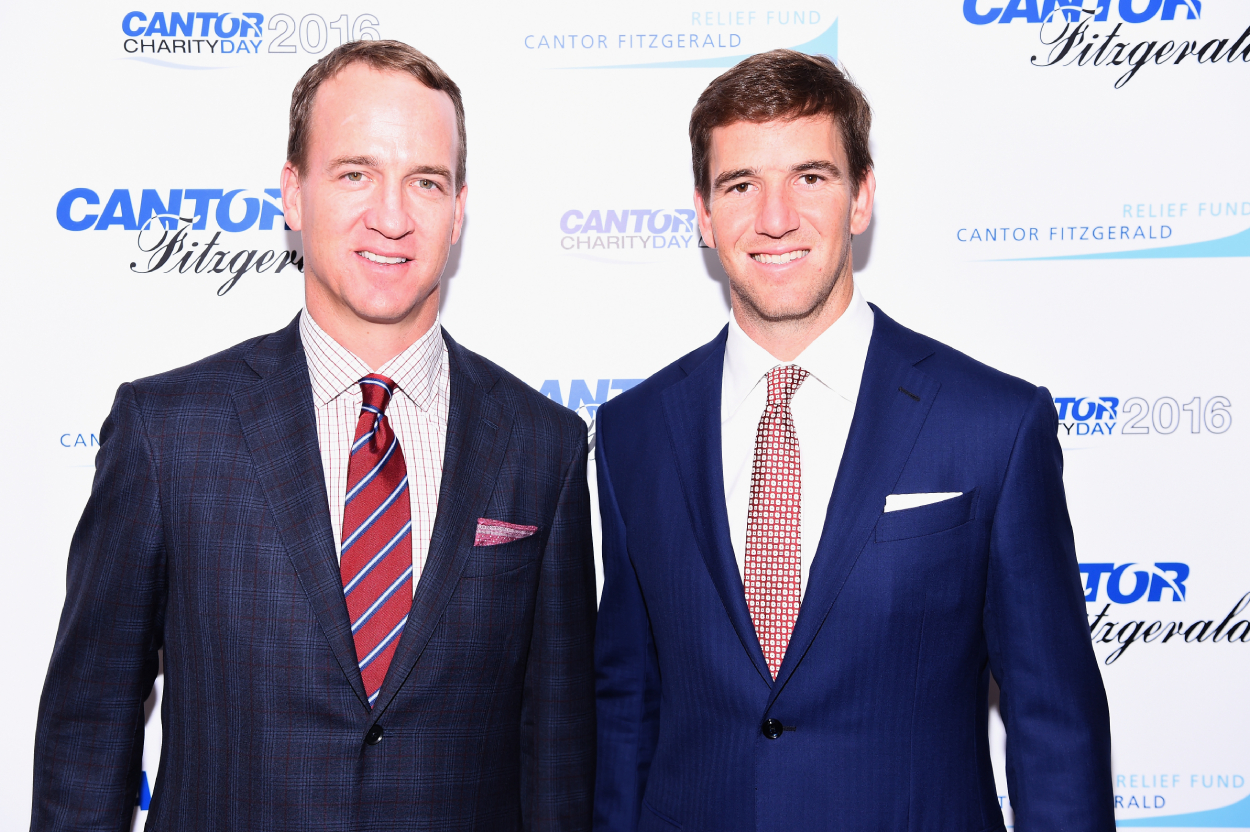 Monday Night Football has had its original stream on ESPN for years, but this season, Peyton and Eli Manning are bringing a new option to fans by having their own telecast on ESPN2 for 10 games.
The two NFL legends — who call the contests from remote locations — make the game fun by cracking jokes, but they also have guests on periodically throughout the night and explain what's going on in the game through their eyes.
So, how did this all come to be? Eli recently explained how the idea formed while appearing on the Sept. 20 episode of The Pat McAfee Show.
"Peyton's been kind of thinking about getting into the broadcasting world for a while; he's been approached, he's had meetings about it," Eli said. "One of the things is just the travel. All of a sudden, for a Monday night game, you gotta leave on Friday. … We're both like, 'That's four days. It's all weekend.' It's like a brutal schedule, where he's been retired for five years, he's like, 'I kind of like this freedom.' And then all of a sudden, these Zooms are going on, and you can start doing things from afar. And it's like, 'Hey, we can team up and do this.' It kind of gives you your football itch."
Eli Manning said he gives Peyton the worst ideas to keep him on his toes
We all saw how meticulous Peyton was throughout his career. He ran his offenses his way, which led to the Indianapolis Colts and Denver Broncos finding the end zone more times than not.
It appears his perfectionist mindset, though, also comes out when preparing for Monday Night Football.
"He wants everything done exactly how he wants it done," Eli said to McAfee. "Growing up with him, I'm so used to it. You just gotta keep him on his toes. Every once in a while, I'll send him the worst idea. Just like, 'Hey guys, how about we don't wear shirts this Monday at the beginning of it just to see how it goes?' And he's like, 'What? That's a terrible idea.' And I'm like, 'I know, you just gotta calm down. Settle down a little bit; we'll be fine.'"
Filming the telecast without shirts would have certainly gotten everyone's attention. It probably wouldn't have been the most professional move to make, though.
But despite Peyton vehemently shutting down the no-shirt suggestion, that doesn't mean he and his bro won't try to experiment with new ideas in future Mondays.
The Manning brothers are learning as they go
Eli Manning also admitted that he and Peyton didn't know what to expect in Week 1 of their new Monday Night Football gig. He said they had a few rehearsals and practiced calling games that aired last year, but they're essentially learning as they go.
"We just wanted to make sure we had enough material, 'Hey, do we need to add some things? Do we need to have some plays called? Do we need to draw up plays? What's good, what's bad?' And I think we're still kind of learning that," Eli said. "Each week we'll try different things and kind of feed off the audience of whether, 'Hey, we really like that,' or 'That was too much.'"
Peyton and Eli essentially have the next three years to figure out what works, as the deal for their telecast lasts through 2023, per Bleacher Report. If they keep killing it, though, who knows how long it will last.
All in all, fans who watch Peyton and Eli can expect to have some fun and learn a little bit, and who knows, maybe Eli will keep us on our toes by showing up with no shirt. But either way, their new viewing option seems to have a ton of potential and could be extremely successful, which should come as a surprise to no one.
RELATED: Peyton Manning Once Savagely Kicked His Fellow Colts Teammate out of a Film Room Despite Not Even Playing That Entire Year Due to Injury