Eli Manning Offered Fans of ESPN's 'Manningcast' the Worst Possible News
ESPN has a hit on its hand with the Manningcast, the alternate Monday Night Football broadcast starring former NFL quarterbacks Peyton and Eli Manning.
Football fans quickly fell in love with a broadcast featuring on-air chemistry, a stellar guest list, and plenty of jokes about Peyton's forehead. Things are so good, especially from a ratings standpoint, that one would understandably think ESPN would want to consider turning the Manningcast into a weekly presentation across a full season.
Let's hope you weren't the fan in question who had those hopes. Otherwise, Eli has unfortunate news for you.
Eli Manning doesn't believe the 'Manningcast' will ever air each week during a 17-game season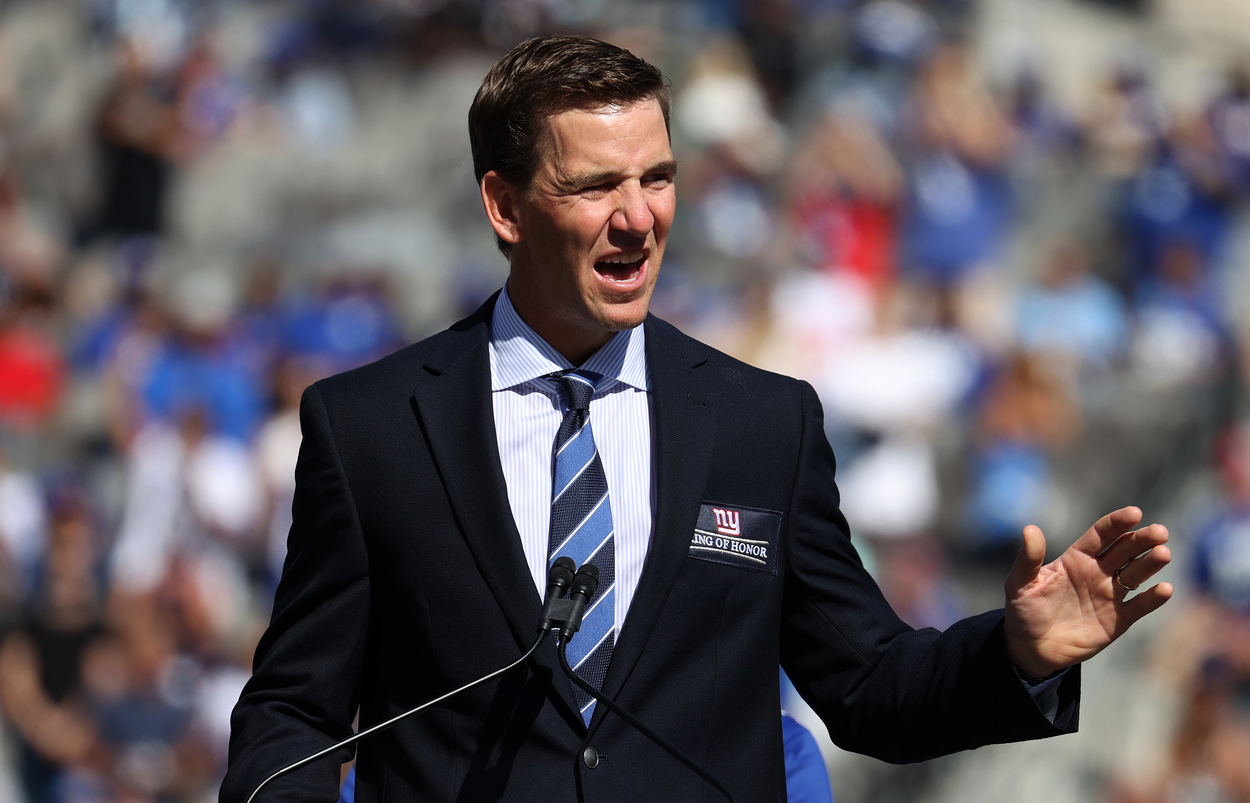 When ESPN announced the Manningcast earlier this year, the network made it clear that the alternate broadcast wouldn't occur every week. Instead, the Manning brothers will call 10 regular-season games on ESPN2 and a postseason game.
Fans clearly want to see more from the two Super Bowl champions. According to Outkick, the Manningcast's ratings have steadily improved each week and drew 1.89 million viewers during a Week 3 clash between the Dallas Cowboys and Philadelphia Eagles.
Although those at home might want ESPN to have the Manning brothers announcing more games, Eli has the opposite idea in mind. During a recent appearance on 10 Questions With Kyle Brandt, the four-time Pro Bowler said he prefers not having the alternate broadcast air each week.
"This is the entertaining thing. It's different. It's new. It's not a difficult deal. It's a new product, a new idea. We get to do it from home. We do it for 10 games. That's what we like about it."

Eli Manning
As of publication, the next Manningcast is scheduled for Week 7. The brothers will call a primetime showdown between Jameis Winston's New Orleans Saints and Russell Wilson's Seattle Seahawks.
Manning's honest response is frustrasting news for football fans
There is no perfect broadcast in this world. Even the celebrated Sunday Night Football duo of Al Michaels and Cris Collinsworth are prone to the occasional gaffe or controversial comment.
Although there have been errors and awkward moments on the Manningcast, the broadcast has also provided football fans with a brilliant change of pace. The ratings prove the broadcast is a hit with those who are tired of traditional presentations.
Clearly, football fans are still watching the standard broadcast on ESPN. But there's a reason why the brothers trend on social media each week and why their clips, including Eli flashing a double-bird on camera when referencing Eagles fans, quickly go viral.
However, what has made the Manningcast so effective so far is also why the network is correct in not expanding it just yet. Too much of a good thing can be ineffective and ruin the fun. The alternate broadcast currently works because, as Eli said, it's new, and it doesn't happen every week.
As fun as the idea of a Manningcast each week sounds on paper, the magic would eventually go away at some point. Football fans could tire of Peyton talking too much or the constant guests popping in to discuss nonsense during a close game. 
Still, it will be worth monitoring to see if the Manningcast remains at 11 total games next year. Although ESPN may feel compelled to add more broadcasts, at least one of the brothers doesn't sound like someone who wants the added workload.
Manning wants football fans to appreciate what the regular 'Monday Night Football' announcers do each week
All the focus on the Manningcast has taken attention away from the traditional Monday Night Football broadcast. Before Week 4, you may not have even known that, yes, the trio of Steve Levy, Brian Griese, and Louis Riddick returned for their second season together.
When he spoke with Brandt, Manning praised the three and commended them for their work and effort.
"They do a lot of preparation. They know every single player on the field," Eli said. "Peyton and I do some prep, but we're winging this thing a little bit. We are very happy where we are."
Football fans appear happy with where the Manning brothers are, too. Those who want Eli and Peyton working the standard broadcast, however, are out of luck.
Like Sportscasting on Facebook. Follow us on Twitter @sportscasting19.
RELATED: Peyton Manning Attacks Barstool Sports Personality PFT Commenter on 'Monday Night Football' Broadcast: 'Is There a Way to Block This Guy as a Viewer?'