Eli and Peyton Manning on Monday Night Football Is a Smashing Success, According to Unanimously Obsessed NFL Fans
The Manning brothers have linked up to commentate on their own broadcast for Monday Night Football. Peyton and Eli's show has a much different vibe than the traditional coverage, leveraging their expertise and connections to star players to create a unique take on the show. NFL fans are raving about the result. Could this format be the future of sports broadcasting?
ESPN made a big commitment to convince Peyton Manning and Eli Manning to do this show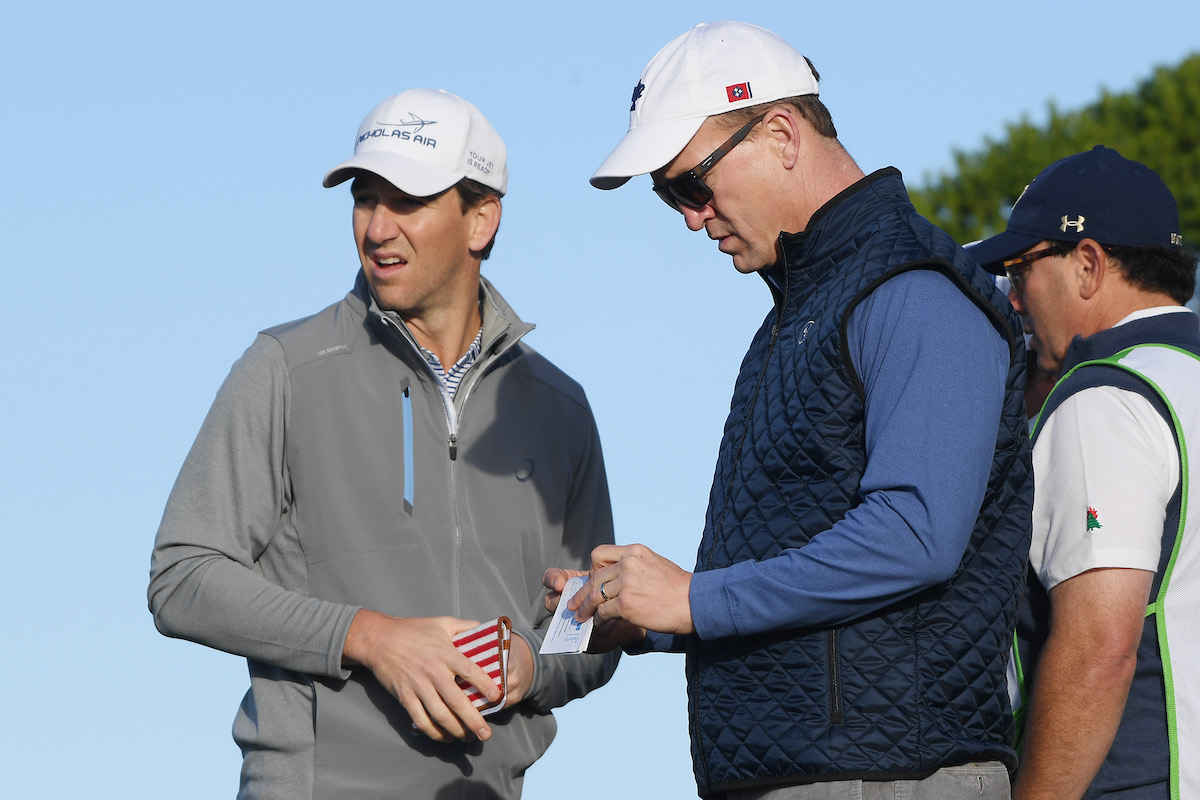 The arrival of the Manning brothers to do their own edition of the Monday Night Football broadcast is the biggest change to the medium this year. ESPN signed a three-year deal with them to host an alternate broadcast of 10 games throughout the season on ESPN2. The telecast is a co-production with Peyton's Omaha Productions.
The agreement is the end result of a courtship at least a year in the making. Peyton already has two ESPN+ shows, Peyton's Places and Detail. Front Office Sports reported in 2020 that the "Worldwide Leader in Sports" offered the former Broncos and Colts QB between $18 and $20 million a year to be a color commentator on the traditional broadcast. Amazon also made a run at Manning for their coverage of Thursday Night Football. 
Manning turned those deals down, perhaps knowing he and Eli could build a more interesting show around their personalities on their own. Working outside of the restrictions of a normal broadcast allows them to experiment and have more fun with the platform. 
Peyton and Eli interchange dry jokes about each other with intelligent football analysis that could only come from two quarterbacks with highly successful NFL careers. They also have brought on guests with real star power, like Charles Barkley, Russell Wilson, Ray Lewis, and Travis Kelce. For week two, Rob Gronkowski joined the show and admitted he isn't the most strenuous student of the game.
The more casual atmosphere makes the show more enjoyable for the Mannings to host, more welcoming for players and media stars to talk on, and more entertaining for viewers to watch. 
Fans love the Mannings' take on Monday Night Football
It's only been two weeks, but the consensus view is that this show is a hit.
A Reddit thread noting Peyton's laughing reaction to a Lamar Jackson touchdown — "I would have thrown it away three times" — drew 205 comments, the vast majority lavishing praise on the retired athlete. "I don't even know how many times I've smiled or laughed during this Manning Cast. It's been tons of fun imo" said user suzukigun4life. 
Even the mistakes, like awkward or nonexistent cuts to commercial breaks, are being viewed in a positive light. "Honestly, I don't mind the unpolished feel to it. It feels like you're watching it with friends instead of a professional broadcast crew. It fits nicely for Monday night games, when everyone has to worry about work or school and doesn't have time to meet up with friends like they do for Sunday afternoon games," wrote bigjoeco in another Reddit thread. 
The combination of fan-like glee and revealing football facts give fans the best of both worlds. "They don't treat you like you've never seen a football before so it's already 800x better than the normal espn crew," said Orange-69 on a Reddit thread after Peyton and Eli trashed the idea of halftime adjustments being an effective tool for any team or coaching staff. 
User Invisophil summed it up best with his own Reddit post recapping the night:
"Bad commentators have really burned me out of watching games. The Mannings + guests were just guys talking about football. Half the game they were chatting s***, which I adored. The game ended up being great but I had fun when I had fun from the start.

They really overshadowed the product on the field for awhile and I'm cool with that. Russ[el Wilson] was great at the end. I haven't enjoyed a game like that in years. My dad insisted we watch the game and we were both cracking up. I don't even know if I'm allowed a post like this on this sub. I feel better about football as a whole. It was refreshing to listen to Eli/Peyton."
The look and feel of sports commentary is changing before our eyes
Traditional sports commentary has looked the same for decades. But the last few years have suggested that some evolution is at last on the horizon. 
The increasing dominance of streaming platforms has led to even sporting events losing ratings more by the year. Networks are desperate to find new features that increase the viewer count. As Tony Romo showed when he entered the CBS booth, having former players who aren't so detached from the league helps greatly. But there is something bigger at play.
The tried and trusted style of announcers in suits rehashing the same narratives with the same media-trained tone has never felt so out of touch. When fans watch games, they are usually doing so with their real life friends or with buddies on social media, where the running commentary can be more emotional, incisive, and up-to-date.
Peyton and Eli are incredibly thoughtful about football, but they never let their decades of experience trump the fact that sports are so popular because we love to watch and play these games. Having a little fun with the broadcast can go a long way. 
RELATED: Jim Nantz Knew Tony Romo Was Going to Be 'the Next Great Analyst' Years Before CBS Did