Eli Manning Weighs in on Aaron Rodgers' Unsettled Future With the Green Bay Packers: 'It's Probably Going to Be Worse'
The Green Bay Packers' 2021 season is officially over, which means it's time for heightened speculation about where Aaron Rodgers will play in 2022. The top-seeded Packers suffered an early exit from the NFL playoffs, which was a bad look for the likely MVP. Could he really have played his last snap in Green Bay? Some think so, but Eli Manning has a strong stance on what Rodgers should do this offseason.
Eli Manning suggests Aaron Rodgers should stay in Green Bay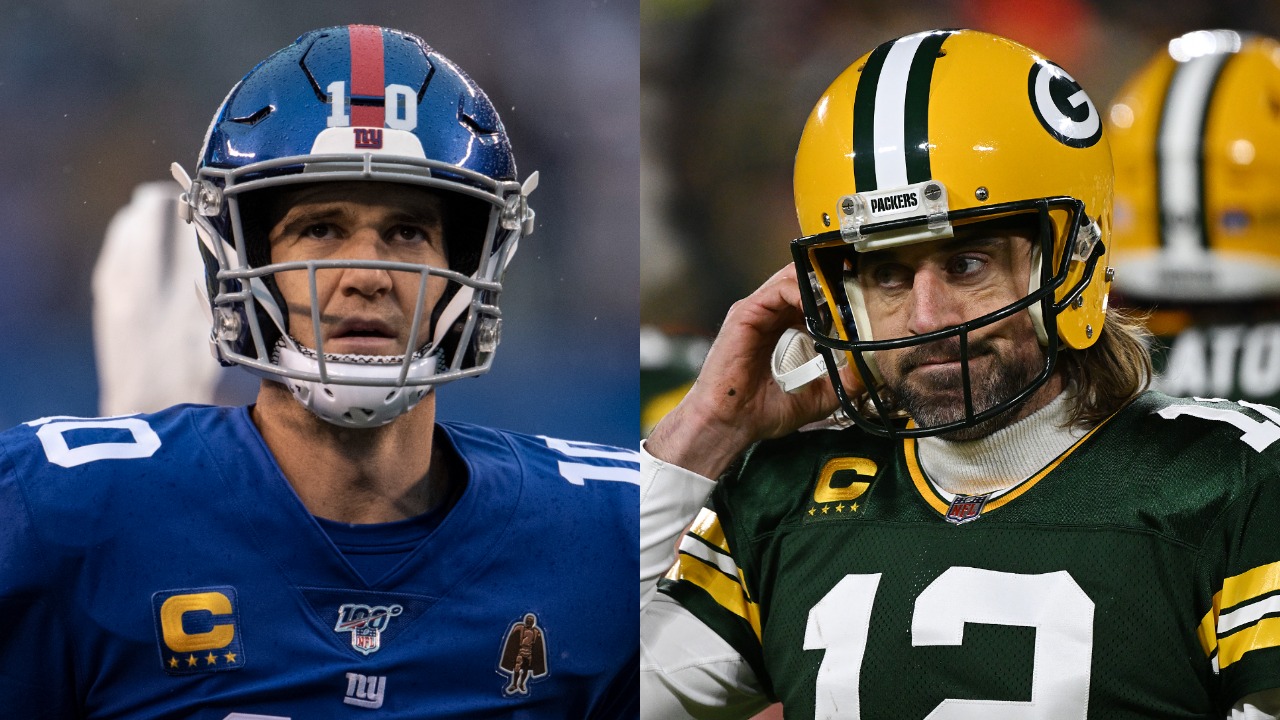 Aaron Rodgers is one of the most polarizing figures in sports for several reasons. There's no consensus on whether or not the 10-time Pro Bowl quarterback will be returning to Green Bay in 2022.
Many people in NFL circles are weighing in on Rodgers' future with the Packers. New York Giants great Eli Manning recently discussed the possibility of No. 12 playing elsewhere and why it may not be the best move.
"It was important for me to finish my career with the Giants," Manning said per ESPN. "I would think it would be important for him as well. Just because of the legacy that he has, the history of Green Bay, being there as long as he has been, winning a championship, and winning MVPs. It's not always greener on the other side."
Manning suggests that leaving Green Bay isn't a cure-all and won't guarantee success.
"That's what I had learned from talking to other people," he added. "You can go somewhere, and it's not necessarily going to be better. It's probably going to be worse."
The retired quarterback believes Rodgers' ego could be getting in the way.
"Usually, what happens is the egos get involved," Manning said. "It's either his ego or the GM's, and for some reason, that's when there's usually separation. When a quarterback's been there a long time and leaves, it's because the egos can't get along with everybody."
The Giants legend says this is a different situation than Peyton Manning in Indy
Eli Manning played his entire 16-year NFL career with the New York Giants. He valued going along for the ride with the same franchise that drafted him. His brother, Peyton Manning, spent 13 seasons with the Indianapolis Colts before they released him in 2012.
The younger Manning noted that his brother didn't leave on his own accord.
"Peyton never wanted to leave [the Colts]," Manning said. "He was kind of forced out. He had the neck injury. They were going to draft Andrew Luck, and he had to move. He wanted to keep playing, and it was a little different scenario."
As a three-time NFL MVP, Aaron Rodgers will have plenty of say-so in his future. Manning believes whatever happens will be because that's what the Packers quarterback wants.
"If Aaron leaves, it's probably going to be his own call," added Manning. "That's what he basically said last year is he wanted to get out. I think it's strange to want to leave someplace where you've been your whole life and to leave for the last two years or whatever it may be of your playing career. Obviously, Tom [Brady] did it, and he had success, but you want to make sure it's the right spot."
The former Giants star thinks Rodgers needs to be sure before uprooting and starting fresh somewhere else.
"If it's a trade, it's a little bit different," he said. "A trade, you would not think would end real good for him. They're not sending him to an NFC team, so that eliminates half the league."
The case for Rodgers heading elsewhere in 2022
It's unclear what Aaron Rodgers wants to do for 2022 and beyond. He could end up retiring, although that doesn't seem likely. He has a monumental decision to make, regardless of the route he takes.
As Eli Manning suggested, it makes perfect sense for Rodgers to return to Green Bay. The Packers have pieces in place on both sides of the ball to contend again in 2022. They had the No. 1 seed in the NFC for a reason. Still, finishing his career in Green Bay might not be in his plans.
If the Packers trade Rodgers, it would likely be to an AFC team. AFC West squads like the Denver Broncos and Las Vegas Raiders could be in play. The Nathaniel Hackett hire is heating up the speculation in Denver.
A change of scenery could surprisingly be a good thing for Rodgers. He's been unhappy with the front office for a few years now. Even though the relationship seems to be getting better on the surface, it's difficult to imagine the four-time All-Pro selection is content. Winning heals wounds, but the Packers' season ended on a losing note.
The Broncos would be an intriguing potential landing spot for No. 12. The offense features many young weapons, including Javonte Williams, Jerry Jeudy, Courtland Sutton, and Noah Fant. It's uncertain if Denver would have enough money for Davante Adams, but that could be a condition of the agreement.
If winning right away is the goal, there won't be a better destination than Green Bay. However, if he wants to make it on his own, the league's most controversial superstar could be playing elsewhere next season.
Like Sportscasting on Facebook. Follow us on Twitter @sportscasting19.