Elmore Smith's Surprisingly Wild Ride From Replacing Wilt Chamberlain and Kareem Abdul-Jabbar to Becoming the King of Barbecue
It would be noteworthy if Elmore Smith was merely the player who held the Los Angeles Lakers' glamour position between Wilt Chamberlain and Kareem Abdul-Jabbar. If his journey traversed from a solid NBA career to a fan favorite because of his culinary skills, that would also be a fascinating tale. Put those two stories together, and it begins to take on epic status.
But as it turns out, those two facts only begin to scratch the surface of Smith's extraordinary rise (literally) from a 5-foot-11 high school freshman to a 7-foot junior trying out basketball for the first time.
How does a late bloomer become the bridge between two of the most legendary big men in the history of the NBA? It started with a nudge from a high school administrator.
Elmore Smith had the humblest of beginnings for a pro athlete
After a pair of growth spurts took Elmore Smith from 5-foot-11 to 7-feet, he was subtly encouraged to try out for the basketball team at Ballard-Hudson High School. The principal told Smith that he'd ban him from campus if he didn't go out for the team. According to the Louisville Courier Journal, Smith thought his presence was more about the show than anything else.
"I didn't even know how to dribble, and I wasn't clumsy or anything; it's just that I hadn't ever done it before. They kept me around because I made the layup line look good."
Smith tried to enlist in the military three times while in high school just to get away from home. After being threatened with jail time (he wasn't a candidate because he exceeded the height limit), Smith ended up at Kentucky State, where he developed into a force. While leading the program to back-to-back NAIA national titles, he averaged 20 and 20 for his career. Yes, 20.6 points and 22.2 rebounds over three seasons. His 799 total rebounds in 1970–71 remain the all-divisions national record.
The school may have been off the beaten path, but Smith put himself on the map.
Smith heads to Buffalo before a career as 'the next guy'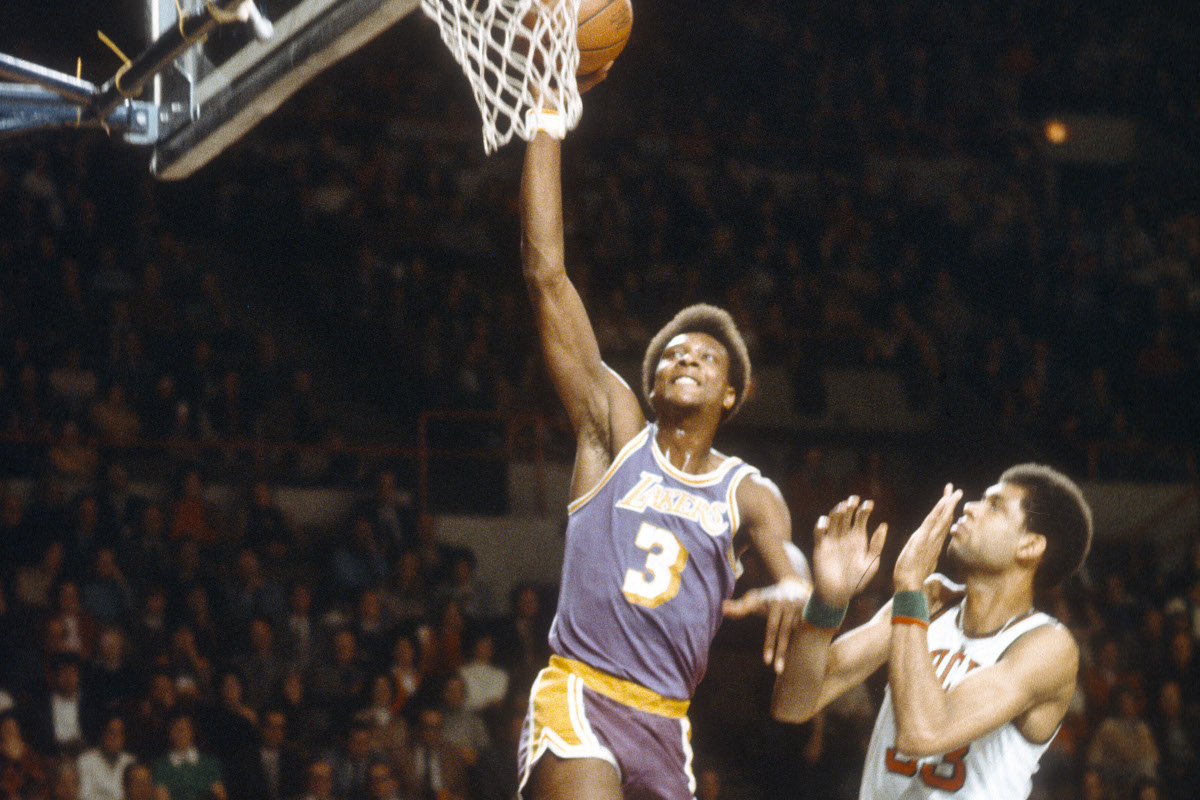 The fledgling Buffalo Braves won just 22 games in their inaugural season. With the third pick in the 1971 NBA Draft, they grabbed small-college sensation Elmore Smith. Despite the steep jump in competition, the 22-year-old handled himself well, averaging 17.3 points and 15.2 boards per game as a rookie. He was second to Portland's Sidney Wicks in the Rookie of the Year voting.
In September 1973, Smith went to the Lakers in a trade. But instead of pairing with Chamberlain as a huge power forward, he wound up replacing Wilt in the middle. Chamberlain jumped to the ABA, Jerry West was ailing, and a Laker powerhouse was about to come crashing down.
His first season in LA was also the first season the NBA tracked blocked shots. In an Oct. 28, 1973, game against Portland, Smith set the bar high. His 17 blocks that night. That record remains intact after nearly 50 years.
Two years after arriving in LA, Smith was part of one of the most significant NBA trades ever. Kareem Abdul-Jabbar forced his way out of Milwaukee, and Smith went to the Bucks to replace yet another legend. Smith recalls Kareem having the same problem he had with the Lakers.
"I didn't have the talent on the Laker team that I had in Milwaukee. That's why in Milwaukee, that first year we made the playoffs, and Kareem had to get used to the guys that I was playing with, so they didn't make the playoffs that year."
Knee injuries cut Smith's career short. But he became a Cleveland institution.
Elmore Smith discovered the proper sauce
Traded to the Cleveland Cavaliers in 1977, Smith finished his career there. He called it his best NBA experience and settled there in retirement. He started serving his signature barbecue sauce to friends while still playing. They encouraged him to broaden his audience.
He began selling his sauce in 2006, both online and at Elmore Smith's Smokehouse Restaurant inside Cleveland's Rocket Mortgage Fieldhouse. Per Ex-NBA, the recipe was decades in the making. Holding back on the vinegar made the difference.
"I've been making barbecue sauce since I was 16. For years, I just made it for family and friends, but so many people said they loved it that I figured I'd get it out there into the public.
"I'm telling you; people really love it. They clean us out every game, and you wouldn't believe how many people say, 'This is nothing like arena food.'"
Elmore Smith will be back in Kentucky in September 2021 for his induction into the Kentucky Sports Hall of Fame. Another ingredient to add to the sauce of a remarkable journey.
Statistics courtesy of Basketball Reference.