Elvis Grbac, Rich Gannon, and a Bizzare 'Sexiest Athlete of the Year' Award
Kansas City Chiefs fans have every reason to shudder at the thought of Elvis Grbac or Rich Gannon behind center.
It's nothing against Grbac or Gannon, both of whom quarterbacked the Chiefs in the 1990s. But after two stellar seasons from Patrick Mahomes, one of which resulted in a Super Bowl title, could anyone blame fans for wanting to focus on the present?
At least Mahomes will be remembered in Kansas City for his play. Kansas City Chiefs fans may mostly remember Grbac and Gannon's stints in red and gold for the bizarre People Magazine incident.
Grbac and Gannon each were Kansas City Chiefs quarterbacks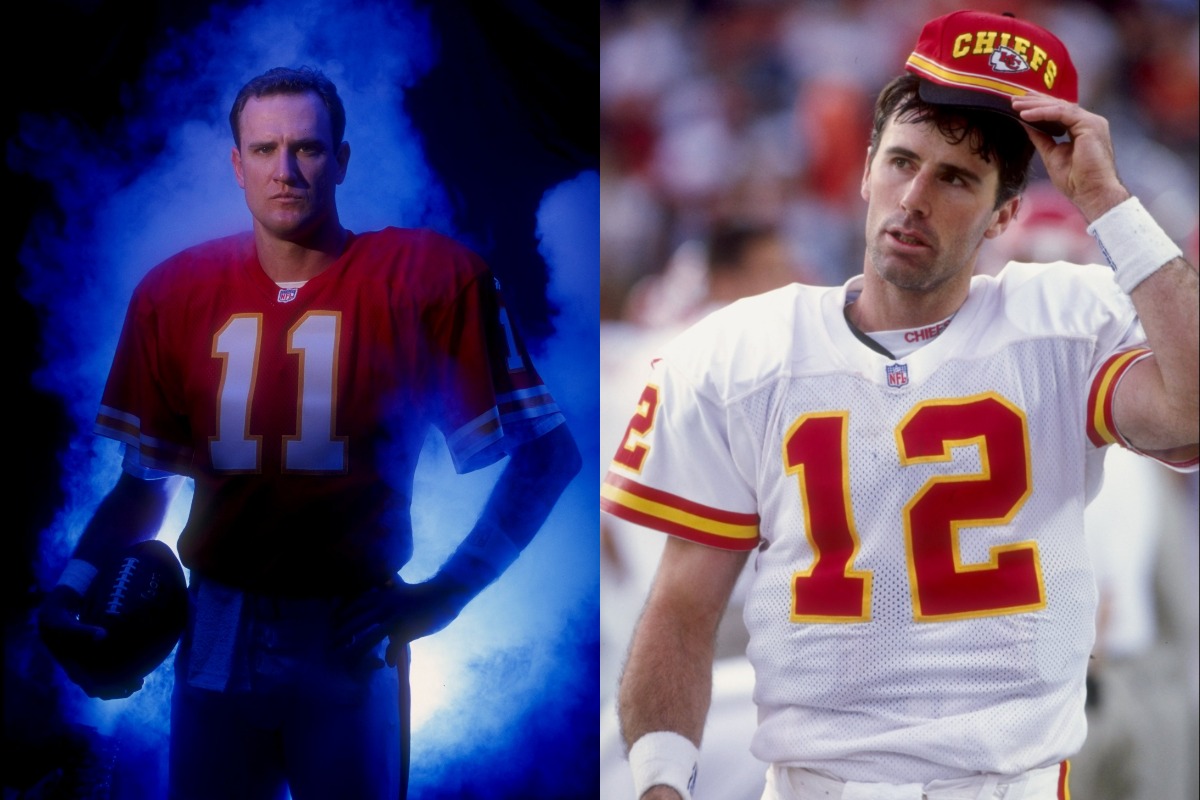 RELATED: Does Patrick Mahomes Think He'll Become the GOAT?
Despite both playing for the Chiefs, Elvis Grbac and Rich Gannon might be remembered for their quarterback stints elsewhere.
Gannon is definitely remembered more for where he played after Kansas City. He made four Pro Bowls for the Oakland Raiders from 1999-2004 and revived his career under Jon Gruden.
At 37 years old, Gannon won NFL MVP honors in 2002 and led the Raiders to a Super Bowl loss against Gruden, now with the Buccaneers.
Unlike Gannon, Grbac at least had his best season with the Chiefs. Grbac completed 59.6% of his passes for 4,169 yards, 28 touchdowns, and 14 interceptions across 15 games for the Chiefs in 2000.
However, he threw 18 interceptions to 15 touchdowns with the Ravens a year later and he never played again.
From 1997 and 1998, though, Gannon and Grbac played together in Kansas City. Grbac went 8-2 in 1997 but was benched in 1998, a year he threw seven more interceptions than touchdowns.
Gannon went 10-6 across 16 starts with the Chiefs those two seasons.
Rich Gannon was named People Magazine's 'sexiest athlete'
RELATED: Dwayne 'The Rock' Johnson Already Has Pat McAfee Reaching Out to Him for an XFL Job
Rich Gannon was an attractive man. At least, People Magazine thought so and decided to honor him for his looks.
Every year, People Magazine names a sexiest athlete of the year. Golden State Warriors star Stephen Curry won the award in 2019 over hockey player Mike Fisher, tennis star Rafael Nadal, swimmer Michael Phelps, and NASCAR driver Bubba Wallace.
Past winners include Ricky Williams, Tiki and Ronde Barber, and Tim Tebow. Soccer star David Beckham and former Miami Hurricanes football player and wrestler-turned-entertainer Dwayne "The Rock" Johnson each earned "Sexiest Man Alive."
The magazine instead, bizarrely, featured Elvis Grbac
RELATED: You Know Joe Montana, but Which Other QBs Played for Both the Chiefs and 49ers?
Chiefs fans who heard People Magazine named their quarterback the "Sexiest Athlete" probably expected to see Rich Gannon, the Chiefs' starting quarterback in 1998.
Instead, they saw Elvis Grbac, Gannon's backup. A mixup involving the photographer, who mistakenly shot Grbac instead of Gannon, meant People had to call an audible.
The mini-story that went alongside a picture of Grbac smiling in a gray t-shirt and jeans shows just how much of an audible the magazine called.
"Leaping tall buildings in a single bound might be stretching it. But if you need a missile aimed with laser-like precision by a stalwartly handsome guy with a crew cut and a chiseled jaw, Kansas City Chiefs quarterback Elvis Grbac is your man."
With a description like that, People Magazine may as well have written Grbac's personality made him attractive.
Actually, they didn't have to do that. The story ended with a comment by his wife, Lori.
"His personality makes him sexy," she said.
And there you have it.