NFL: Is this the end for Todd Gurley, or are the Rams Just Smart?
Fans of Los Angeles Rams running back Todd Gurley have watched him roaring across their offensive line for the past four seasons. At the end of 2018, Todd Gurley was ranked third in the NFL with 1,251 rushing yards. With figures like those, it would appear Gurley has a promising future playing professionally. However, he's struggling with other issues, especially an injury-prone knee that limited him at the end of the season and during the playoffs. Reports suggest Gurley has arthritis in the same area and this could affect his future playing status. The Rams made some offseason moves to shore up the backfield, so is this the end for Todd Gurley in L.A., or is the team being smart about its roster?

New addition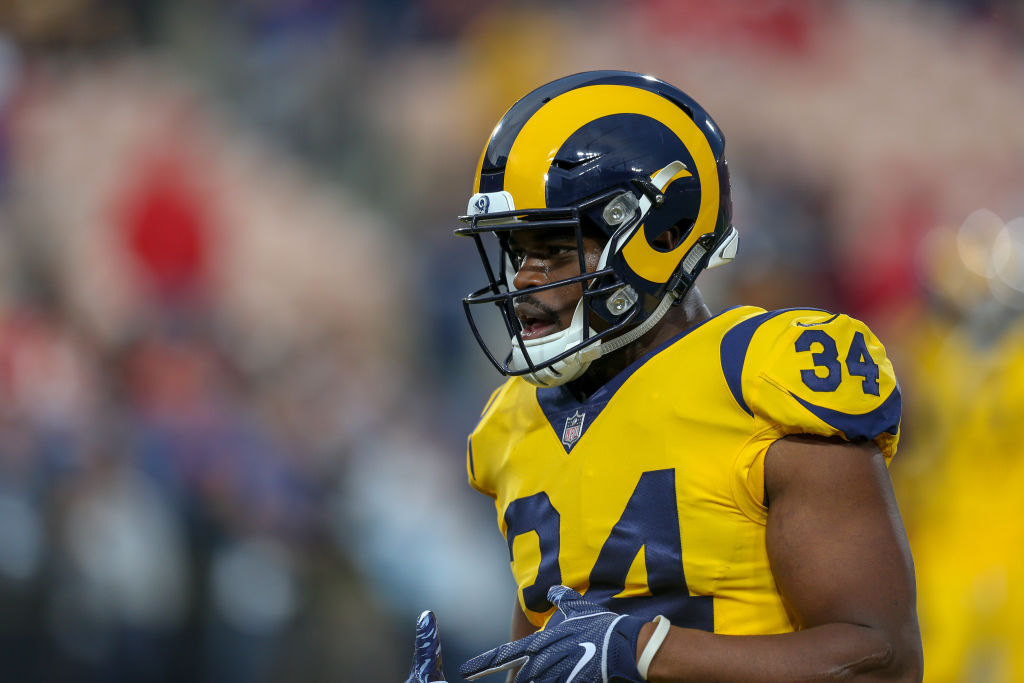 Almost literally adding insult to injury, doubts about his future playing for Los Angeles were recently brought into question when the Rams picked up a potential replacement for him with their choice of Darrell Henderson in the 2019 NFL draft.

After some maneuvering by management to get up to No. 70 in the draft, the Rams chose a powerful running back with some pretty impressive stats from his days of playing college ball for the Memphis Tigers. It's usually not a good sign when a team spends draft capital on a potential replacement, especially in the top half of the draft.

L.A. matched a contract offer Gurley backup Malcolm Brown received in free agency, so he remains in the backfield mix. When he's healthy, Todd Gurley is the featured running back, but it seems the team is preparing for life without him. The Rams' adding Henderson and retaining Brown is just one reason Gurley should worry about his job.

Double trouble
Gurley's knee injury near the close of 2018 play caused him to miss time, but it wasn't the first time he spent time on the bench with a bum knee. Georgia Bulldogs fans will recall the same ending to his 2014 season. It's unlikely that college injury was an oversight when the Rams drafted Gurley in 2014 or when they gave him a contract extension before the 2018 season.

Radical repair
Arthritis in the surgically repaired knee isn't uncommon, but it could be a career-ender for Gurley. After all, NFL players, and running backs especially, need healthy knees to compete at the highest level. Apparently, a radical treatment is something Gurley is considering to get back to 100%.

Injecting stem cells into the knee is an option being considered. This course of treatment involves the injection of bone marrow from Gurley's pelvis into the afflicted area of his knee. The process produces an anti-inflammatory effect which speeds the healing process and requires only a few weeks of recovery time before returning.

History isn't on Todd Gurley's side
While a torn ACL isn't always a career-ending affliction nowadays, it's difficult to ignore the list of players who were permanently sidelined following these painful knee-related injuries in the NFL:
A torn ACL in the year 2001 ended a successful eight-year run with the Atlanta Falcons For RB Jamal Anderson after he had racked up nearly 7,000 yards
Rising young QB Daunte Culpepper destroyed his knee in 2005 when he tore his ACL, MCL and PCL simultaneously
The Broncos Terrell Davis suffered an ACL tear in 1999, and he was out of the game by 2002.
Miami running back Robert Edwards was sidelined when he suffered a freak knee injury playing at the Rookie Beach Bowl after being drafted by the Dolphins in the first round. The damage was so severe it nearly led to amputation below the knee. Although he returned to play as a reserve for Miami, Edwards never performed anywhere near the top of his game, and he drifted to the Canadian Football League before eventually retiring.

Shut-down status
We'll have to wait for the 2019 season to kickoff to see if Todd Gurley's playing time is trimmed, but if he's healthy, then he'll be the featured back. However, Rams' brass has other options in place, which is a smart move to make given the somewhat uncertain status surrounding Gurley. Perhaps the Rams are simply looking to add more depth and versatility at running back. In any event, we're all looking forward to watching how everything will unfold in the 2019 NFL season.