Enes Kanter Trolls Kyrie Irving and Takes His Old Number in Boston
The Boston Celtics are heading in a new direction in 2019-20. With Kyrie Irving heading to the Brooklyn Nets this offseason, the player that the franchise thought it would be building around moving forward is no longer with the team.
Kemba Walker was acquired as Irving's replacement coming off of a breakout season in 2018-19 in which he averaged 25.6 points and 5.9 assists per game. The Celtics also signed big-man Enes Kanter to help offset the loss of Al Horford to Philadelphia this offseason. The introductory press conference for Walker and Kanter ushered in a new era of basketball in Boston and provided basketball fans with a hilarious moment.
Kyrie Irving leaves in free agency after originally suggesting he'd stay
Kyrie Irving demanded a trade out of Cleveland in July of 2017. He had reportedly grown tired of playing in LeBron James' shadow and wanted the chance to be the focal point of the offense on a new team.
The Boston Celtics traded Isaiah Thomas, Jae Crowder, Ante Žižić, the Brooklyn Nets' 2018 first-round draft pick to Cleveland in exchange for Kyrie Irving that offseason. Irving's debut season in Boston was cut short by a knee injury that forced the point guard to miss the last two months of the regular season and the team's run to the Eastern Conference Finals.
Boston entered the 2018-19 season with optimism. After coming within one game of an NBA Finals berth in 2018 without Irving and Gordon Hayward, the team seemed to have a great chance at taking the next step with those two stars returning to the court last season.
Irving was set to become a free agent at the end of the season, but he insisted he'd be staying. "I've shared it with some of my teammates as well as the organization as well as everyone else in Boston. If you guys will have me back, I plan on re-signing here next year," he said in October. In November, Irving said in a Nike ad that he wanted to "be the reason that no one else will" wear No. 11, suggesting he hoped to see his number retired in Boston someday.
Enes Kanter joins the team on a two-year deal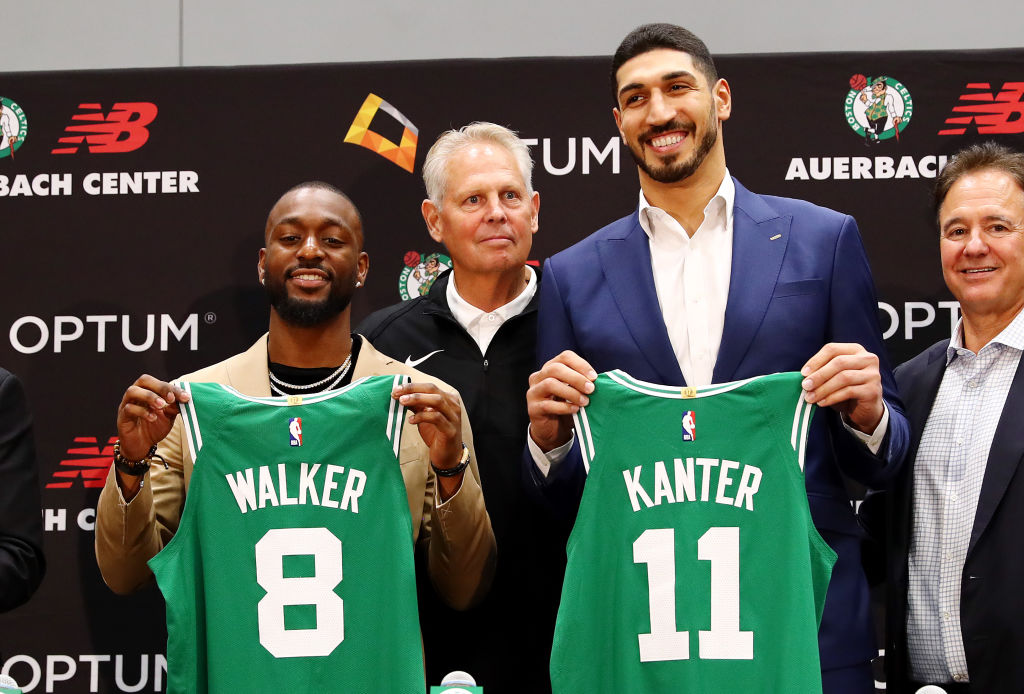 Kyrie Irving signed with the Brooklyn Nets on June 30. One day later, the Celtics agreed to a two-year, $10 million deal with Enes Kanter.
Through eight seasons in the NBA, Kanter has averaged 11.9 points per game and 7.6 rebounds per game. The 27-year-old was drafted by the Utah Jazz with the third overall pick in the 2011 NBA Draft and has spent time with the Jazz, Oklahoma City Thunder, New York Knicks and Portland Trail Blazers.
Kanter had a strong showing for the Trail Blazers during the postseason last year, starting 14 of Portland's 16 playoff games and averaging 11.4 points and 9.6 rebounds.
Kanter selects Irving's old number and gives a hilarious reason why
Enes Kanter wore the jersey No. 0 with the Jazz and the No. 00 with the Knicks and Trail Blazers. He wore No. 11 with Oklahoma City because No. 0 was taken by Russell Westbrook.
The Boston Celtics have 23 retired numbers, and one of them is Robert Parish's No. 00. With his preferred number not available, Kanter is going back to his second choice, No. 11; the same number that Kyrie Irving wore in his two years in Boston.
When asked why he chose No. 11, Kanter could have simply stuck with the first sentence of his response; "well, it was my old jersey number, number 11." Instead, he added one more; "And, um, I want to be the reason that no one else will."
Well done, sir.