Eric Decker Leveraged a Steak Dinner and $25,000 to Get Back His Ideal Jersey Number From a Jets Teammate
What's in a number? For NFL players, an awful lot. NFL players are often superstitious about the number they wear. It can have sentimental value or harken back to their early high school or college football days. For former New York Jets wide receiver Eric Decker, getting the right number was important. Here's the story of how he leveraged a steak dinner and $25,000 to get the number he wanted when he played for Gang Green. 
Eric Decker has been quite an effective wide receiver in the NFL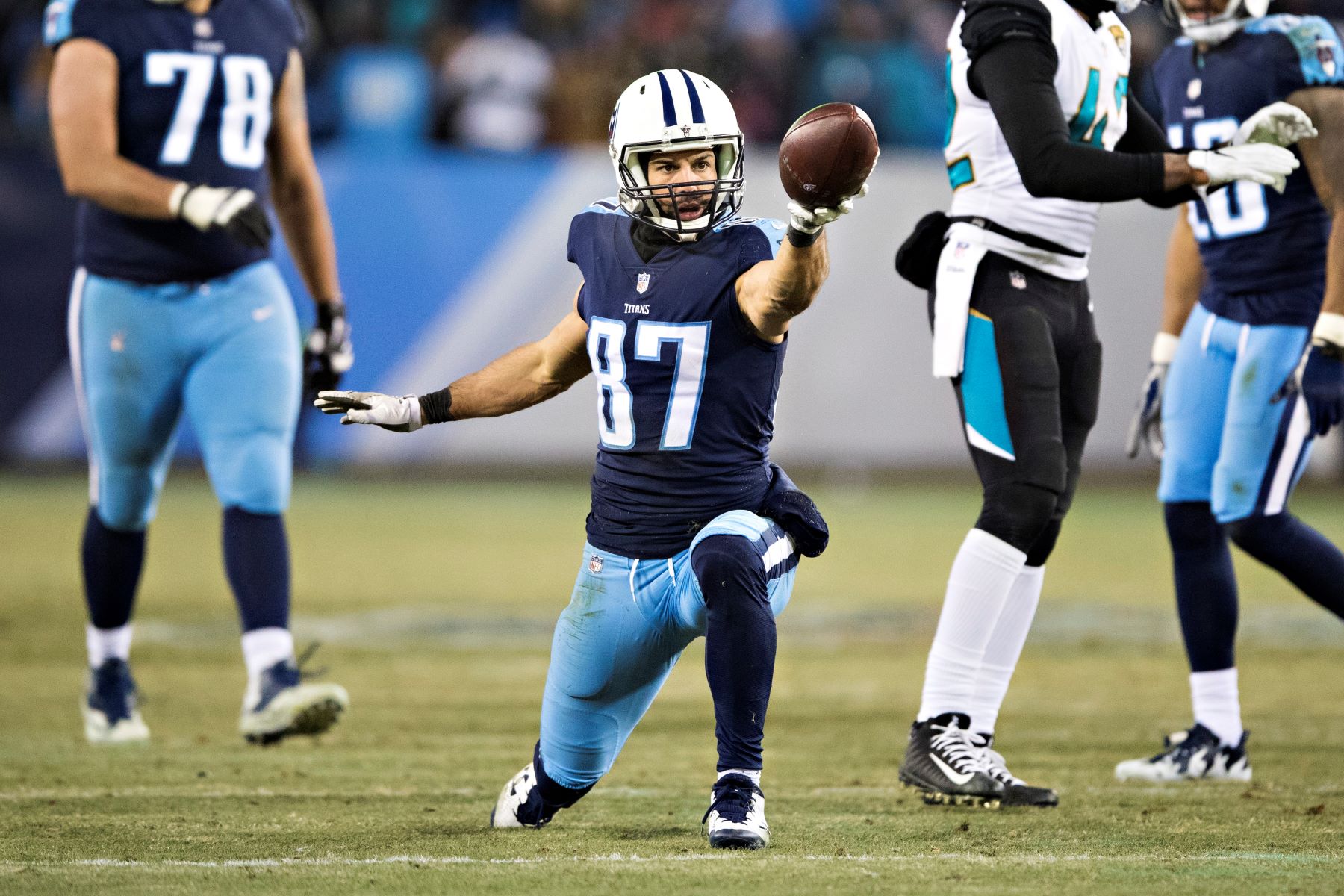 According to Pro Football Reference, the University of Illinois product had quite a solid career as an NFL receiver. He finished his time in the NFL with 439 receptions and 5,816 receiving yards. He spent four seasons in Denver before heading to the Jets, finishing his career out in 2017 as a member of the Tennessee Titans.
The zenith of Eric Decker's NFL career came between 2012-2015. His lowest reception total was 74, with his highest being 87. He totaled over 1,000 receiving yards in three of those four seasons, coming up just short in 2014 with 962. He also scored 53 touchdowns. 
While Decker's performance varied throughout his time as a receiver, his number remained the same. Decker wore the #87 at all three stops. However, when he got to New York, he came to find out that getting that number wouldn't be as easy as simply asking the equipment manager for it.
How Decker got his number back
Eric Decker was a high-profile acquisition for the New York Jets when he came aboard. He was expected to help them reach new heights as a solid receiving option. While the team wasn't super successful with him, his first two years in New York were quite good.
When Decker got to New York, his teammate Jeff Cumberland was wearing #87. That changed rather quickly with a good-natured negotiation. It's a custom for players who want a number to offer something to the player who currently has it. According to USA Today, Cumberland received quite a haul in return for giving Decker #87. The wideout bought the number for $25,000 and a steak dinner.
Was it worth it? You'd have to ask Decker. He certainly performed well in New York, so maybe it helped him adopt the right mindset to play good football. Still, Decker is far from the only player to offer something in exchange for their lucky number back.
Other players who have negotiated their number
Beyond Eric Decker, there are plenty of examples of NFL players changing their number of negotiating with other players to get the number they want. One of the most famous cases was Tom Brady. When Brady came to Tampa, wide receiver Chris Godwin was wearing his favorite #12. After a brief negotiation, Godwin handed it over to the future Hall of Famer for nothing.
Not all cases involve players paying one another. Tampa running back Leonard Fournette wanted to change his jersey number. The NFL asks players to buy out the remaining stock of their jerseys with the old number on the back. Fournette did this to switch from #28 to #7, honoring his old home of New Orleans' 7th Ward. 
Players are funny like that. Jersey numbers may seem meaningless to some, but to pros like Fournette and Decker, they carry a lot of significance. It's no surprise that these players do whatever they can to get the right number on their back come game day.
RELATED: Tom Brady and Aaron Rodgers Wear No. 12 For the Exact Same Reason