Eric Reid Calls Out the NFL For 'Blackballing' Colin Kaepernick
Colin Kaepernick's name has returned to the news in a big way in light of recent protests around police brutality targeting the black community in the United States. Kaepernick hasn't been on an NFL roster in several years after peacefully protesting prior to NFL games. Now the NFL has apologized for its treatment of players who protested, but they haven't mentioned the quarterback by name. One of his former teammates is supporting him.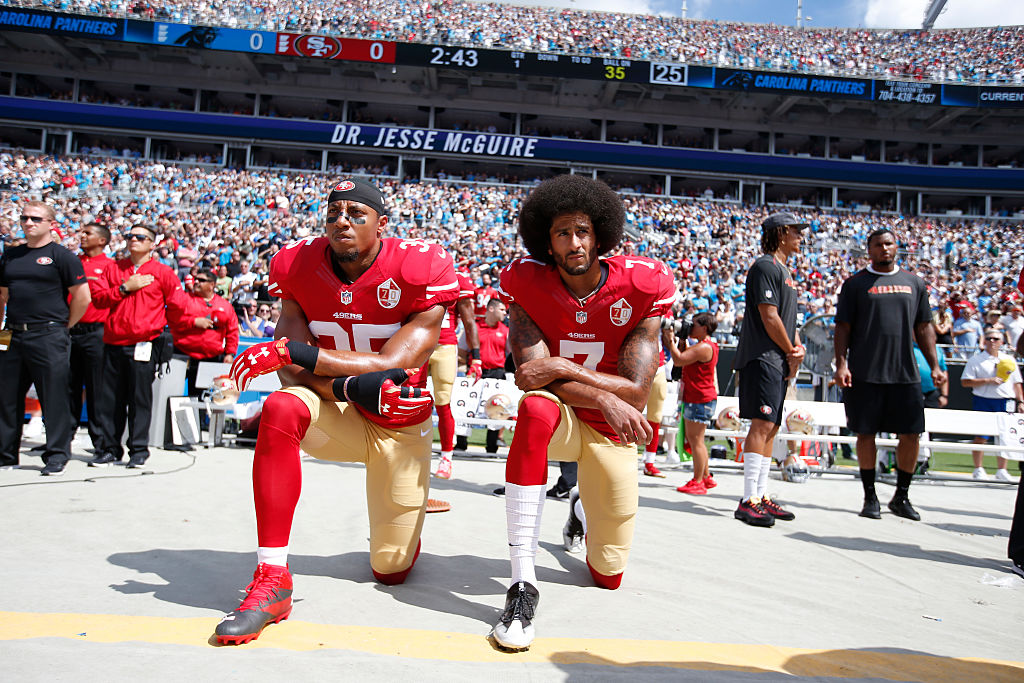 RELATED: Colin Kaepernick Seemingly Shades Beyoncé and Jay-Z for Sitting During the National Anthem at Super Bowl LIV
Related post url: 
Colin Kaepernick and Eric Reid's peaceful protests
During the 2016 preseason, Colin Kaepernick began sitting on the bench for the playing of the U.S. National Anthem. His reasoning was to protest police brutality in this country. CBS Sports reported that Kaepernick met with former Green Beret Nate Boyer, who suggested he kneel instead of sitting as a way to show respect for fallen soldiers while still supporting his cause. Safety Eric Reid eventually began kneeling alongside Kaepernick. 
The move was controversial. Some applauded Kaepernick for the move. Others decried his perceived lack of respect for the American flag. Kaepernick later opted out of his contract, according to ESPN. No team picked him up as a free agent, and he's been out of the league ever since.
What Eric Reid said about the NFL "blackballing" Colin Kaepernick
RELATED: How The Weeknd Is Supporting Colin Kaepernick
Related post url: 
The San Francisco 49ers participated in "Blackout Tuesday," a social media movement meant to amplify the Black Lives Matter movement due to the recent killing of George Floyd at the hands of a Minneapolis police officer. Reid quote tweeted the Niners, adding the line:
"I think you meant Blackball Tuesday … I digress"
Reid was referring to the notion that the NFL "blackballed" Kaepernick by having all their owners agree not to sign him. It's unclear whether an actual conversation between owners agreeing not to sign Kaepernick ever actually took place — there's no known evidence that supports the idea of NFL owner collusion on this issue. But it's readily apparent that no owner has wanted any part of having Kaepernick on their roster because of his peaceful protesting.
According to NPR, Roger Goodell recently recorded a video that served as a "mea culpa" for the NFL's lack of action on race-related issues. In it, he apologized for the NFL failing to listen to and respond to the needs of the black community. He stopped short of apologizing to Kaepernick specifically, however.
Will the NFL "re-hire" Colin Kaepernick?
While Kaepernick has been away from the game for a few years, there's almost no doubt that based on his track record, he is better than most of the league backup quarterbacks and could likely start for several teams. The problem for the NFL is this: if a team signs him now, it will be a tacit admission that Kaepernick was in fact blackballed. The assumption at this point is that teams didn't want to sign Kaepernick because he either wasn't good enough or wasn't a good fit — a laughable claim to be sure, but one made repeatedly nonetheless.
Whatever you think of Kaepernick's stance on police brutality targeting the black community, the simple fact is this: he protested peacefully. He brought attention to a cause he felt was important. Recent happenings in this country show that many people agree with him. His potential employers have appeared to deny him employment based on him exercising his First Amendment right.
Some would argue that you don't have First Amendment rights in the workplace, which is true, according to CNN. But ideally, employers wouldn't replace the government as censors with the ability to punish people for mere words or actions that aren't violent (i.e. silently taking a knee during the National Anthem). It's not that NFL owners cared about the act itself, which hurt exactly no one — they seemingly didn't agree with Kaepernick's message.
The best path forward for the NFL at this point is to have a team sign Kaepernick in an attempt to undo the wrongdoing. They can then work with players like him and Reid on how they can best help society move forward. Anything else seems to read as just posturing for the sake of their brand.