Eric Weddle Gets Petty by Calling Out Chargers GM Tom Telesco After Super Bowl Victory
Eric Weddle came out of retirement for the playoff stretch and helped the Los Angeles Rams to a Super Bowl 56 victory over the Cincinnati Bengals. The story of Weddle will be remembered for a long time, mainly because he played a crucial role during the past few games for LA.
Weddle got a Super Bowl ring and announced he would return to retirement. After Weddle spent the first nine years of his NFL career with the Chargers, the two sides had a falling out, and he left town and signed with the Baltimore Ravens.
But, Weddle hasn't forgotten about the ugly Chargers ending and made sure to show his pettiness with some comments toward GM Tom Telesco.
Eric Weddle got petty toward Chargers GM Tom Telesco after becoming a Super Bowl Champion
In the postgame press conference, Weddle didn't hesitate to "shout out" Telesco. But, no, this wasn't a thank you to Telesco. It was the opposite.
Weddle is still upset with the way things ended in San Diego and wasn't afraid to continue to make those feelings known after the biggest game of his career.
The Chargers drafted Weddle in the second round out of Utah and he played a prominent role during his time with the Chargers. But, the two sides had some issues in that final season, and Weddle eventually headed to the Ravens and played at a Pro Bowl level.
Well, it appears Weddle got the last laugh. However, firing an unwarranted shot at Telesco is something, especially because he played with the Ravens for three seasons and the Rams back in 2019 before getting this opportunity again with LA.
A look inside the ugly ending between the Chargers and Weddle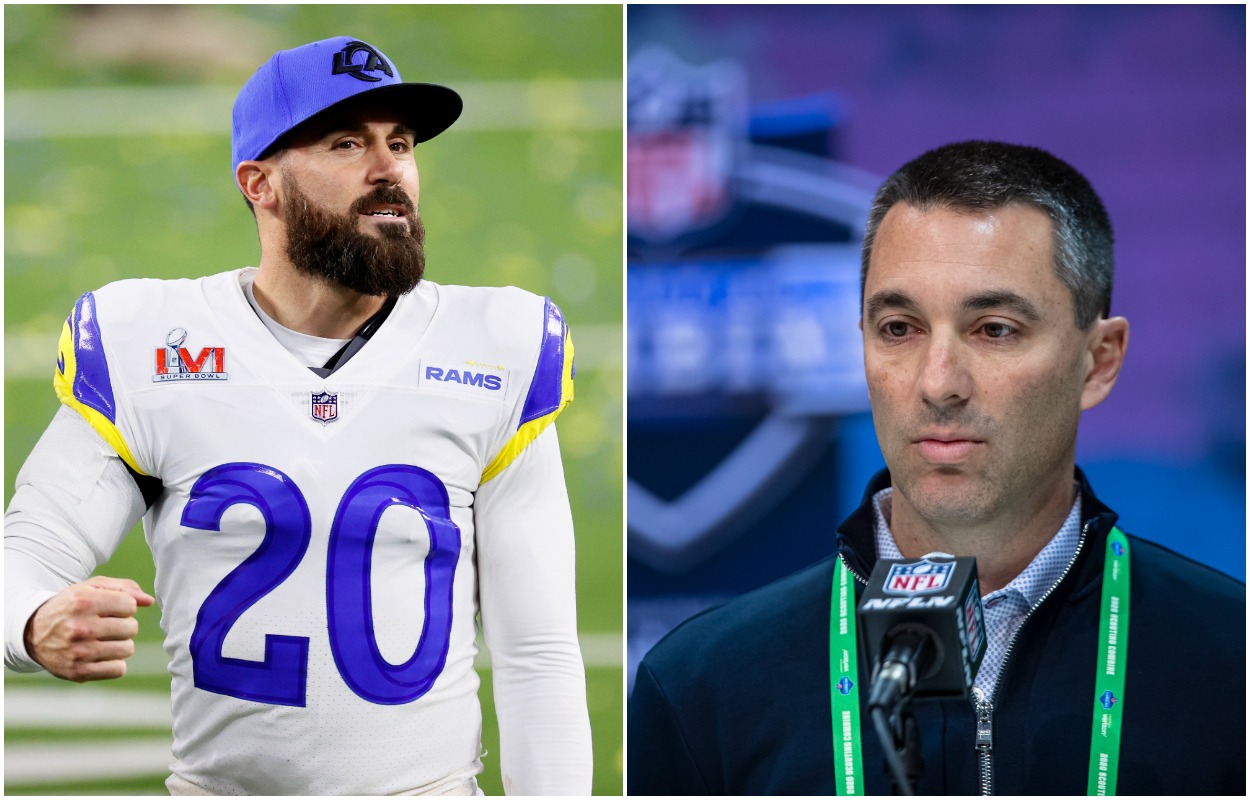 In the final year of his contract, Weddle and the Chargers had quite a few back and forth, and it was not surprising that he left in free agency and signed with Baltimore.
How it got there, however, is an interesting one. So, perhaps there is a reason why Weddle hasn't forgotten about the fallout between him and Telesco.
The Chargers made Weddle the league's highest-paid safety in 2011 with a five-year, $40-million deal.
In the final year of that contract, at the age of 30, Weddle wanted an extension. He didn't get it. Then, he was fined $10,000 by the team for watching his daughter perform during halftime. Yes, really.
It is quite understandable for the Chargers to be hesitant to give Weddle an extension at 30 years old. But, fining him for watching his daughter is a puzzling decision and appeared to burn the last bridge between the two sides.
The Pro Bowl safety even admitted he never did anything wrong in an exclusive interview with Dan Pompei of Bleacher Report back in 2016:
"I never did one thing wrong. Never was late to a meeting. Never was fined. Never refused to do a charity function for them. Never didn't sacrifice. I was a leader, a captain, an All-Pro. And they showed me the door. I'm as loyal as anyone and will do anything for people I respect. But if you don't give that back to me in return, you're dead to me. So I could never go back to that place after what they put me through."

Eric Weddle on Chargers tenure
Weddle loved being in San Diego, and he was a crucial part of the team's success during those nine years. But, for several reasons, the two sides went their separate ways. Weddle went on to have a nice run with the Ravens, and now he is a Super Bowl Champion.
So, perhaps Weddle has a reason to remain a bit petty toward the Chargers and GM Tom Telesco.
The Rams safety is headed back for retirement after winning Super Bowl 56 and the last laugh is his
Weddle's story is unlike any we have heard, at least for some time. He was retired, playing basketball to stay in shape, and the Rams gave him a call at the start of January.
He had two tackles against the Tampa Bay Buccaneers and four against the San Francisco 49ers and the Bengals. Despite suffering what turned out to be a torn pectoral, he stayed in the game and wound up with a Super Bowl ring.
The Rams even gave him the green dot and made him the play-caller for the Super Bowl.
So, despite an ugly ending with the Chargers and retiring after the 2019 season, Weddle ends up as a key contributor during the Rams' playoff stretch and walks away as a Super Bowl Champion.
As Weddle says himself, he is "re-retiring" and, well, he gets the last laugh on Telesco after all.
RELATED: Rams Safety Eric Weddle Opened up About His Shocking Comeback After 2 Years of Retirement: 'I'm Literally the Best Option You Guys Can Think Of?'