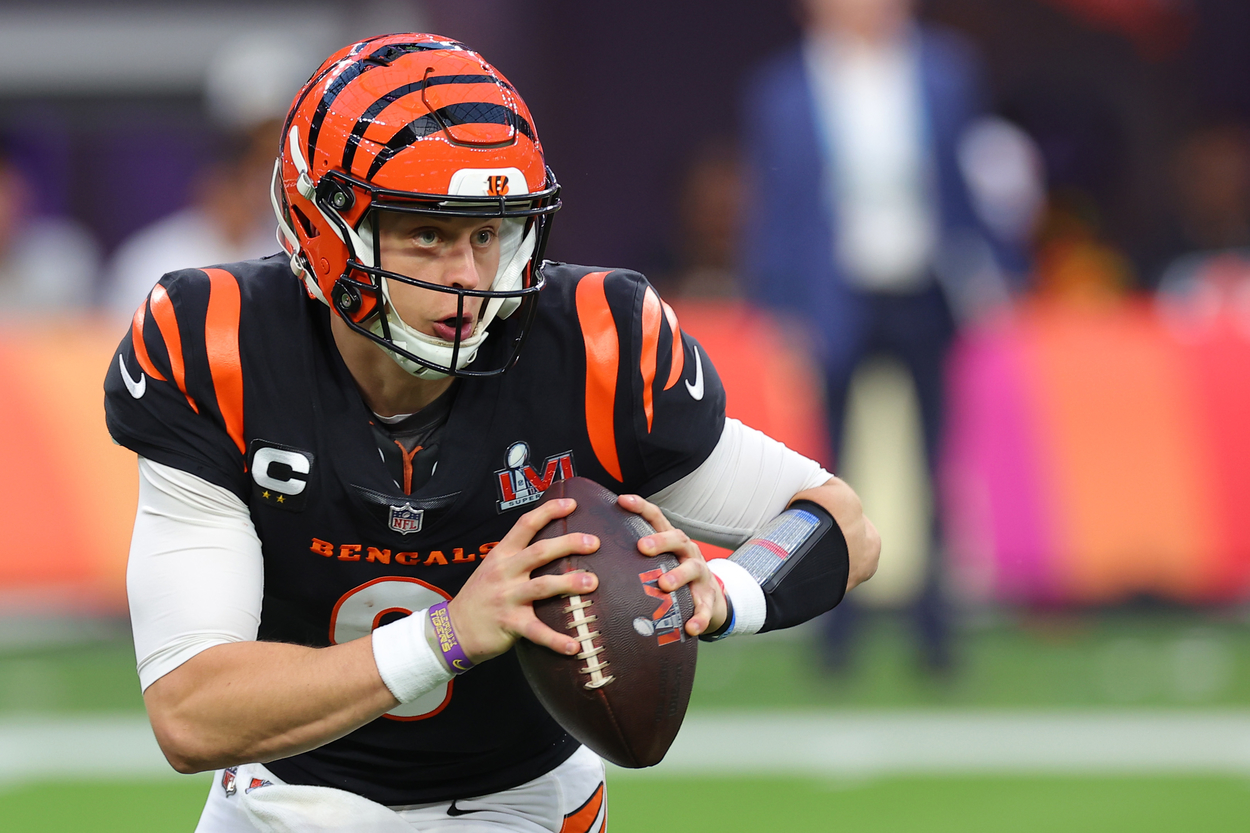 Eric Weddle Promises Bengals Star Joe Burrow's Moment Is Coming: 'You Don't Lead a Team to the Super Bowl if You're Not All About It'
Los Angeles Rams safety Eric Weddle has seen plenty across a long NFL career, and he had plenty of positive things to say about Cincinnati Bengals quarterback Joe Burrow.
Article Highlights:
Los Angeles Rams safety Eric Weddle offered extensive praise for Cincinnati Bengals quarterback Joe Burrow after Super Bowl 56
Weddle praised the 2019 Heisman Trophy winner's "moxie" in a recent interview
The Bengals must learn from Super Bowl 56 and do everything in their power to build a wall around Burrow
Former Los Angeles Rams safety Eric Weddle began the new year happily retired and living in suburban California. A month later, he earned the right to party with the Lombardi Trophy.
Despite suffering a ruptured pectoral midway through the game, Weddle recorded five tackles and played all 61 of the Rams' defensive snaps in a 23-20 comeback victory on Sunday, Feb. 13. As he basked in the jubilation of finally winning a ring, the six-time Pro Bowler offered extensive praise for Cincinnati Bengals quarterback Joe Burrow, who fought through a porous offensive line to nearly bring a championship to the Queen City.
Eric Weddle offered lofty praise for Joe Burrow after Super Bowl 56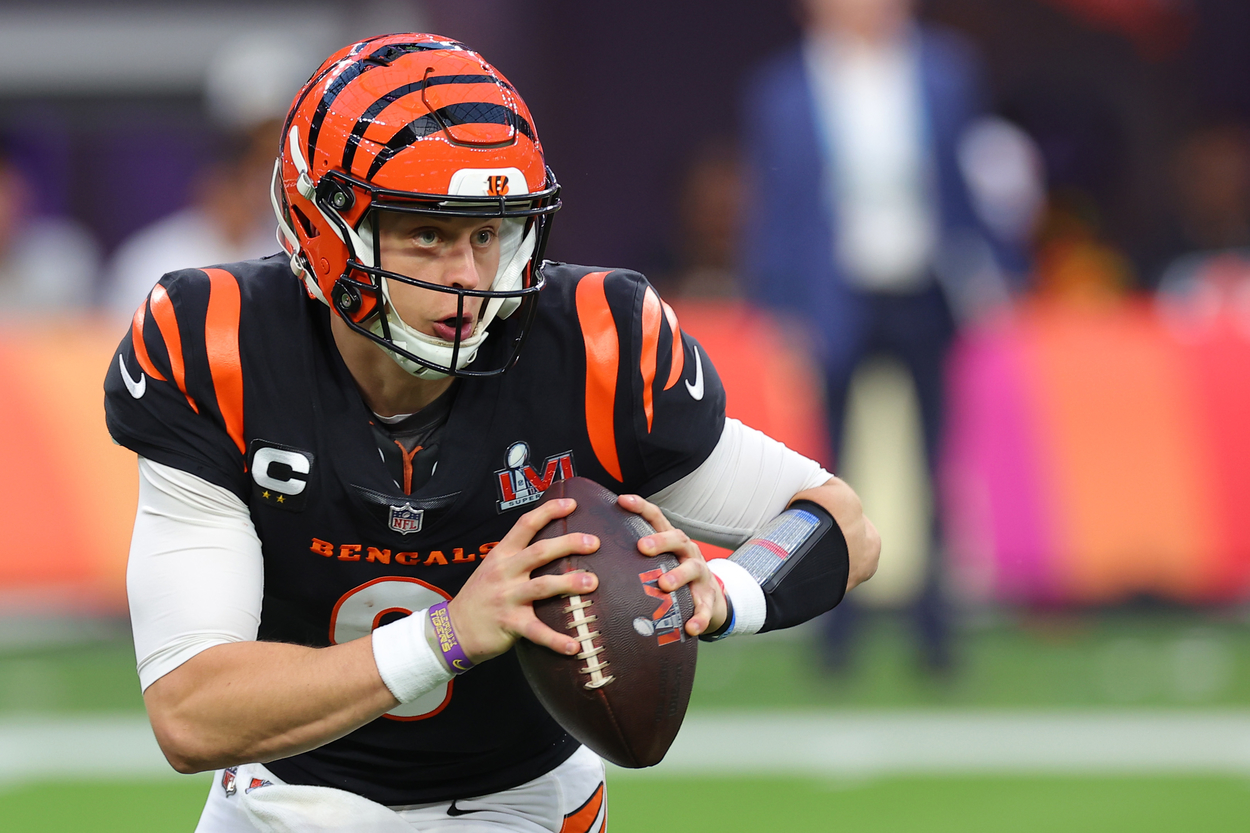 If Super Bowl 56 marked the end of Weddle's career, he began his career playing with Philip Rivers and ended it watching Matthew Stafford connect with Cooper Kupp on a game-winning touchdown. Along the way, he watched former Super Bowl MVP Joe Flacco, future NFL MVP Lamar Jackson, and two-time Pro Bowl selection Jared Goff go to work under center as his teammates.
Suffice to say, Weddle understands what makes a franchise quarterback, and he believes Burrow, the No. 1 pick in 2020, has all of those traits. In a Feb. 14 interview with Sports Illustrated's Albert Breer, the veteran defensive back expressed his respect for the young quarterback, who was sacked seven times and played through a knee injury.
"I mean, you don't lead a team to the Super Bowl if you're not all about it, right? And I just love his mentality; I love his moxie, I love him. He's all ball, and he's not into the social media B.S. He's not into the limelight. He's not into what everyone else thinks. He just silently goes to work, and it's refreshing to see."

Joe Burrow
Burrow, who turned 25 in December, completed 22 of 33 passes for 263 yards and a touchdown in the loss.
Weddle also said he expects Burrow and the Bengals to remain one of the league's top teams
Theoretically, the Bengals have almost everything that a modern contending team needs. They already have their franchise quarterback in Burrow, who is still under team control for up to three more years, and a dynamic No. 1 receiver in Ja'Marr Chase.
Cincinnati also has Pro Bowl running back Joe Mixon, young wideout Tee Higgins, and veteran receiver Tyler Boyd all in the mix indefinitely. Higgins, a second-round pick in 2020, caught a 75-yard touchdown in Super Bowl 56. Mixon rushed for 72 yards on 15 carries and threw a 6-yard touchdown.
The good news for Weddle, who is expected to return to retirement, is he likely won't have to worry about facing the Bengals' offense anytime soon. In his eyes, other teams are free to worry about stopping an offense that averaged 27.1 points per game last season.
"They're gonna be good for a long time," Weddle said. "His moment wasn't [in Super Bowl 56], but he'll get his moment."
Las Vegas agrees with Weddle. According to OddsShark, the Bengals opened at +1000 favorites (bet $100 and win $1,100) to win Super Bowl 57. Only the Buffalo Bills and Kansas City Chiefs (+700) and the Rams (+900) had higher odds as of Feb. 17, 2022.
The Bengals must learn from Super Bowl 56 and build a wall around their young quarterback
The most important lesson from Super Bowl 56 should not be that Matthew Stafford is not a Pro Football Hall of Fame quarterback or that 50 Cent still wants to party like it's your birthday. Instead, the Bengals must address the offensive line in the coming months and create a near-impenetrable wall around Burrow.
At this point, it is still too early to know if the Bengals should have drafted an offensive lineman with the fifth overall pick in the 2021 draft instead of Chase. Cincinnati likely would not have even finished with a winning record had the Offensive Rookie of the Year not tallied 81 catches, 1,455 yards, and 13 touchdowns en route to earning second-team All-Pro honors.
Weddle is right to praise Burrow's moxie and demeanor. Both of those traits have carried the quarterback this far, from the time he elected to transfer from Ohio State to when he took the field for Super Bowl 56. However, Burrow's confidence won't keep him upright against an imposing pass-rush; only a competent offensive line will do so.
Burrow has already been sacked 102 times in 30 total games. The more hits he takes, the higher the chances are of him suffering a serious injury or even losing the confidence Weddle raved about when he spoke with SI.
The odds are against Weddle signing with the Bengals, or with any team, ahead of a Super Bowl run next year. However, if the defending AFC North champions want to reach the Big Game again, they'd be wise to learn from the good, the bad, and the seven sacks. Otherwise, Burrow might eventually decide his moxie is best suited for a team with a capable offensive line.
How to get help: In the U.S., contact the National Council on Problem Gambling helpline at 1-800-522-4700. Text HOME to 741-741 to connect with a trained crisis counselor at the free Crisis Text Line.