Erik Spoelstra Just Bluntly Revealed What the Heat Must Do To Pull off the Impossible
After a miraculous run to the NBA Finals, Erik Spoelstra's Miami Heat team looks about done, as LeBron James and the LA Lakers appear to have a good grip on the series, leading 2-0. While it looks like it could take a miracle for the the Miami Heat to come back, they seem to have the belief that's needed to do just that, and to make the series interesting. It all starts with Spoelstra too. In fact, he just bluntly revealed what it will take for the Heat to come back and make the NBA Finals an interesting series.
The LA Lakers have dominated the Heat in the Finals so far
LeBron James, Anthony Davis, and the Lakers absolutely dominated the Heat in Game 1 of the NBA Finals. The Heat actually jumped out to a 13-point lead in the first quarter, but after that, it was all Lakers, as LA ended up winning 116-98.
Davis and James were unstoppable in the game too, as Davis had 34 points, nine rebounds, and five assists, while James had 25 points, 13 rebounds, and nine assists.
Game 2 of the series was a little closer, as Spoelstra's Heat cut the deficit to just nine points with less than a minute left in the third quarter. However, the Lakers ultimately held on to win 124-114. Jimmy Butler was incredible for the Heat in Game 2, as he had 25 points, eight rebounds, and 13 assists, but James and Davis couldn't be stopped again. James scored 33 points to go with nine rebounds and nine assists, while Davis scored 32 points to go with 14 rebounds.
Now, after those two wins, the Lakers are just two wins away from winning a championship, and the Heat are just two losses away from seeing their season come to an end.
The Miami Heat have had to deal with injuries
While the Lakers were certainly the favorites before the series began, the Heat have also had to deal with injuries during the first two games.
Point guard Goran Dragic, who has averaged 19.9 points per game in the playoffs so far, played in about 15 minutes in Game 1, and then didn't play at all in Game 2 as he has a left plantar tear in his foot, according to Yahoo Sports.
Additionally, big man Bam Adebayo, who is averaging 17.8 points per game and 10.9 rebounds in the playoffs so far, only played in a little over 21 minutes in Game 1, and then didn't play in Game 2 due to a neck strain.
Adebayo believes he'll be back in Game 3, though.
"Yes, I believe I'll be in the lineup," Adebayo said, according to Yahoo Sports. "I'm feeling better. I believe I'll play."
He also doesn't appear to think that his team is done just yet.
"We've got to play with a level of desperation," Adebayo said, according to Yahoo Sports. "That's what I see. We've got to be a desperate team and come out with a lot of energy from the jump. I'm confident we can turn things around."
Erik Spoelstra bluntly revealed what the Heat must do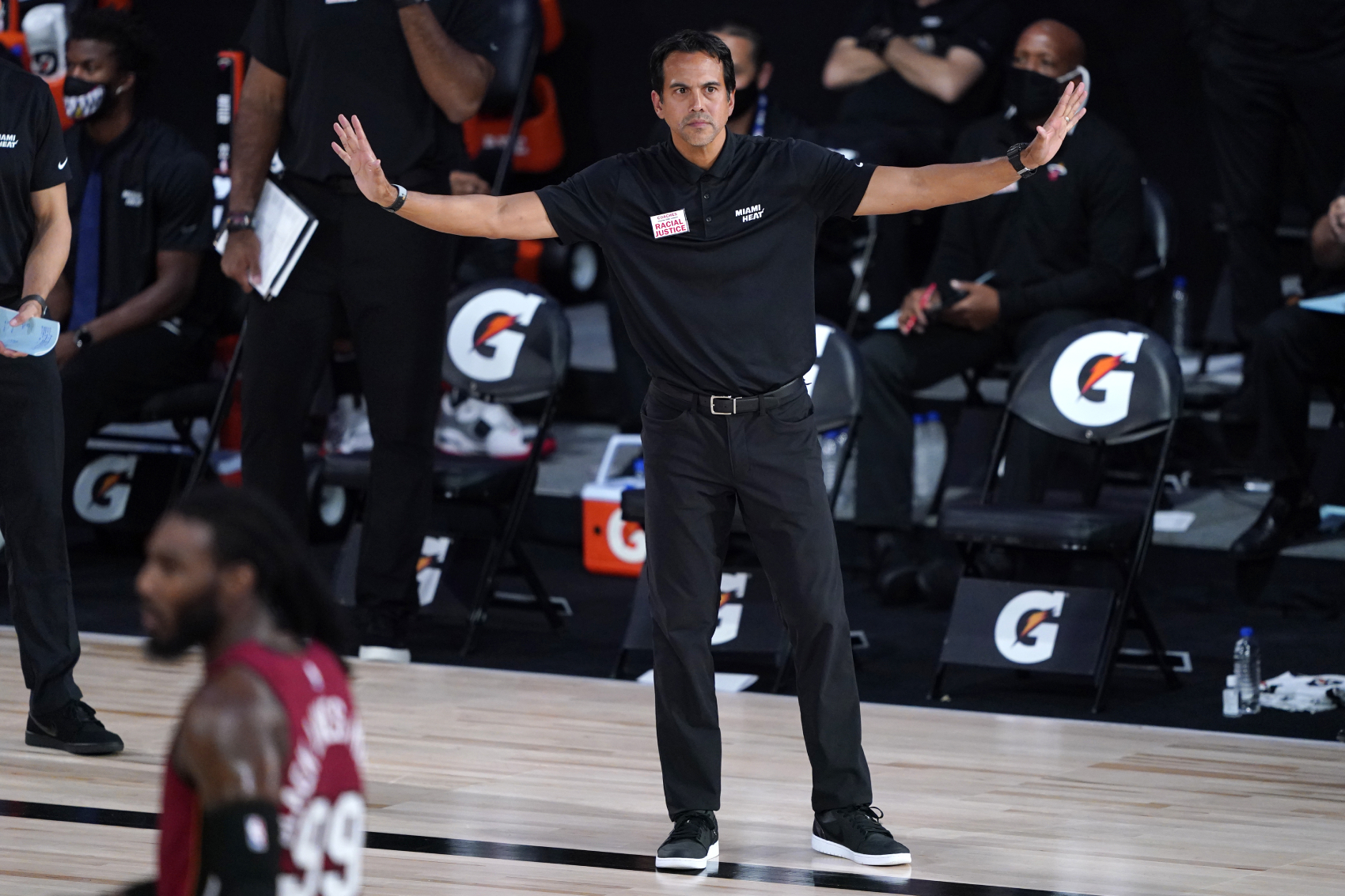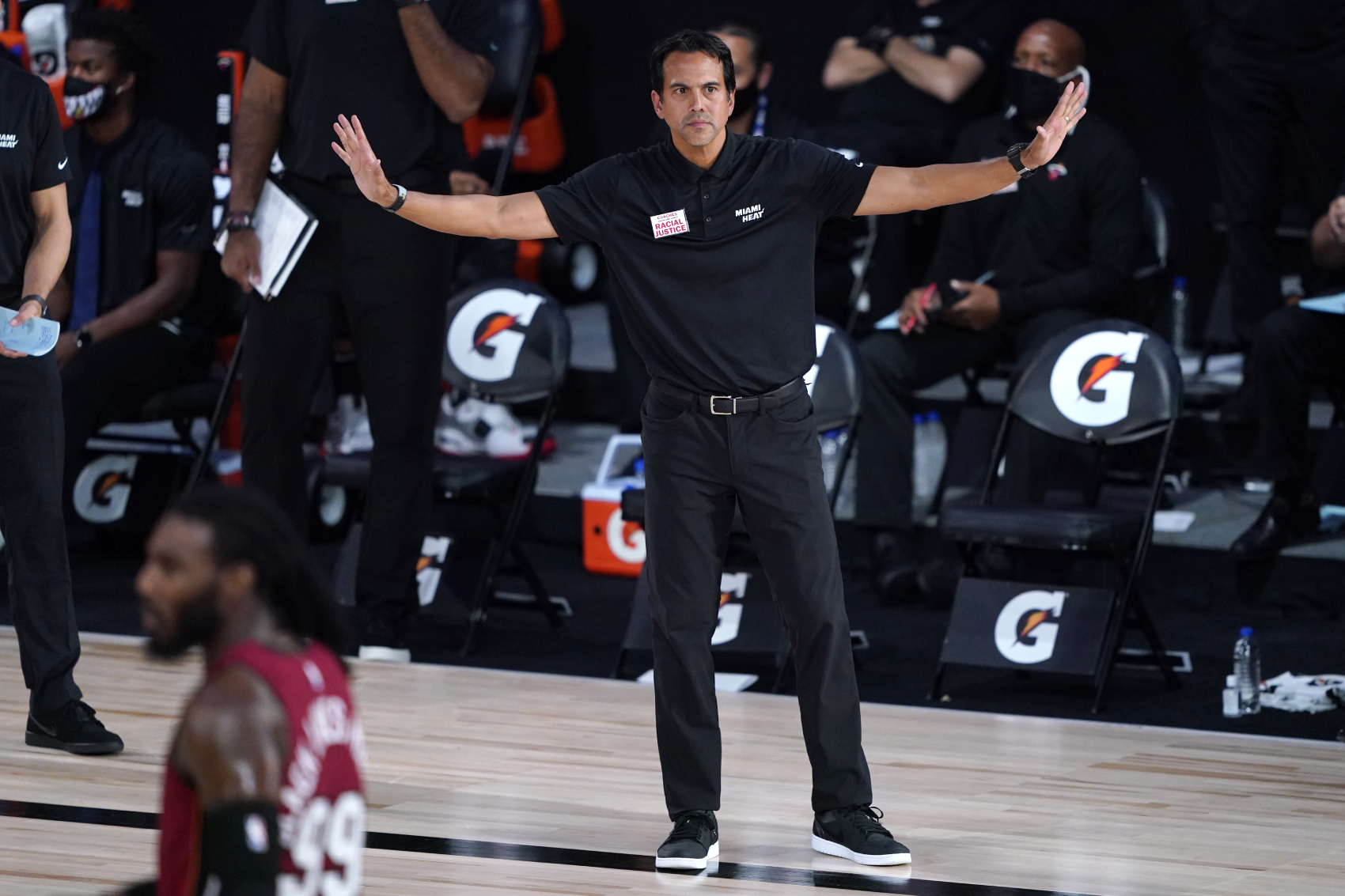 After Miami's Game 2 loss to the Lakers, Spoelstra discussed what the Heat need to do to come back in the series. He was blunt about it too, especially when referring to some people thinking that a comeback is impossible. 
"We don't give a s*** what everybody else thinks," Spoelstra said, per Bleacher Report. "What will it take? Whatever is necessary. It's as simple as that. If you want something badly enough, you'll figure it out."
Spoelstra also said: "Our group is extremely stubborn, persistent, and we just need to figure out how to overcome this opponent. We respect the high quality of opponent that we're playing — you've got to figure it out and overcome it." 
Spoelstra is certainly proving why he has been at Miami for so long. He is a great coach and has shown that he doesn't need LeBron James or Dwyane Wade to win. It'll be interesting to see if he can get his team right back in this series.
Stats courtesy of Basketball Reference