Erin Andrews, for All of Her Accomplishments, Is Still Terrified of Interviewing Bill Belichick: 'I Panic, I Sweat Every Time'
Every human being, whether they're 5 or 55, likely has some type of fear. Fox Sports reporter Erin Andrews' dread comes in the form of New England Patriots head coach Bill Belichick.
Andrews, to her credit, is among the most accomplished active sideline reporters and remains a widely respected figure in sports media. Yet. in spite of everything she's achieved in a long career, she still views Belichick the way others look at spiders, bees, and facing Tom Brady in the postseason.
Erin Andrews said she is still terrified of interviewing Bill Belichick
Outside of salary and benefits, the life of a sideline reporter is often an unglamorous one. For an NFL game, the third or fourth member of a broadcast crew patrols the sidelines and relays information, usually injury-related, to the announcers throughout the game in extremely short segments.
There come times on game day, whether it's before kickoff or at halftime, where the sideline reporter talks with the head coach. Basketball fans know how uncomfortable those conversations can get, especially when a team is down big after the opening quarter.
During a recent interview on The Pat McAfee Show, Andrews spoke about her process and how some coaches make the job difficult. Unsurprisingly, the monotonous Belichick and his short answers made the cut.
"The thing is for me is I just want them to respect me and know that I work my ass off and I'm studying, and I'm not trying to ask dumb questions. Look, I panic, I sweat every time I have to grab Bill Belichick at halftime, and you know there's been a couple times where I've been like, 'Ugh, crap! Crap!'"
Andrews co-hosted Dancing with the Stars from 2014-19. Perhaps Fox should look into creating a talk show involving her and Belichick if or when he eventually stops coaching.
Andrews has spoken before about the terrors of interviewing Belichick
Fears don't always go away. There's probably a 45-year-old farmer in Idaho who was terrified of dogs as a child and still wants nothing to do with them right now.
Andrews is the farmer, albeit a 43-year-old one, in that scenario. She's spoken out multiple times in recent years about how afraid she gets when it's time to speak with Belichick, particularly at halftime.
Andrews told WFAN in 2019 that Belichick has always been respectful and open in production meetings. The eight-time Super Bowl champion even told her that he'd help her if she ever needed anything.
The problem, Andrews explained, is he's "so focused" on game day that his demeanor changes during those interviews.
"I want him to know I'm just not fluff; I really do give a crap," Andrews told Maggie & Bart. "I study so hard … I respect that, man. That's why he's a legend; it's why he's one of the best. He's so focused on the game [that] he can look at my question and be like, 'Yeah, I don't know, we just gotta do all better on all levels.'"
Andrews won't have to deal with Belichick too often in the near future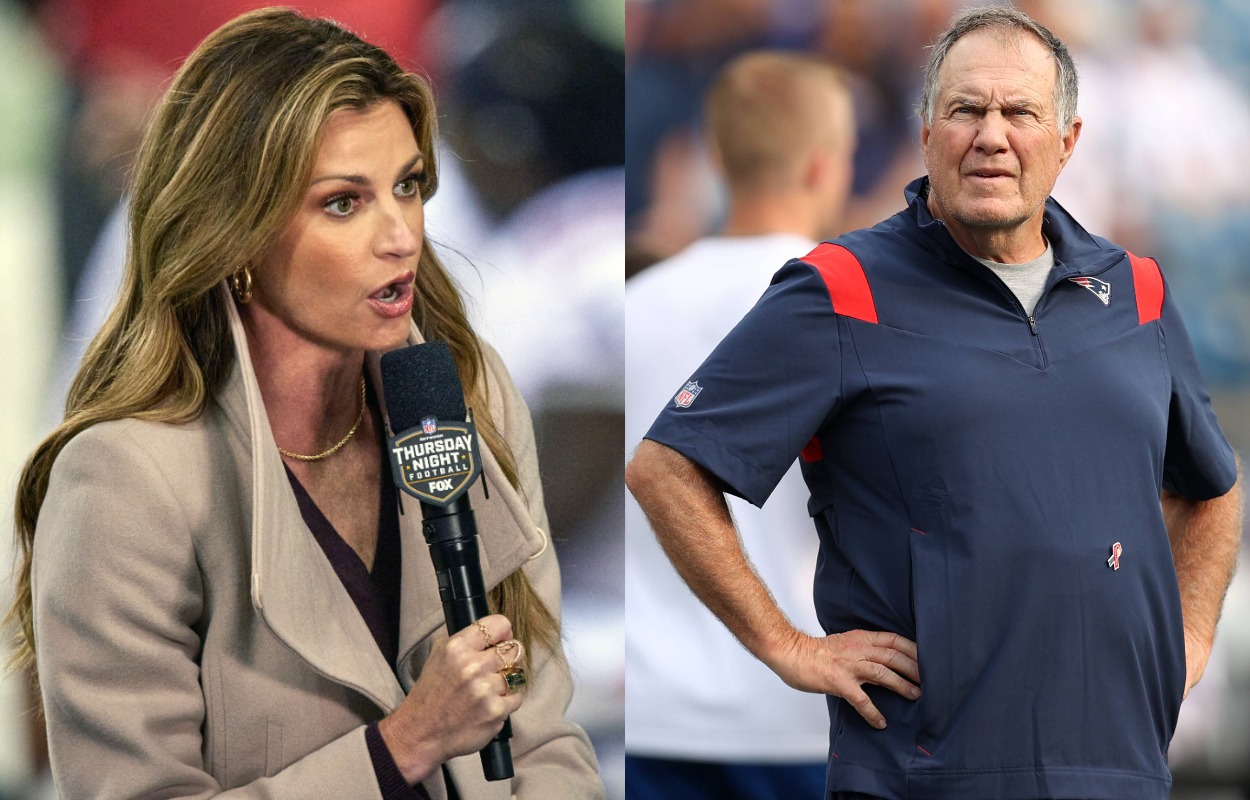 We won't be surprised if Andrews has already marked Nov. 18 and the days leading up to that Thursday on her calendar. She and Fox's No. 1 broadcast team will work the Thursday Night Football matchup between Belichick's Patriots and the Atlanta Falcons that night.
The Patriots only have one other game on Fox this season: a Week 3 matchup with the New Orleans Saints. Adam Amin, former Denver Broncos offensive lineman Mark Schlereth, and Shannon Spake will work that matchup. Andrews and Fox's lead team are scheduled to work the highly-anticipated showdown between the Tampa Bay Buccaneers and Los Angeles Rams later that afternoon.
NBC holds this year's Super Bowl rights, so a halftime interview involving her and Belichick on Feb. 13, 2022, is already off the table. Once Nov. 19 arrives, it sounds like Andrews will be free of the Patriots' longtime head coach, at least until the 2022 season begins.
If the Patriots return to their winning ways this season, don't be surprised to see them play on Fox's "Game of the Week" at some point in 2022. At that time, the dynamic duo of Andrews and Belichick will be reunited once again.
Like Sportscasting on Facebook. Follow us on Twitter @sportscasting19.
RELATED: Only $9.5 Million Is Separating Bill Belichick From The New England Patriots' Next Reclamation Project