Erin Andrews Opens up About Her Life Obstacle and What She Has Had to Smuggle Into NFL Games: 'It's Really, Really Hard'
Athletes and celebrities are, of course, in the public eye more than the average person. For the most part, they seem to live pretty interesting lives, too. They also, though, go through pretty challenging times. This includes sports reporter and broadcaster Erin Andrews, who has, of course become one of the most famous TV personalities in sports media but has also opened doors for women across sports journalism.
Andrews certainly gets to cover incredible sporting events. However, she has also had to overcome some significant life obstacles while still trying to have success in her career. In fact, Andrews recently opened up about a challenge she is facing with her husband, former NHL player Jarret Stoll.
Erin Andrews has become one of the most successful reporters in sports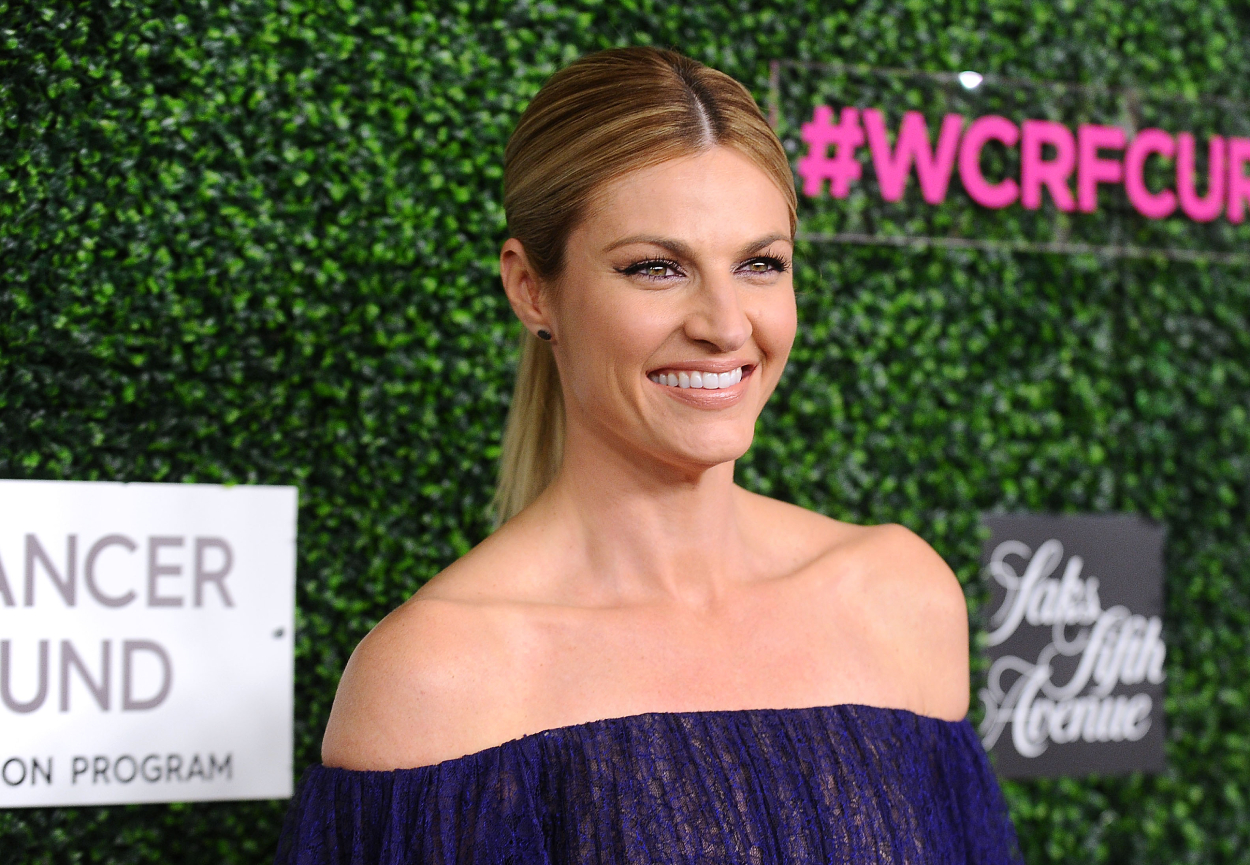 RELATED: Erin Andrews Has Covered Football for Years but Has Been 'Intimidated' by 2 Coaches: 'I Used to Stand as Far Away as Possible'
Throughout the past two decades, Erin Andrews has become one of the most popular TV personalities in sports. The work she has put into becoming a successful sports reporter and broadcaster has put her at the top of her profession.
She always knew she wanted to be a sports reporter, too.
"It's what people were signing my yearbook with, 'See you on ESPN,'" Andrews said on the April 14 episode of The Carlos Watson Show.
According to her FOX Sports bio, Andrews' professional career started in 2000 when she worked at FOX Sports Florida. She then moved to the Sunshine Network in 2001 and 2002 before working on TBS and Turner Sports from 2002 to 2004.
This all led to her eventually moving to ESPN, which was where Andrews became the household name she is today, as she ultimately covered college football, college basketball, and the MLB. However, in 2012, after eight years with the network, Andrews then moved back to FOX Sports, where she has been ever since.
The broadcaster is most known among fans for her NFL coverage on FOX, but she has also covered various other sporting events. This includes the MLB All-Star Game, as well as the World Series.
Her work has made her one of the most well-known faces and voices in sports. She has become a legend.
She has had fertility issues following her cervical cancer diagnosis
RELATED: Michael Strahan Sends out a Stern Message While Defending Ex-Foe Tom Brady: 'Shut Your Mouth'
If one thing is clear, it's that Andrews has worked hard to get to where she is today. Now, though, she is working to overcome something maybe even more challenging.
Erin Andrews married her husband, Jarret Stoll, in 2017. She says that she got married somewhat "late," though, as she was in her late 30s, and Stoll was 35.
The sports broadcaster, who is now 42, ultimately revealed to Carlos Watson that the two of them hope to have kids together. However, in addition to age potentially playing a role in infertility, Andrews has also had to overcome her 2016 cervical cancer diagnosis.
"Never really realized that cervical cancer would, in fact, affect my chances of getting pregnant; they don't really tell you that," Andrews said on The Carlos Watson Show.
While doctors believed that they could get the cancer out, they suggested that — if the couple wanted to have kids — they should start doing In Vitro Fertilization (IVF) "and get some embryos" in case her reproductive system had to be removed, according to Andrews.
She then said that she ended up having two surgeries, but "they were able to help" her out.
Andrews, though, has still sadly had fertility issues.
The reporter says she has smuggled 'IVF needles' into NFL games
RELATED: Cris Collinsworth Once Tried Canceling a Media Responsibility Because of a 'Massive Zit'
Erin Andrews told Watson that her fertility issues have certainly been difficult.
"It's really, really hard, I'll say, to do it during football," she said. "I've tried smuggling in IVF needles into a big NFL game, and looking at the clock when it's time to go, and you look at your security, and you're like, 'I gotta go stab myself in a bathroom really fast. You mind taking me up?' It's another level."
Fertility issues sadly impact many people throughout the world. Hopefully, Erin Andrews and her husband eventually get to start that family they hope to one day have.
Erin Andrews' husband is also a sports star
RELATED: Joe Buck Once Called a Touchdown While Peeing on Live TV
Many sports fans have known of Erin Andrews for years, but her husband, Jarret Stoll, is also a sports star.
Stoll first played in the NHL in 2002-03 with the Edmonton Oilers. He only played in four games that year but then became an important player for Edmonton in 2003-04. He was then ultimately on the Oilers through the 2007-08 season, and recorded 59 total goals during his time there to go with 106 assists.
The hockey star, though, most notably played for the LA Kings from 2008-09 through 2014-15. He scored 81 goals in seven seasons with the Kings to go with 133 assists. Stoll also won two Stanley Cup titles with LA in 2011-12 and 2013-14. He scored five combined goals in those two playoff runs, too.
Jarrett Stoll later spent time with the New York Rangers and Minnesota Wild in his final season in 2015-16.
Erin Andrews is a sports superstar, but, together, she and her husband make a sports power couple.
Stats courtesy of Hockey Reference