ESPN Analyst Boldly Compares Ravens QB Lamar Jackson to LeBron James: 'His Team Ain't Winning Without Him'
The Baltimore Ravens are surprisingly 6-2 after losing several key players to season-ending injuries. If you know anything about Lamar Jackson, though, you know he's capable of putting a team on his back. The dual-threat quarterback reminds former NFL player and ESPN analyst Marcus Spears of another athlete who can take over a game. His name's LeBron James.
Lamar Jackson means everything to the Ravens
Lamar Jackson has seen criticism at every turn. He couldn't be a legitimate NFL quarterback. He's a running back. The Ravens can't win a playoff game with Jackson. They can't play from behind. Jackson has debunked each one of those myths.
Detractors are running out of these lazy excuses. Jackson is the real deal. Since joining the Ravens in 2018, No. 8 has posted a 36-9 career record as a starter. That's not bad for a running back.
The Louisville product took home the NFL MVP Award in 2019, and he's on track to possibly win MVP again in 2021. Many teams would fold after losing player after player to injury, but not the Ravens.
With guys like Marcus Peters, Ronnie Stanley, and J.K. Dobbins out, Baltimore isn't always going to be the most talented team on the field. However, as Marquise "Hollywood" Brown said, you can never count this team out because of Lamar Jackson.
Jackson has thrown for 2209 yards and 13 touchdowns while rushing for another 600 yards and two scores. He's currently top 10 in the NFL in passing and top 20 in rushing from his quarterback position. That's unheard of.
ESPN's Marcus Spears compared No. 8 to LeBron James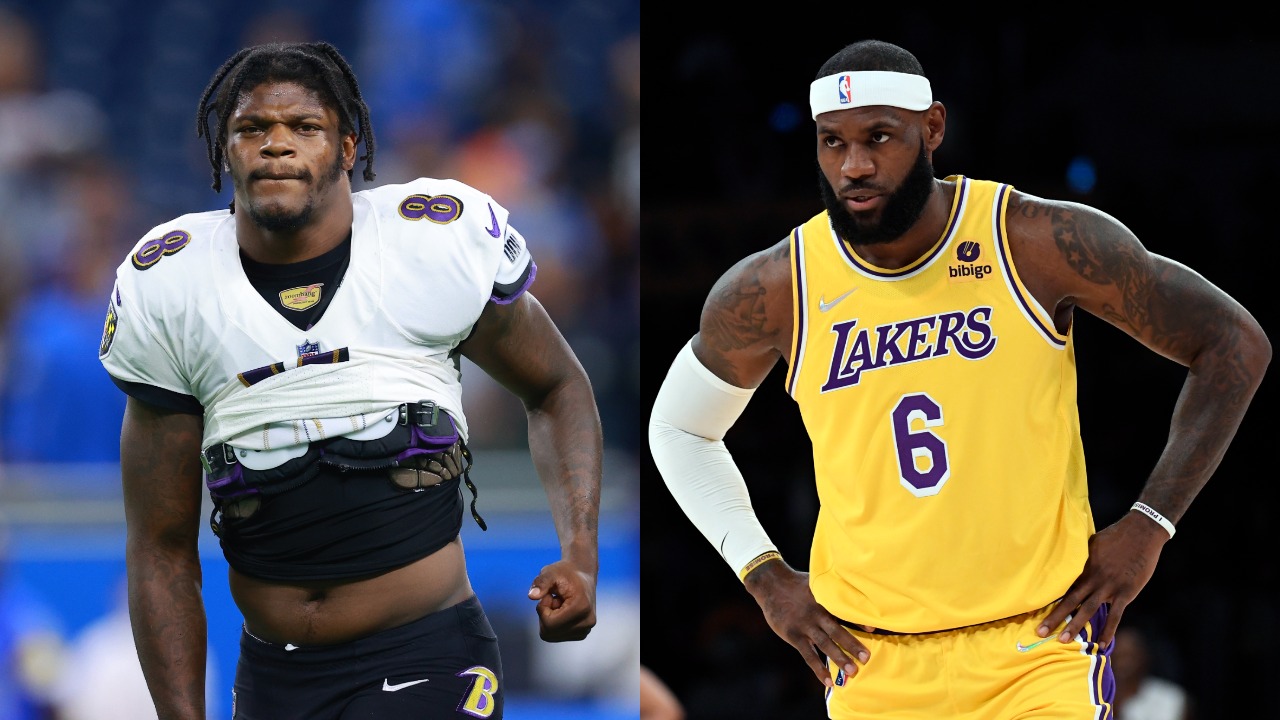 There may not be another NFL player as valuable to his football team as Lamar Jackson is to the Baltimore Ravens.
ESPN NFL analyst and former defensive lineman Marcus Spears can't say enough great things about the Ravens' signal-caller. He recently drew a comparison between Jackson and Los Angeles Lakers superstar LeBron James.
"We got comfortable with what we've been watching," Spears said of Jackson on NFL Live. "This is the LeBron James effect, everybody. LeBron could've been the league MVP for nine years straight. Let's stop playing. Lamar Jackson is that."
Spears believes people often take the former MVP for granted, just like James throughout his career. Jackson continues to break records, but it seems par for the course because he set the standard so high already.
"Sometimes when we're watching, and those guys make mistakes, we highlight that," he added. "Because we're so used to the greatness…Lamar Jackson is not only the most valuable player in the NFL. He's the best player in the NFL. Every team walks into that stadium and knows they have to stop Lamar Jackson to beat the Ravens."
The Lakers struggle without LeBron James on the floor. Lamar Jackson has a similar effect on the Ravens.
"His team ain't winning without him," said Spears. "No one can do anything with him."
Jackson deserves more credit than he's received
Marcus Spears is spot on when he says that people take Lamar Jackson for granted. But we shouldn't.
The numbers that Jackson puts up aren't normal. Every few games, he's accomplishing another first. Yet, he's one of the most debated and criticized players in the NFL.
Every mistake the Ravens' star quarterback makes is dissected with a fine-tooth comb. Let's not forget, though, that every NFL team passed up an opportunity to draft this guy. He was the fifth quarterback taken in the 2018 NFL Draft. He's outperformed all of them throughout their young careers. Buffalo Bills signal-caller Josh Allen is the only one who's close.
Similar to LeBron James, Jackson has strong shoulders. When the Ravens need a game-changing play, No. 8 answers the bell more often than not. His on-field development is evident, and so too is his mental toughness.
Baltimore has gotten off to several slow starts in 2021. It hasn't been a problem for Jackson, though. He's led the Ravens to three double-digit comeback victories.
Jackson isn't perfect. He tries to force things sometimes. He takes unnecessary hits, and he misses some throws. But he always bounces back. It took LeBron James nine seasons to win an NBA championship. Let that sink in.
Lamar Jackson and the Ravens have their own way of doing things, but it's working. Not to mention, he's only 24 years old. The haters need to sit back and enjoy greatness.
All stats courtesy of Pro Football Reference.