ESPN Analyst Brutally Roasts Teddy Bridgewater and Calls for Broncos to Bench Him After a Pathetic Move: 'You're Not Peyton Manning, Dude'
The Denver Broncos were riding high after pummeling the Dallas Cowboys in Week 9. However, they came crashing back down to earth with an embarrassing Week 10 loss to the Philadelphia Eagles. Teddy Bridgewater stole the show with an egregious mistake, and it wasn't a good look. ESPN analyst and former NFL coach Rex Ryan put Bridgewater on blast and called for his benching.
Teddy Bridgewater gave up on game-changing play
The Denver Broncos and Philadelphia Eagles were battling in a tight contest throughout their Week 10 matchup. That was, until a momentum-swinging play by Eagles cornerback Darius Slay.
Broncos running back Melvin Gordon III ran into the teeth of the Philadelphia defense, and he had the ball stripped away from him. Slay recovered the fumble and began to return the ball the other way.
Several Denver offensive players chased Slay to bring him down. On the other hand, Teddy Bridgewater didn't even try. The Broncos' quarterback postured himself as if he was going to attempt to make a tackle. Instead, he made a business decision.
Slay ultimately returned the fumble for a defensive touchdown.
Bridgewater's lack of effort was particularly baffling, considering the score of the game. The Eagles were only up 20-13 with the entire fourth quarter to play. Slay's score put Philadelphia ahead by two scores, essentially ruining any chances of a Broncos comeback.
ESPN's Rex Ryan says the Broncos QB is not Peyton Manning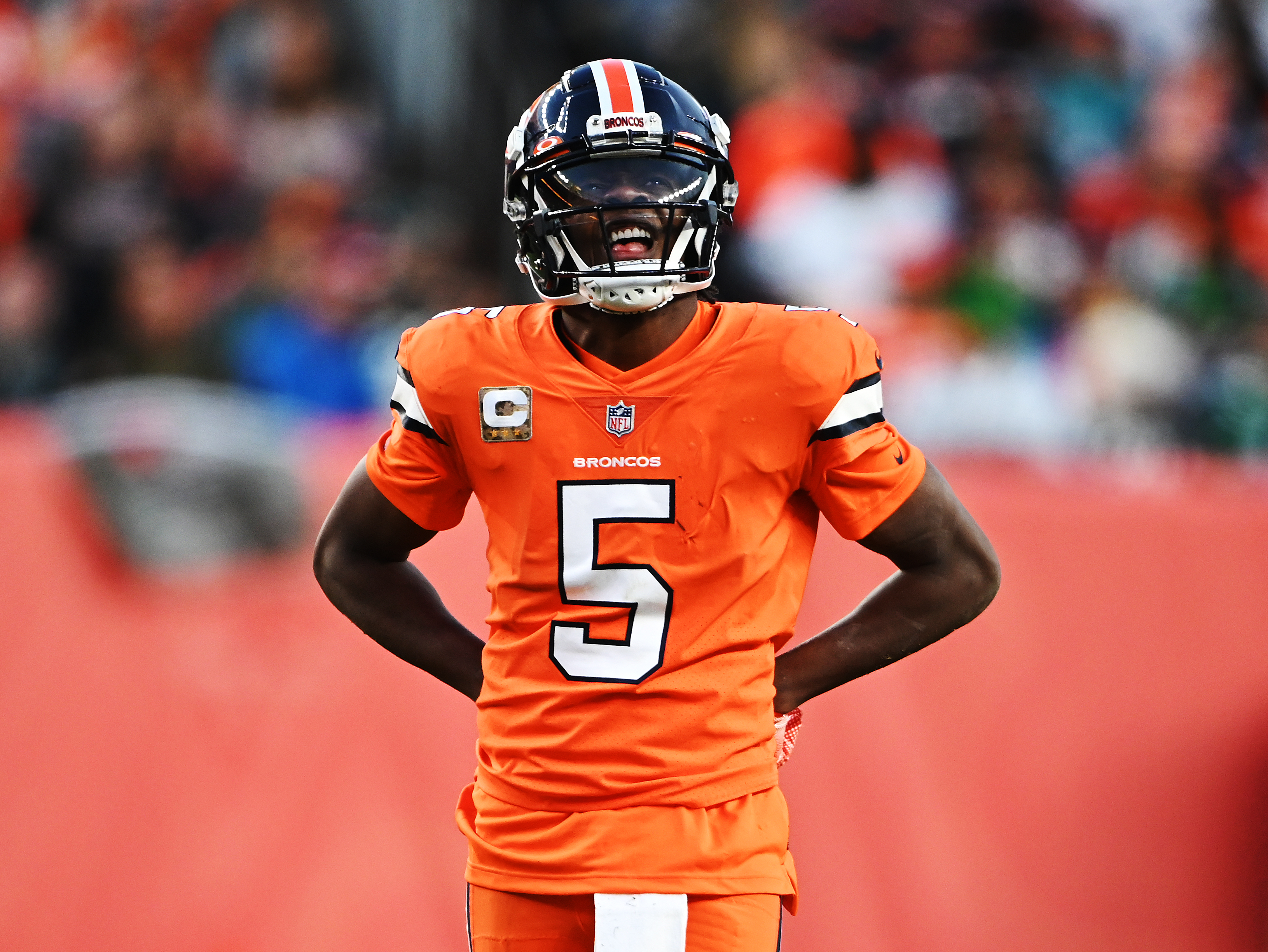 Teddy Bridgewater made a business decision with a 6-foot, 190-pound cornerback back running the football. That would be acceptable if it were Derrick Henry but not Darius Slay.
The veteran quarterback embarrassed himself and his Broncos teammates. ESPN analyst and former NFL coach Rex Ryan did not like what he saw from Bridgewater. He ripped into the Denver signal-caller on ESPN's Get Up.
"I'd bench his a**," said Ryan on Bridgewater. "You're not Peyton Manning, dude. You got two gloves. Go tackles his a**."
As a former defensive coordinator, Ryan took great offense to the quarterback failing to give a respectable effort. He also took a jab at Bridgewater's "Teddy 2 Gloves" nickname while letting him know he's nowhere near as good as Peyton Manning.
Rex Ryan is calling for the Denver Broncos' head coach Vic Fangio to send Teddy Bridgewater to the bench for the egregious move.
Should Denver bench Bridgewater for Drew Lock?
It was a bit surprising when Vic Fangio definitively named Teddy Bridgewater the Denver Broncos' starting quarterback over Drew Lock.
Bridgewater is in his seventh NFL season but is already playing for his fourth team. The Louisville product hasn't played horribly so far in 2021. He's thrown for 2,389 yards, 14 touchdowns, and five interceptions while completing 69.2% of his passes.
While Bridgewater has been decent, he's not a game-changer at quarterback. It doesn't help that he essentially quit on his team by not trying to make a play on the Darius Slay touchdown.
At some point, the fans are going to start calling for Drew Lock to start. Lock, a 2019 second-rounder, has started 18 games for the Broncos but hasn't done enough for Denver to commit to him.
Bridgewater and Lock have two different playing styles. The latter is better at pushing the football down the field, though, something this offense is lacking.
Like ESPN's Rex Ryan suggested, Teddy Bridgewater isn't good enough not to give 100% effort on every single play. A hungry Drew Lock may get his opportunity sooner rather than later.
All stated courtesy of Pro Football Reference.