ESPN Analyst Dan Orlovsky Believes Joe Burrow Thinking Like a 'Trained Assassin' Is What Makes Him so Special
Joe Burrow has taken the NFL by storm in his second season. Not only has he guided his team, the Cincinnati Bengals, to a 10-6 record and an NFC North title, but he's done so by putting up MVP-caliber numbers.
Burrow has racked up 4,611 passing yards and 36 total touchdowns, all while completing passes at a 70.4% rate. If it weren't for Aaron Rodgers and the Green Bay Packers' sheer dominance this season, one could reasonably make a case for Burrow being the league's MVP.
Joe Burrow is coming off back-to-back massive performances
Burrow has played well all season long. However, his past two performances have been particularly impressive. He led the Bengals to two crucial wins over AFC opponents while putting up ridiculous stat-lines.
Against the Baltimore Ravens in Week 17, Burrow exploded with 525 passing yards and four touchdowns on 37-for-46 passing. It was a dominant showing of offense from the Bengals' quarterback, one that showcased just how talented the young starter truly is. The Ravens have been battling some injuries as of late, but they're still a well-coached team that's historically given Cincinnati problems.
In Week 18, Burrow didn't slow down in the slightest. He racked up another 446 passing yards and four touchdowns, knocking off the Kansas City Chiefs while outdueling Patrick Mahomes. It was another spectacular display of quarterback from Burrow, one that caused people to take note of how dominant he's been this season.
ESPN analyst Dan Orlovsky compared Joe Burrow to a 'trained assassin'
Following the Bengals' impressive Week 18 win over the Chiefs, former NFL quarterback and current ESPN analyst Dan Orlovsky took to the airways to praise Burrow. Orlovsky compared Burrow to a "trained assassin" and made the claim he should be in the MVP conversation.
It's hard to imagine voters favoring Burrow over Rodgers, or even Tom Brady for the matter. However, Orlovsky makes a fair point. The Bengals' second-year QB should undoubtedly be in the conversation. Burrow ranks fifth in passing yards, first in completion rate, fifth in touchdowns, and second in passer rating.
With numbers like those, Burrow should at least get some consideration during the voting process.
Circling back to Orlovsky's comments about Burrow being a "trained assassin," it genuinely is a good comparison. Not only has Burrow done an excellent job of quarterbacking in general, but he's been stellar in terms of moving the ball around to different receivers and attacking the defense's weak spots. Three Bengals receivers have 800-plus yards — a testament to Burrow's ability to read and react.
Can the Bengals make some noise this postseason?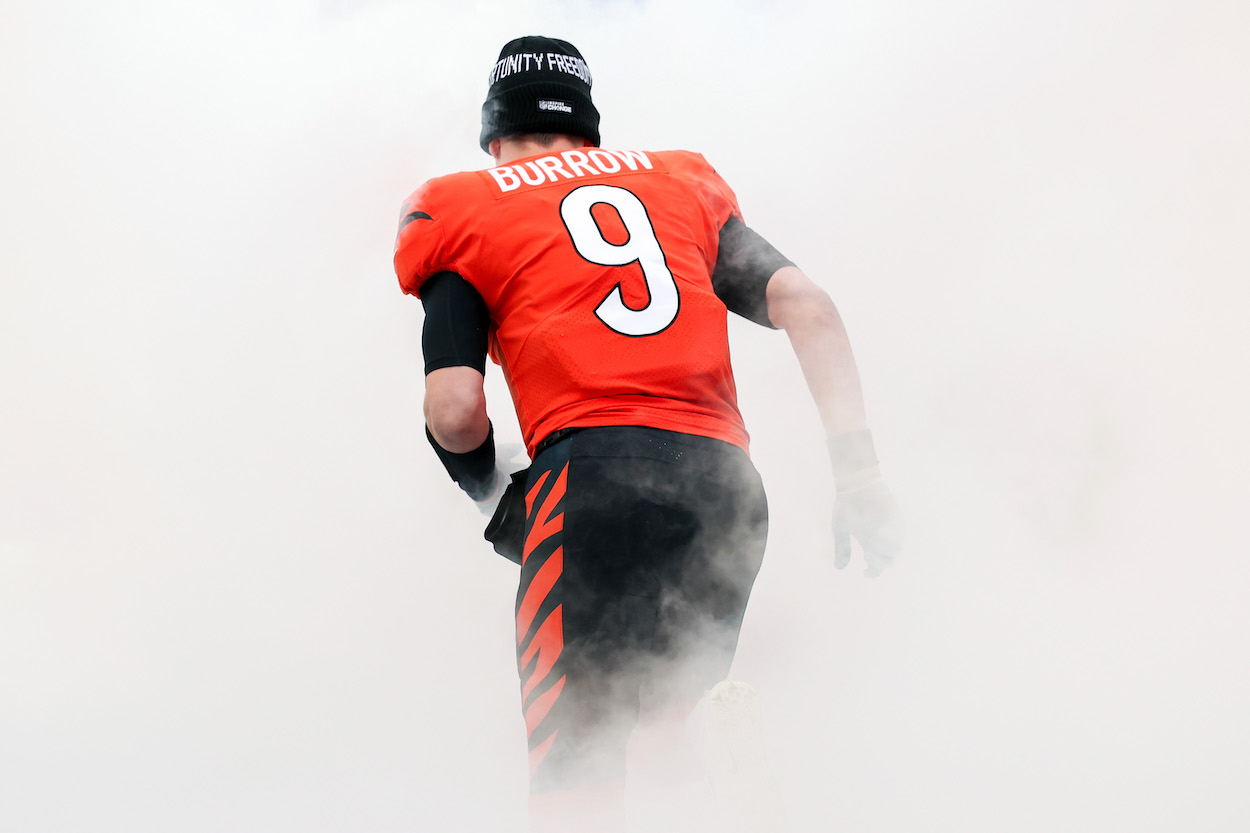 The Bengals have an elite offense and are one of the hottest teams in the NFL at the moment. However, the big question is whether this will be enough to carry them to postseason success. This will be the first time a number of Bengals players make the postseason, including head coach Zac Taylor.
Ultimately speaking, the Bengals will presumably ride what's gotten them this far. They have a superstar at quarterback with a trio of elite pass-catchers to throw the ball to. They will try outscoring their opponents in the playoffs.
Will this strategy pay off? Only time will tell. Either way, Burrow is more than deserving of all the praise Dan Orlovsky is sending his way.
All stats courtesy of Pro Football Reference.