ESPN Analyst Paul Finebaum Brutally Rips Browns QB Baker Mayfield to Continue Old Beef: 'Poor Man's Johnny Manziel'
Baker Mayfield has become a polarizing player over the past few years. Some people like him, and some people hate him. ESPN college football analyst Paul Finebaum is among the latter. The Cleveland Browns' 2021 NFL season ended in disappointment, leaving questions surrounding Mayfield's ability to be the franchise quarterback.
Finebaum recently put the Browns' signal-caller on blast, comparing him to former draft bust Johnny Manziel.
Paul Finebaum roasts Baker Mayfield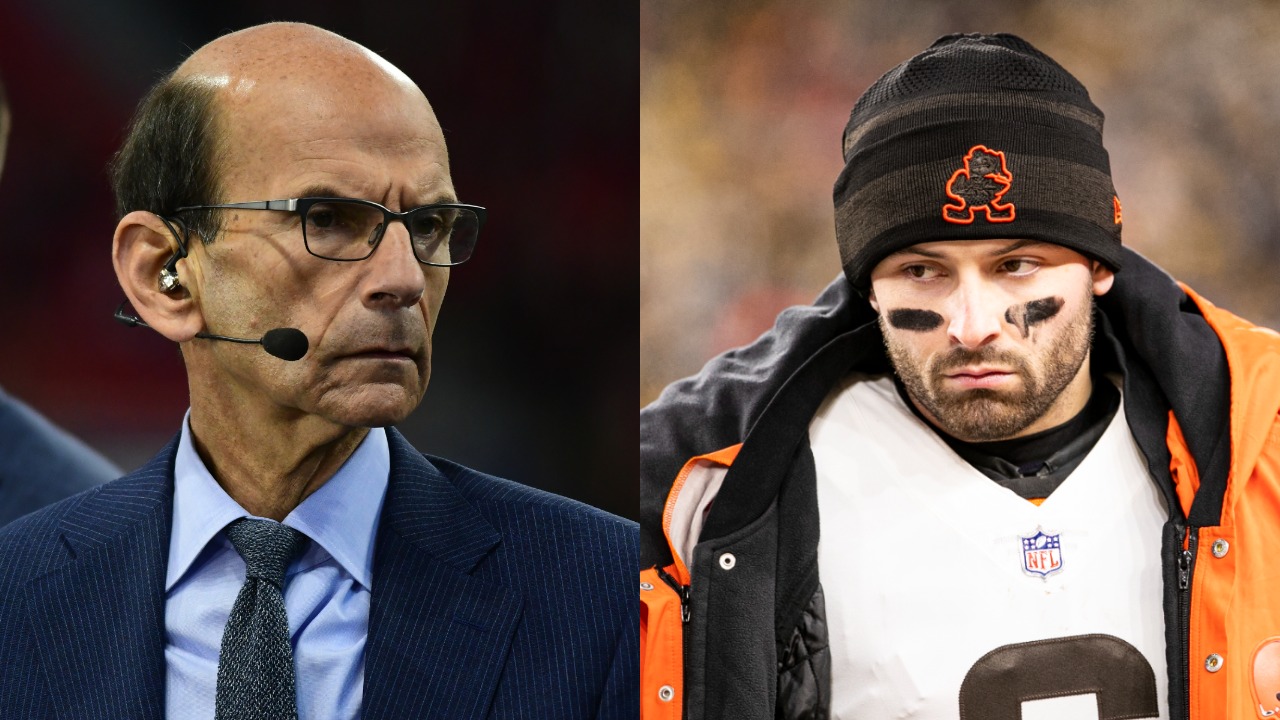 ESPN's Paul Finebaum is not a fan of Baker Mayfield, and he'll remind people whenever he gets the chance.
The college football analyst recently appeared on a segment for ESPN Cleveland and gave his honest opinion of the Cleveland Browns quarterback.
"I got into it with him in college," said Finebaum per Pro Football Talk. "He came after me on Twitter. And I thought he was a punk then, and nothing has changed. He is a poor man's Johnny Manziel."
The former Oklahoma Sooners standout's future in Cleveland is still uncertain as he heads into the final year of his rookie contract. Finebaum suggests the Browns part ways with the embattled quarterback.
"I think Cleveland ought to get rid of him," he added. "I don't know if it's possible, but I think the Browns are wasting their time with this guy."
The ESPN personality obviously has not let go of the beef from years ago and is holding it over Mayfield's head. The Johnny Manziel comparison jumps out at you, considering he's a former first-round pick of the Browns.
Johnny Football was a disappointing draft bust, and Finebaum believes Baker Mayfield could be heading in that direction.
The Browns reportedly plan to move forward with the QB
Although Paul Finebaum has no faith whatsoever in Baker Mayfield, it's pretty unfair to compare him to Johnny Manziel.
Manziel was absolutely box office during his college career at Texas A&M. The 2012 Heisman Trophy winner went No. 22 overall to the Browns in the 2014 NFL Draft. However, he failed to find similar success in the NFL.
The former Aggies star lasted just two seasons. His best campaign came in 2015 when he threw for 1,500 yards, seven touchdowns, and five interceptions in six starts.
Mayfield has far-exceeded what Johnny Football did in the league.
The 2018 No. 1 overall pick has thrown for 14,125 yards, 92 touchdowns, and 56 interceptions. Mayfield's inconsistency has raised questions about his future with the team, though.
According to NFL Network insiders Ian Rapoport and Tom Pelissero, the Browns plan to retain the fourth-year quarterback for the 2022 season.
Perhaps, general manager Andrew Berry and head coach Kevin Stefanski are giving Mayfield the benefit of the doubt after an injury-riddled season.
Mayfield must take the next step in 2022
Even if the Cleveland Browns do plan to commit to Baker Mayfield for the 2022 NFL season, it doesn't mean they'll give him a long-term contract.
The Browns selected the Oklahoma product No. 1 overall for a reason. They believe in his talent, but the production has to match at some point.
Mayfield enjoyed the best season of his career in 2020. He threw for 3,563 yards, 26 touchdowns, and eight interceptions. Cleveland posted an 11-5 record, the franchise's best mark since 1994.
After leading the Browns to a playoff berth, fans were hoping Mayfield would build off his best season and take the next step in 2021. Unfortunately, that did not happen. Instead, he experienced negative regression.
The Texas native finished the season with 3,010 passing yards, 17 touchdowns, and 13 interceptions. He also posted the second-worst completion percentage of his career (60.5%). Mayfield did battle several injuries throughout the season, and you have to applaud his toughness for playing through them. However, things got to a point where he was actually hurting the team.
Head coach Kevin Stefanski decided not to pull his hobbled quarterback until it was too late and the Browns were out of playoff contention.
The 2022 season will be make or break for Cleveland, but especially Baker Mayfield. He always seems to be in the news, and it's usually not because he's playing well on the football field. If he doesn't put his stamp on the quarterback job in Cleveland this time around, he could be gone.
All stats courtesy of Pro Football Reference.