ESPN Announces a New NBA Show to Replace 'The Jump', but It's Nothing More Than 'The Jump' Minus Rachel Nichols
Following a controversial summer, ESPN's newest NBA show is finally ready to tip-off.
The Worldwide Leader is debuting NBA Today on October 18, one day before the NBA season opener. The program, hosted by Malika Andrews, will air weekday afternoons from 3-4 p.m. ET. NBA Today is the replacement for The Jump, the daily NBA show hosted by Rachel Nichols.
ESPN is hoping NBA Today can bring unique, entertaining content to ESPN's original programming lineup. But at first glance, its newest effort appears to be nothing more than an uninspired reboot of The Jump, just with a new name and a new host.
Rachel Nichols' leaked audio forced ESPN to make a change
The story of the summer in Bristol has been Nichols. In a bombshell story by The New York Times, leaked audio emerged of the longtime reporter discussing former ESPN employee Maria Taylor replacing her for NBA coverage during the 2020 postseason.
"I wish Maria Taylor all the success in the world — she covers football, she covers basketball," Nichols said in July 2020. "If you need to give her more things to do because you are feeling pressure about your crappy longtime record on diversity — which, by the way, I know personally from the female side of it — like, go for it. Just find it somewhere else. You are not going to find it from me or taking my thing away."
The leaked audio caused major backlash for Nichols as well as ESPN. The network ultimately pulled her off of NBA coverage during the NBA Finals between the Milwaukee Bucks and Phoenix Suns. Then in late August, ESPN removed Nichols from all of their NBA coverage and canceled The Jump, the show she had hosted since 2016.
"We mutually agreed that this approach regarding our NBA coverage was best for all concerned," said David Roberts, ESPN's senior vice president of production. "Rachel is an excellent reporter, host, and journalist, and we thank her for her many contributions to our NBA content."
'NBA Today' features lots of familiar faces
ESPN will undoubtedly hype up the new daily NBA show coming to its network. But viewers shouldn't expect an experience that differs from what they watched over the last five years.
Andrews will be joined in the studio by a panel featuring Kendrick Perkins, Vince Carter, Chiney Ogwumike, and Zach Lowe. All of those analysts have appeared on multiple episodes of The Jump, particularly Perkins, as the former Boston Celtics center has become a regular contributor to ESPN's NBA content.
Additionally, the show will feature a team of reporters giving updates from around the league, headlined by insiders Adrian Wojnarowski and Ramona Shelburne. NBA Today will even be filmed in ESPN's Los Angeles Production Center, just like its predecessor.
"NBA Today will provide in-depth, comprehensive daily coverage of all aspects of the NBA," said Roberts in a statement. "Malika, who is a phenomenally talented commentator, will run point on a show that will feature a vibrant cast of expert analysts who all offer distinct perspectives on the game. Through the contributions of our wide array of NBA reporters, the show will be both newsy and timely with an eye toward the biggest games around the league that day."
ESPN has missed the mark with 'NBA Today'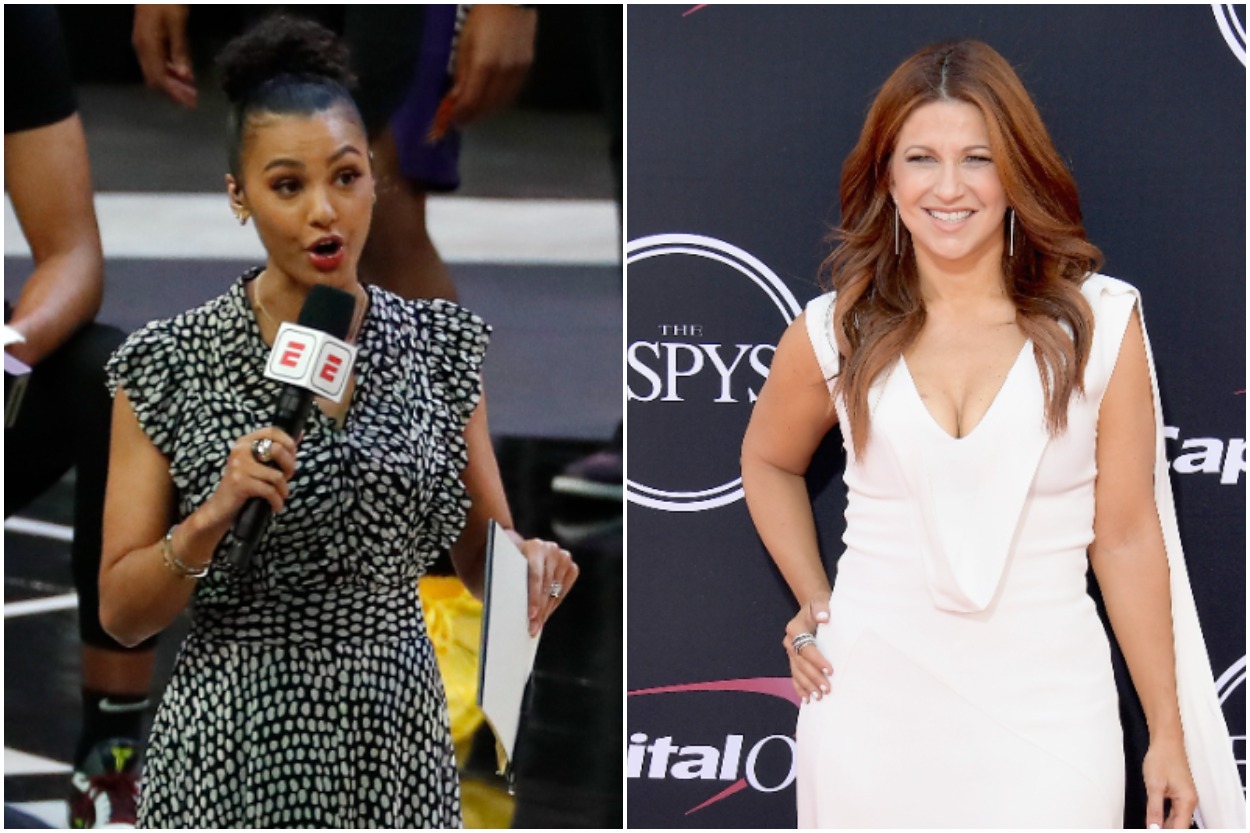 Understandably, there's only so much you can do with a studio show on cable television. But ESPN might have wasted a chance to do something exciting with its new daily NBA show.
The description of the new program shows ESPN's commitment to getting away from personality. Back in 2016, Nichols described her show as, "a great big conversation about all the fun, serious, smart, crazy, big-issue, small-smile moments that make the NBA so fascinating." Meanwhile, Andrews said NBA Today's daily goal is to, "deliver information and analysis to our viewers that can't be gleaned anywhere else."
Information and analysis are not why basketball fans tune into NBA on TNT, ESPN's biggest studio show competitor. The four-person trio of Charles Barkley, Shaquille O'Neal, Kenny Smith, and host Ernie Johnson focus on entertainment first, and do and say things you actually can't get from anywhere else.
ESPN could have thought outside of the box in putting together an elite panel to rival TNT. But rather than entertaining viewers, the show will have Perkins giving his loudest takes and Woj giving updates that viewers already read on his Twitter feed 20 minutes ago.
The announcement of NBA Today does nothing to move the entertainment needle. Rather, it will serve as an hour-long infomercial for whatever games ESPN is airing that night. Which is all the network cares about, anyway.
RELATED: ESPN Is Getting What It Deserves for Showing a Sham High School Football Game