ESPN Commentator Blasts Stephen A. Smith for Having More 'Venom' Toward Kyrie Irving Than Aaron Rodgers: 'I Didn't Feel the Same Energy'
The Brooklyn Nets are currently on a three-game winning streak, and their 5-3 record has them sitting at fifth place in the Eastern Conference. They would likely have more wins than those five, though, if Kyrie Irving were suiting up for them on a nightly basis.
Irving has yet to play this year due to his vaccination status, and his refusal to get the shot has drawn out significant criticism from many, including ESPN's Stephen A. Smith.
In fact, Smith has been one of the guard's biggest critics, as he has continuously attacked his decision not to play. However, the commentator's colleague Jay Williams recently called him out for having more "venom" toward Irving than Aaron Rodgers, who will not play in Week 9 of the NFL season after testing positive for COVID-19.
Packer QB Aaron Rodgers and Nets star Kyrie Irving are both reportedly unvaccinated
Aaron Rodgers and Kyrie Irving are both reportedly unvaccinated, but the QB's situation with the Green Bay Packers is far different from Irving's with the Nets.
Irving has yet to play a game for Brooklyn this season. He was initially supposed to only miss home games due to New York's vaccine mandate, but the Nets won't allow their seven-time All-Star to just play part time this year.
Rodgers, on the other hand, has looked like an NFL MVP yet again this season and has led Green Bay to a 7-1 record. But the nine-time Pro Bowler recently tested positive for COVID-19 and will miss Green Bay's Week 9 game against the Kansas City Chiefs. When previously asked if he was vaccinated, Rodgers said he had been "immunized," but, according to ESPN, he hasn't received the vaccine and instead got an alternative treatment.
Rodgers has also been participating in press conferences without a mask. Unvaccinated players must wear masks at all times when indoors, and with Rodgers not doing so during interviews, he essentially broke protocol and led people to believe he was vaccinated.
While their situations certainly differ, the fact Irving and Rodgers are both unvaccinated has led to some comparing the two, which specifically happened on a recent episode of ESPN's First Take.
Jay Williams blasted Stephen A. Smith for going easier on Aaron Rodgers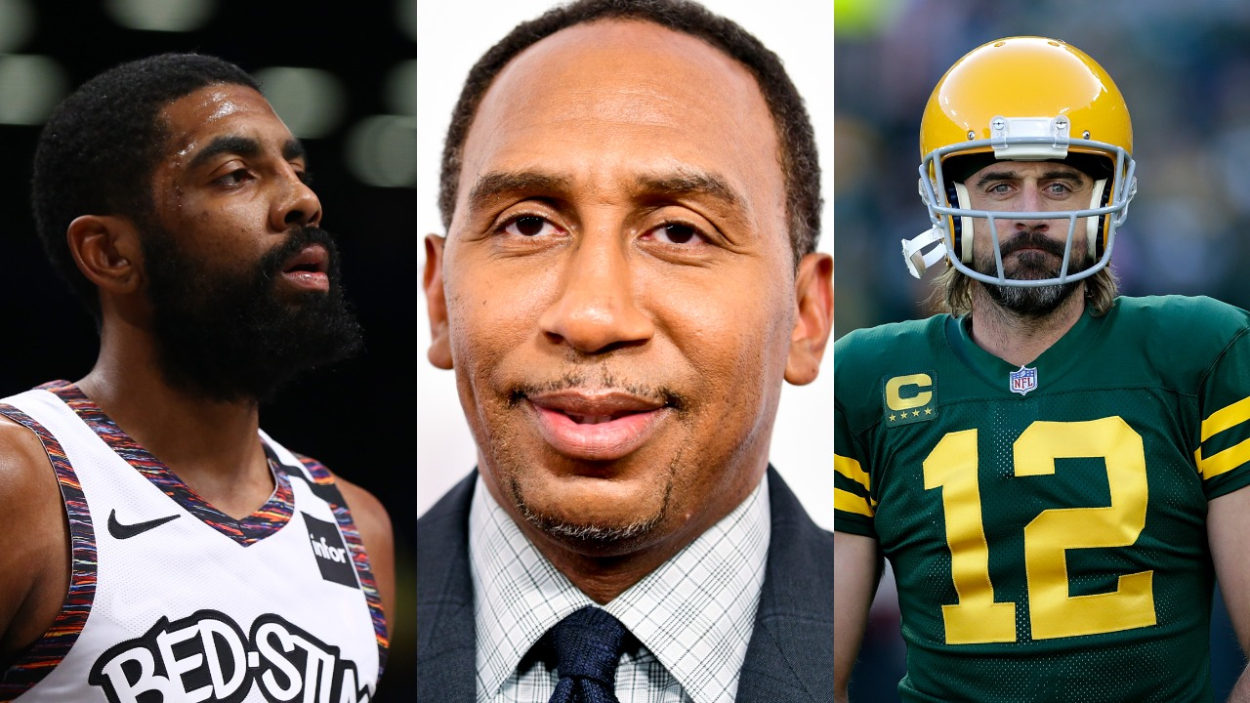 In light of the recent Rodgers news, Stephen A. Smith had some strong comments about the NFL star, calling him a "liar" during the Nov. 4 episode of First Take. But Jay Williams later went on the show and attacked Smith for going easier on the QB than he did on Irving. Smith has repeatedly criticized Irving in recent months, calling him "a problem" and saying he has betrayed Kevin Durant, James Harden, and the Nets.
"I just didn't feel the same venom; I didn't feel the same energy that was associated with Kyrie Irving," Williams said on First Take after reading Smith some of his past comments about the Nets guard. "And a part of me wonders, why? How come don't you hold Aaron Rodgers to the same [standard], who lied?"
Smith said he wasn't as passionate when discussing Rodgers' situation because he was talking about the issue with people he agreed with, as compared to when he and Williams previously got into a heated argument about Irving during a past episode. However, the ESPN commentator also explained why he still has a massive issue with the hoops star.
"Kevin Durant and James Harden are in Brooklyn because of Kyrie Irving," he said. "… Since your (Kyrie) the one that got them there, you should be riding right there with them."
Smith then admitted that Rodgers' situation is worse than Irving's, but one athlete's mistake didn't keep him from continuing to blast the other.
"I believe if it wasn't the vaccine, it'd be something else that got Kyrie Irving missing games," Smith said. "… He wants to come to work when he wants to come to work."
The Nets needs Kyrie Irving if they want to win a title
Smith and Williams continued discussing Rodgers and Irving throughout the episode, with them both saying Rodgers is worse for essentially lying, or making misleading statements at the very least. But Smith made it clear that one of his biggest issues with Irving is the fact he has missed time for non-basketball-related reasons each of the last two seasons, which has potentially kept his team from reaching its full potential. 
Irving and the Nets have the talent to build something special on the court, but they need him on it for that to happen. Brooklyn is 5-3 this season with blowout losses to the Milwaukee Bucks and Charlotte Hornets. Kevin Durant has been excellent, averaging 28.3 points to go with 8.6 rebounds and 5.3 assists, but James Harden has struggled tremendously. The 2017-18 MVP is only scoring 18.3 points per game and shooting 39.3% from the field.
If he were on the court, Irving would be able to help KD cover up Harden's struggles, but since he's not, we're left wondering what the Nets' record would be if he were playing.
All in all, Kyrie's situation with the Nets is far different from Rodgers' with the Packers. The latter has played for his team and has it in a position to compete for a championship. The former, on the other hand, hasn't played a single second this year. However, Rodgers was misleading about his vaccination status, while Irving has been upfront about his. Either way, both their absences are hurting their teammates and could result in their squads failing meet expectations this year.
Stats courtesy of Basketball Reference
RELATED: A Transition of Power Unrelated to the NBA Might Be Kyrie Irving's Only Hope of Playing for the Brooklyn Nets