ESPN Didn't Suspend Lou Holtz After He Compared a Head Coach to Adolf Hitler
Aside from both working at ESPN at some point in their lives, Adrian Wojnarowski and Lou Holtz don't have much in common.
Wojnarowski is a veteran basketball reporter best known for his "Woj Bombs." Holtz is a college football legend who led Notre Dame to a national title.
What the two share, though, is they both earned gave the Worldwide Leader fits with their controversial remarks. If Wojnarowski felt bad after he sent a profane email to a senator, he can at least take solace knowing. he didn't err the way Holtz did during an on-air ESPN segment in 2008.
Lou Holtz is a legendary college football coach
Calling Lou Holtz a "terrific" college football coach is an understatement. He is one of the most successful coaches in the sport's modern history.
Holtz went 249-132-7 across six schools, though is best known for the 11 seasons he spent at Notre Dame from 1986-96. Holtz went 100-30-2 and won the national championship in 1988, a season the Irish finished 12-0.
After a 5-6 showing in Holtz's first season, the Fighting Irish never had another losing record under their iconic coach. Notre Dame won 10 or more games on four occasions and went 5-4 in bowl games.
Holtz enjoyed success at other stops, too. He went 33-12-3 in four seasons at NC State and 60-21-2 in seven years at Arkansas.
Like at Notre Dame, Holtz's first season at South Carolina — an 0-11 finish in 1999 — was one to forget. The Gamecocks won the Outback Bowl in each of his next two seasons. Holtz finished 33-37 at South Carolina before he passed the torch to former Heisman Trophy-winning quarterback Steve Spurrier.
Holtz spent plenty of years at ESPN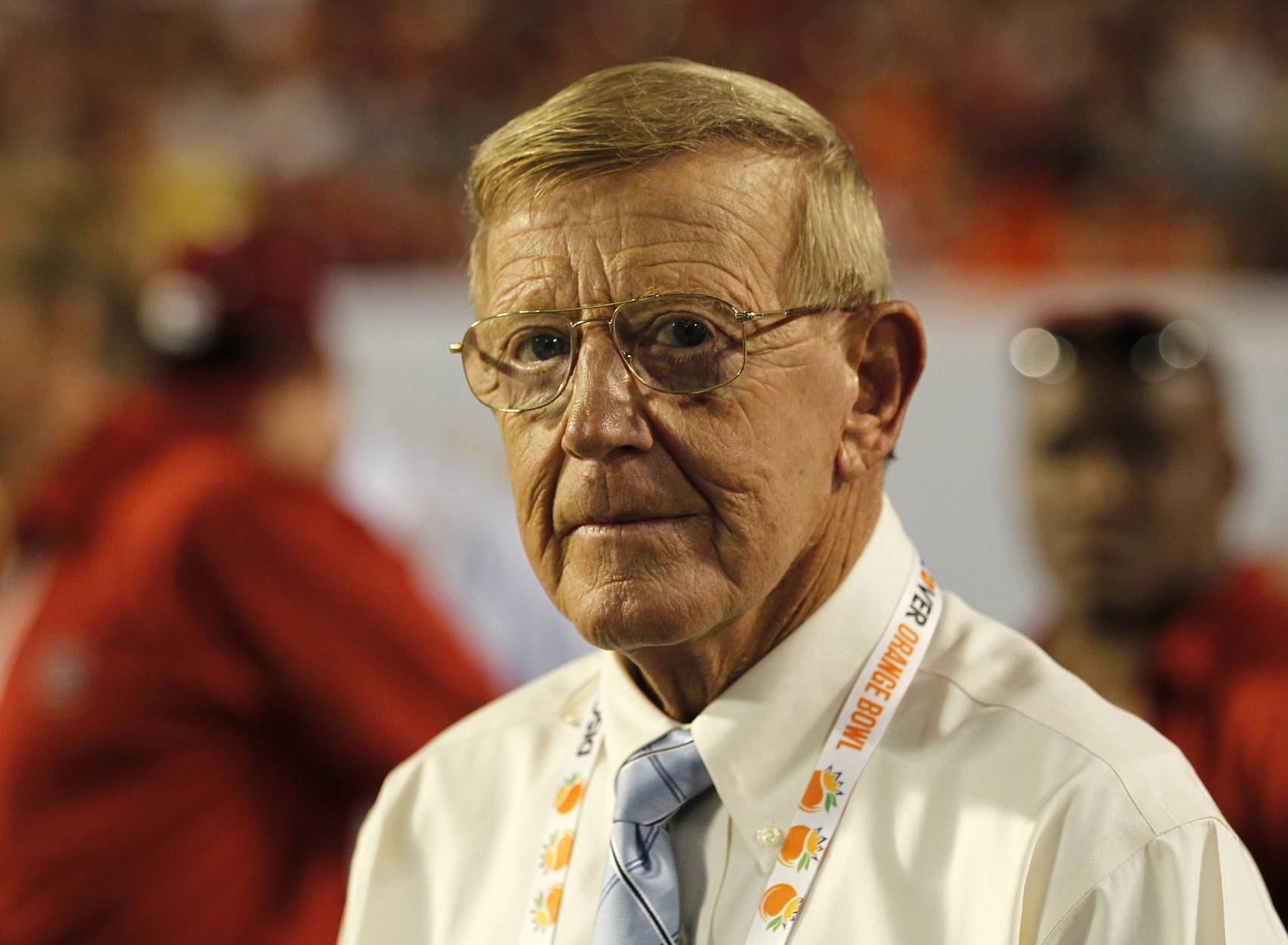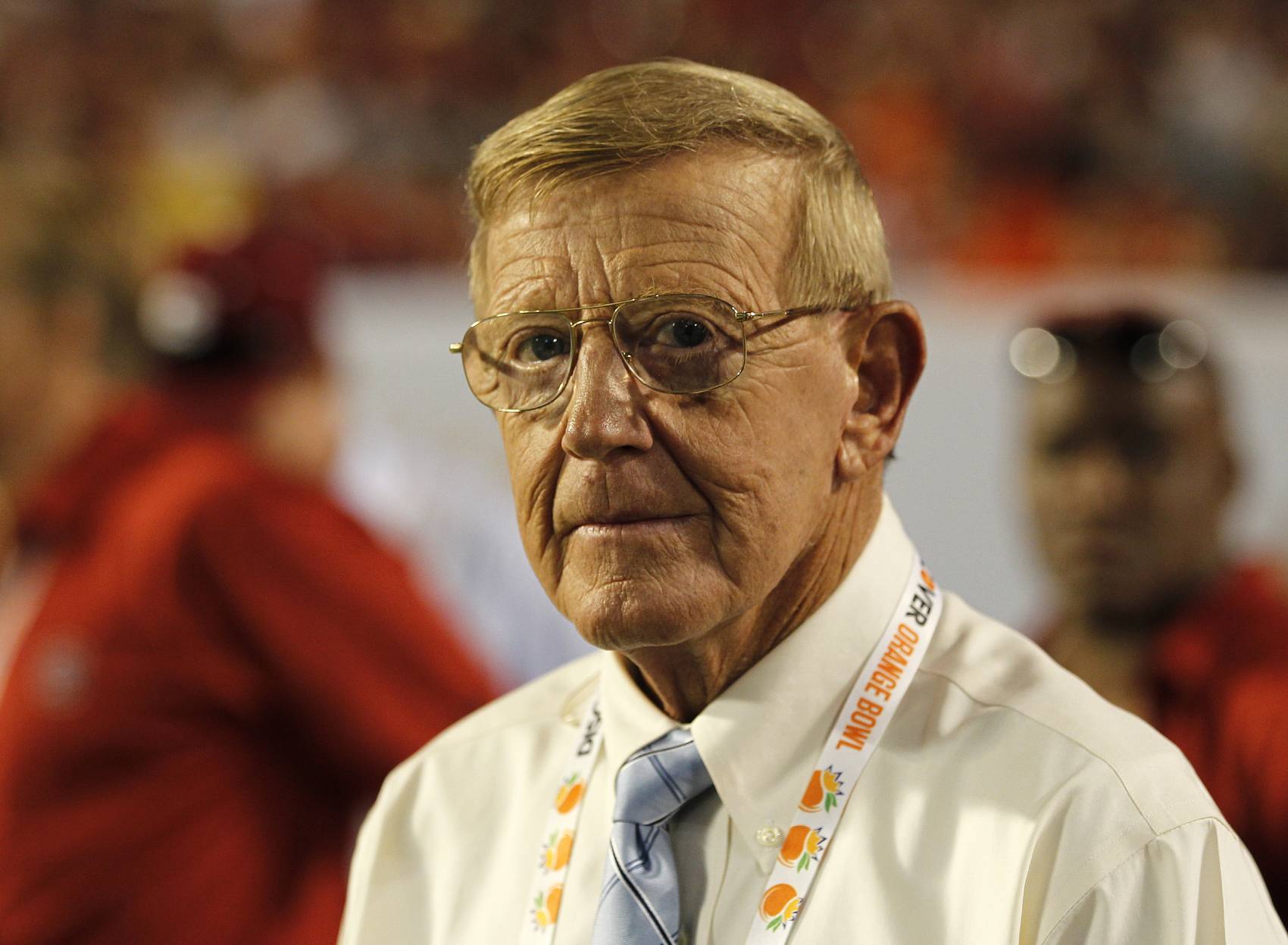 As is customary with most sports, Lou Holtz went into broadcasting when his coaching career ended.
Along with Rece Davis and former Super Bowl-winning offensive lineman Mark May, Holtz regularly appeared on Saturday College Football Final. The trio either endeared themselves to football fans or earned their share of criticism.
May, a Pittsburgh alumnus, often trolled Ohio State with his picks and commentary. Holtz had a lisp, which he famously joked about on and off air.
Holtz worked at ESPN from 2005-15.
ESPN didn't suspend Lou Holtz for praising Adolf Hitler on air
There are certain figures people are wise not to mention or praise on air. Lou Holtz forgot that rule in 2008.
During a segment about embattled Michigan coach Rich Rodriguez, Holtz remarked, "Ya know, Hitler was a great leader too."
Rece Davis asked if Holtz meant to say Hitler was a bad leader. Holtz agreed with Davis.
Holtz earned widespread scrutiny for the comments. He apologized the next day and ESPN issued a separate statement from the coach-turned announcer, via NBC Sports.
"Last night while trying to make a point about leadership, I made an unfortunate reference. It was a mistake and I sincerely apologize. At the time, I tried to clarify my remarks. I'm not sure I adequately did so. I appreciate your understanding."
ESPN didn't suspend Holtz for the remarks. For comparison, ESPN had suspended the oft-controversial Jemele Hill earlier that year when she wrote that, "rooting for the Celtics is like saying Hitler was a victim."
Over a decade later, ESPN is still handing out suspensions when they see fit. Although Adrian Wojnarowski's suspension came under far different management, it is interesting to see arguably the NBA's best news breaker earn an extended punishment — the New York Post reported Wojnarowski will serve an unpaid suspension for two weeks — compared to a head coach who referenced Hitler on air.