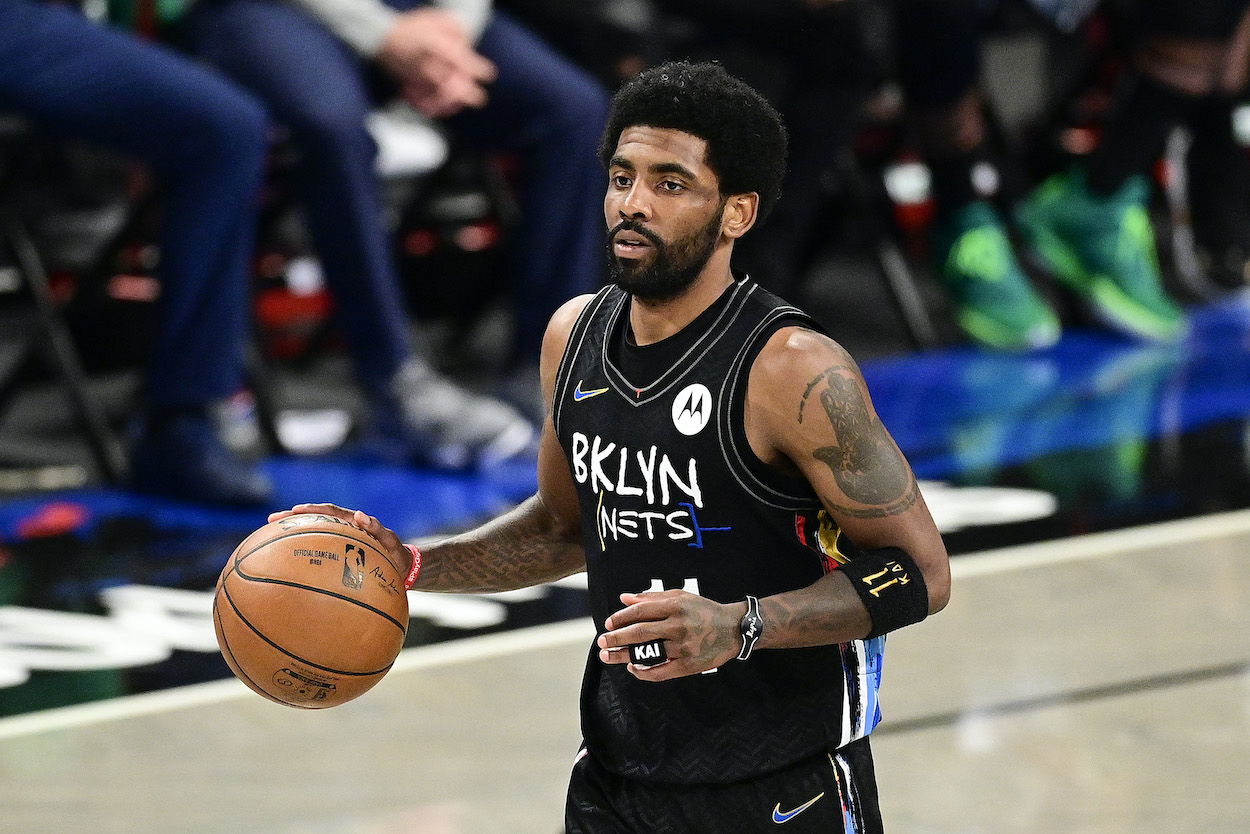 ESPN Just Handed Kyrie Irving a Sleeve of Motivational Ammo With a Disrespectful Slight
Kyrie Irving disrespectfully ranked behind Khris Middleton in ESPN's best players of 2021 list.
Kyrie Irving will be especially motivated this year to win an NBA title after injuries derailed the Brooklyn Nets' chances to win a championship last season. The star point guard sprained his ankle against the Boston Celtics in the first round of the playoffs and never returned to the floor, and the Nets went on to lose to the Milwaukee Bucks in seven games.
Irving is back and 100% healthy heading into the 2021-22 season. And if redeeming himself with a championship isn't enough motivation, ESPN just gave him more ammo by disrespectfully ranking him 20th on its top 100 NBA players list behind Khris Middleton.
Kyrie Irving comes in at 20th on ESPN's NBArank 2021 list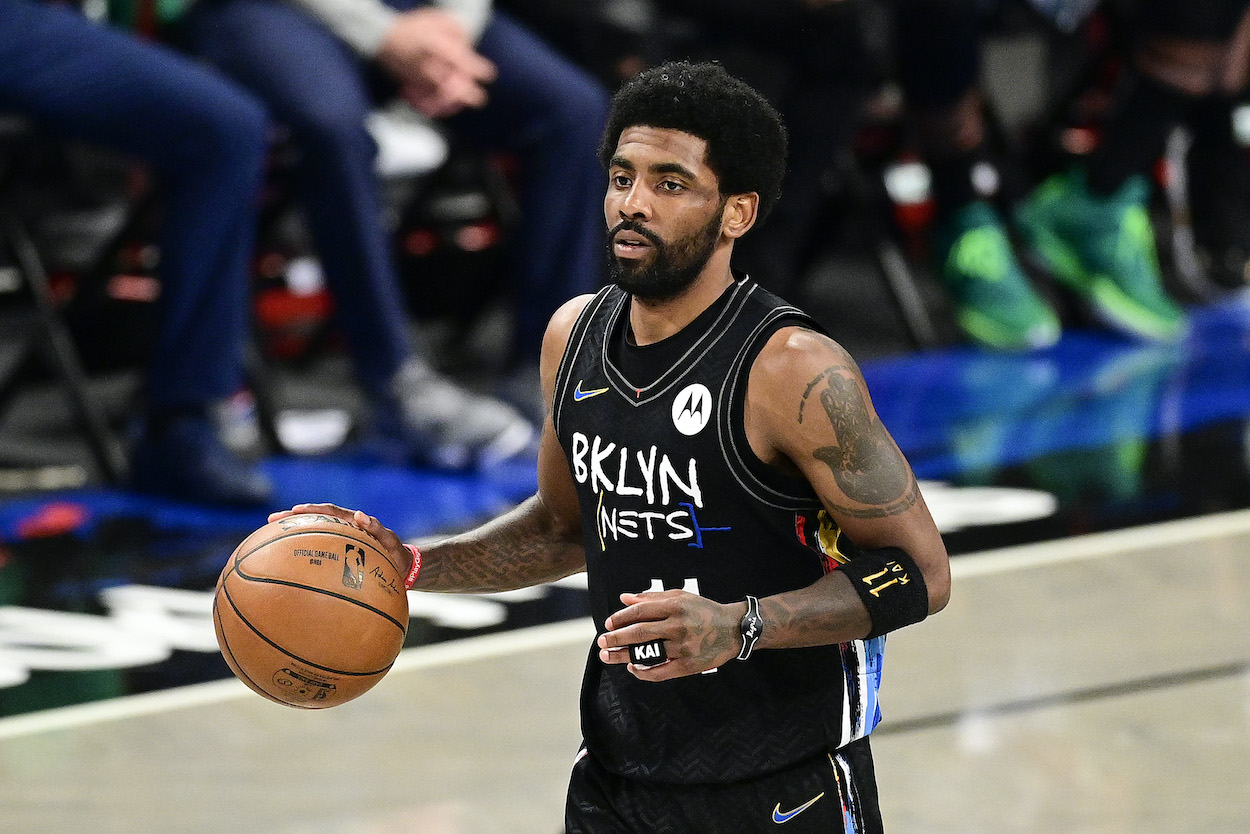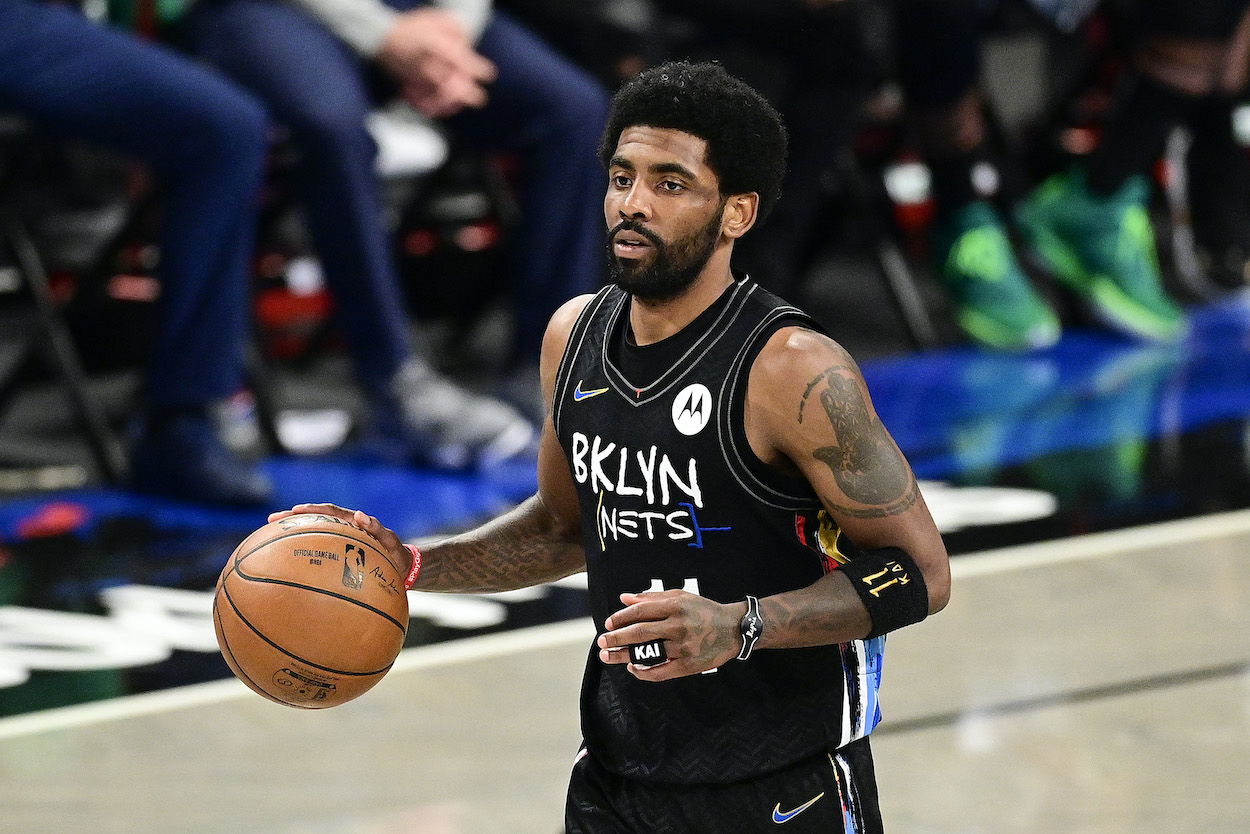 On Thursday morning, ESPN released the NBA players ranked 6-25 on its annual NBArank list, and there were more than a few surprises.
Rudy Gobert barely snuck in at No. 25 after winning his third Defensive Player of the Year award in the last four years. Jrue Holiday, who's an exceptional defensive stopper himself, came in at No. 23 ahead of offensive juggernauts Karl Anthony-Towns and Zion Williamson.
The biggest surprise might be Nikola Jokic at No. 6. Jokic was named the league MVP last season, but that apparently wasn't enough to vault him into the top five. After him, Joel Embiid, Damian Lillard, Anthony Davis, and James Harden filled out the 6-10 spots.
Irving, after making his seventh All-Star appearance in the last nine seasons, came in at 20th on the list. And when you look at some of the names ESPN ranked above him, you have to be scratching your head.
Irving should feel disrespected by ESPN's ranking
Being named the 20th-best NBA player in the world by the Worldwide Leader in Sports is no small feat, but there's no question Irving should be higher up on the list. Just look at the player in front of him.
Khris Middleton somehow beat out Irving for the 19th spot. The same Khris Middleton who's only made two All-Star Games and has never averaged more than 20.9 points per game in a single season. Irving has scored more than that in seven of his 10 seasons in the NBA.
Last year, Irving edged out Middleton in points per game (26.9), field goal percentage (50.6%), assists per game (6.0), steals per game (1.4), and free throw percentage (92.2%), among other stats. Irving is also still the best ball-handler in the world. Middleton can't say that about any part of his game.
What are we even talking about here?
It's fair to mention Middleton's brilliant performance in the playoffs that helped lead his Milwaukee Bucks to a title last season, but let's not forget Irving buried one of the most heroic shots in NBA history to secure the Cleveland Cavaliers' championship in 2016.
Give me Irving 100 times out of 100 over Middleton.
A golden opportunity to jump in the rankings
The Irving disrespect goes far beyond just Middleton being ranked ahead of him on ESPN's list. You could argue Irving should be ranked as high as 12th in front of Donovan Mitchell (18), Trae Young (17), Jimmy Butler (16), Devin Booker (15), Jayson Tatum (14), Chris Paul (13), and Paul George (12).
It's clear ESPN values championships in their rankings, so Irving has a chance to jump back into the top 15 discussion with another All-Star season and a title with the Nets. Brooklyn is currently the betting favorite to win it all in 2022, and as long as the roster stays healthy, the Nets will be tough to beat in a playoff series.
With some added motivation heading into the season, we could be in store for a career year from Irving.
All stats courtesy of Basketball-Reference.
Like Sportscasting on Facebook. Follow us on Twitter @sportscasting19.