ESPN's Kendrick Perkins Gives Stunning Take Explaining Why LeBron James, Not Michael Jordan, Is the Greatest Player of All-Time: 'This Is Who Everybody Should Have. GOAT James, LeBron James, King James'
The NBA is celebrating its 75th anniversary this season, with plans to release a list of the 75 greatest players of all time during opening week. But Kendrick Perkins has beaten them to the punch, unleashing his own list through SLAM Magazine. And right away, the ESPN analyst went against conventional wisdom and chose LeBron James ahead of Michael Jordan as the NBA's GOAT.
Kendrick Perkins picks LeBron James over Michael Jordan
On Friday, Perkins tweeted out a list of his 75 greatest players ever. The top 10 as a whole wasn't very controversial; Kareem Abdul-Jabbar came in at number three, with Magic Johnson and Larry Bird rounding out the top five. Legends like Shaquille O'Neal, Kobe Bryant, and Bill Russell also cracked the top 10. But LeBron over Jordan will certainly be the biggest takeaway.
Perkins joined SLAM's No Pump Fakes podcast to break down his list and wasted no time getting to his top player.
"It's a no-brainer," Perkins boasted. "This is who everybody should have. GOAT James, LeBron James, King James."
Perk continued, "Two of the greatest championships of all time if you include the 3-1 comeback against one of the greatest teams of all time in the Golden State Warriors and the championship that he won down in the bubble. And then when you talk about, you know, four different championships for three different franchises. We're talking about championships alone, and for four Finals MVPs, it ain't never been done in the history of the game."
As far as Jordan, His Airness wasn't very far down the list. Perkins had MJ number two, behind only LeBron.
"You gotta give respect to a guy that three-peated twice, you know what I mean?" said Perkins. "When you think about Jordan, he was Disneyworld to the game of basketball after Magic, Bird, Isiah [Thomas], Dominique [Wilkins]. All of those guys were like the circus, Jordan was like Disneyworld. Everybody wanted to be like Mike, the magical rides and all that. That's why I got MJ at number two."
Perkins played with James on the Cleveland Cavaliers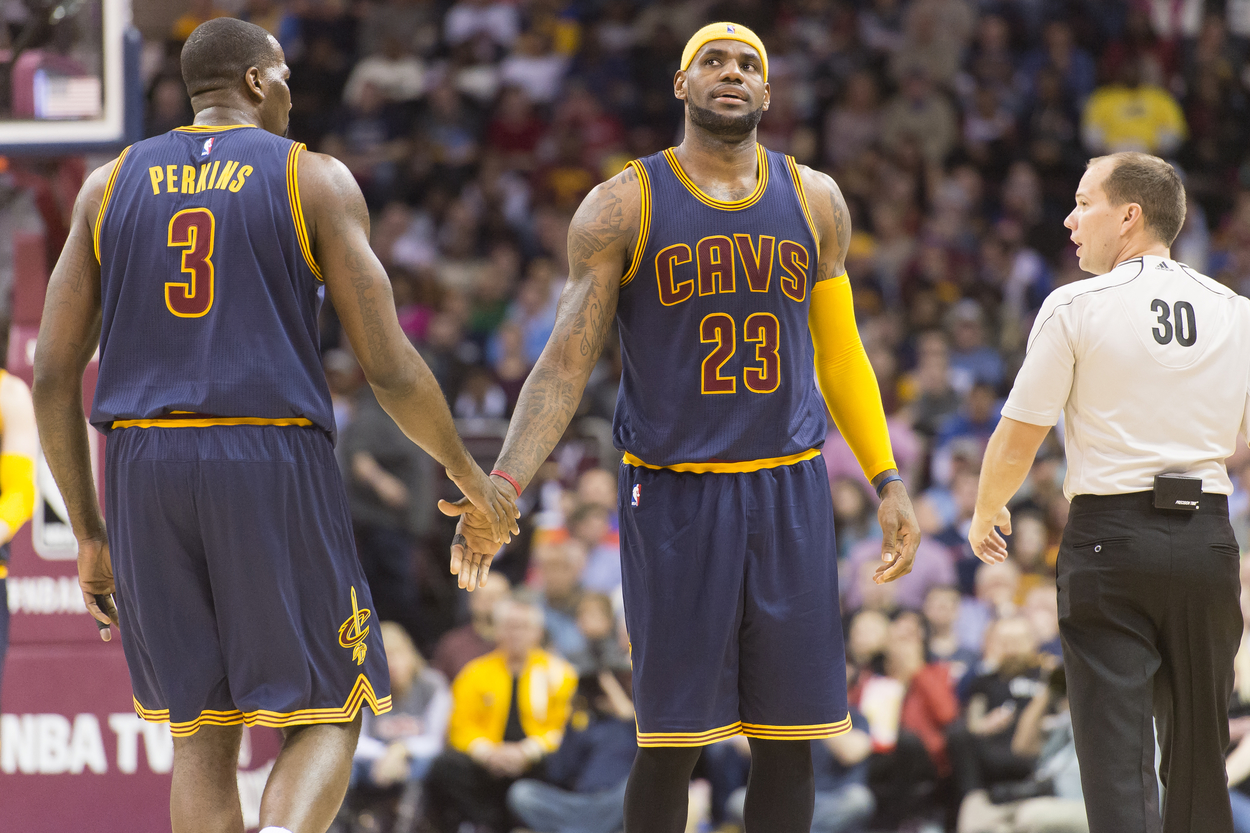 Not to take anything away from Perkins, but perhaps his selection of James at number one is a little biased.
Perkins signed with LeBron's Cleveland Cavaliers in February 2015, James' first year back with the Cavs after a four-season run with the Miami Heat. The 14-year veteran came off of the bench for 17 regular-season games and appeared in eight playoff games, as Cleveland made it to the NBA Finals before falling to Golden State. He then rejoined Cleveland during the 2017-18 season, LeBron's last with the franchise, but played in one game and was inactive for the majority of the postseason.
The two NBA champions still maintain a close relationship. Earlier this year, James congratulated Perkins on his new contract with ESPN.
"Congrats my brother!! Keep going up @KendrickPerkins," LeBron wrote on Twitter, capped off with a few emojis. "Appreciate you, my brother," Perkins responded.
Is LeBron James better than Michael Jordan?
The opinion of Kendrick Perkins will not definitely settle the Jordan-LeBron debate. And there's a good chance it never gets settled, even after James' career is over.
There are excellent cases for both players. In Perk's defense, LeBron winning a Finals MVP for three different franchises is nothing short of impressive. Not to mention, James is the NBA's third all-time leading scorer, two spots ahead of Jordan, and is in striking distance of passing Abdul-Jabbar at number one.
As for Jordan, it's hard to argue against six rings and a perfect NBA Finals record, especially when James is 4-6. Michael also has five MVP Awards, 10 scoring titles, and nine All-Defensive teams, beating James across the board.
At 36 years old, LeBron might need to win at least two more championships before fans deem him worthy of passing Michael. But even if that did happen, his six Finals losses may be too much to overcome. Regardless, Perkins proved there's at least one person in the world who believes LeBron is the GOAT.
All statistics courtesy of Basketball Reference.
RELATED: LeBron James' Biggest Advantage Over Michael Jordan Isn't All That Big After All, According to Metta Sandiford-Artest