ESPN's Keyshawn Johnson Criticizes Baker Mayfield's Motives and Willingness to Risk It All in a High-Stakes Matchup Against the Steelers: 'I Don't Like It'
The Cleveland Browns are entering a high-stakes matchup against the Pittsburgh Steelers in Week 8. After missing the team's last game, a banged-up Baker Mayfield wants to give it a go despite not being 100%. ESPN NFL analyst and former Pro Bowl wideout Keyshawn Johnson is not a fan of the idea of putting Mayfield on the field so soon.
Johnson questioned the Browns quarterback's motives for wanting to play this game.
Browns QB Baker Mayfield believes he has a shot at playing against the Steelers
Baker Mayfield suffered a torn labrum in Week 2 and played through the shoulder injury for several weeks. He missed the Cleveland Browns' last game against the Denver Broncos.
Case Keenum filled in nicely in Week 7. Still, Mayfield believes he has a legitimate shot at playing in the upcoming game against the Steelers.
"It definitely helped. A noticeable difference in range of motion and strength," said Mayfield of his time off per ESPN. "Trying to get that strength back and be able to go as close to 100% as possible. But if that's not the case, then we trust the guys we have out there."
Mayfield has been durable up to this point. He never missed a start before sitting out for Thursday Night Football. The fourth-year signal-caller is hoping that the swelling in his shoulder goes down so he can suit up.
If Mayfield cannot go, Keenum will get his second consecutive start in a pivotal AFC North matchup. The winner will gain traction for a potential wild-card playoff spot down the road.
Keyshawn Johnson doesn't buy Mayfield being close to 100%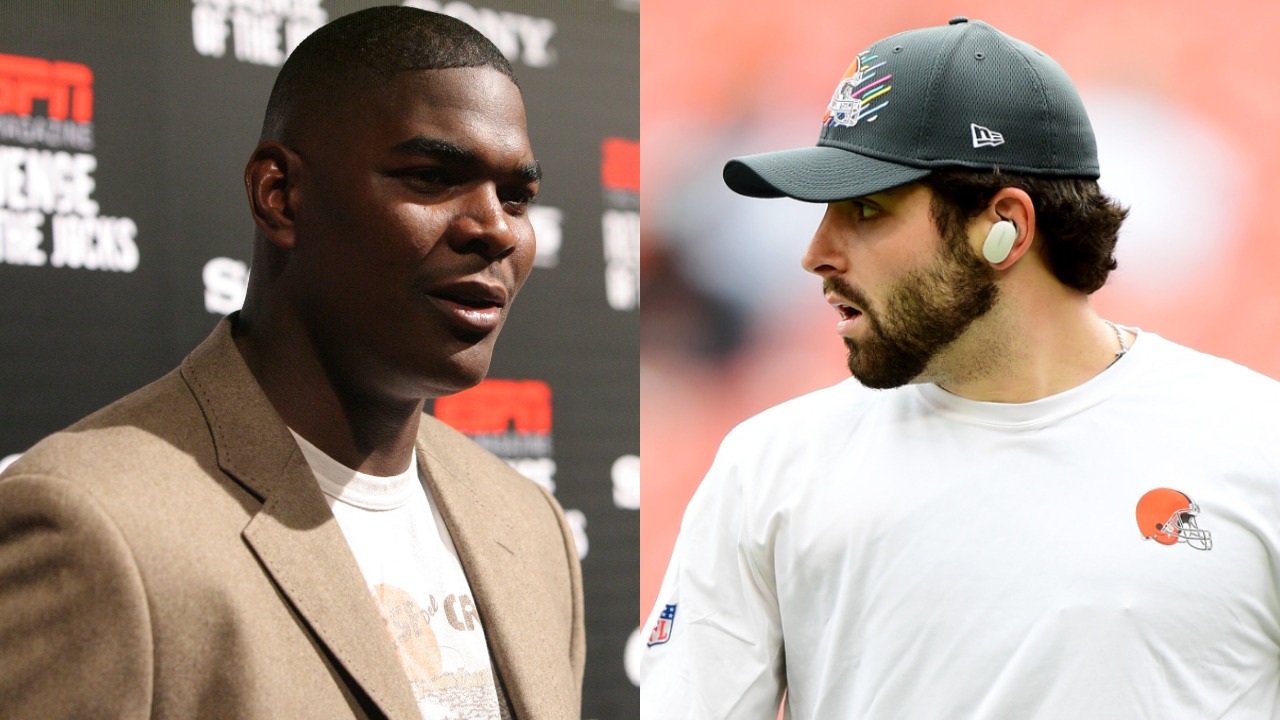 The pressure is mounting on Baker Mayfield to perform at a higher level than he has through the first four seasons of his career. However, playing this week may not be the best idea.
ESPN NFL analyst Keyshawn Johnson criticized Mayfield's willingness to suit up against Pittsburgh on NFL Live.
"I don't like it," said the retired Super Bowl champion. "I just don't. It feels like to me he's trying to get back on the field because somebody played OK last week. And you're starting to mess with my money."
Case Keenum was hardly stellar in the win over the Broncos, but he was certainly effective. He completed 21 of 33 passes for 199 yards and one touchdown. He'll most likely need to do more to take down the Steelers, but that doesn't mean Mayfield is the best option for Cleveland.
"He's taking first-team reps, so now he goes into the game, and shoulder doesn't feel good. Now he leaves in the middle of the second quarter," said Johnson. "Now Case Keenum is getting inserted back into the lineup with a limited amount of reps because Baker took them away from him. You can survive a couple of games with Case Keenum."
Marcus Spears weighed in, and he echoed his colleague's skepticism. "I hope it's not ego," he said. "I have a feeling it is, but I'm hoping it's not because you become a detriment to your team."
Browns could be making a risky move by letting Mayfield start
If the Cleveland Browns start Baker Mayfield against the Steelers in Week 8, they'd be making a risky move for several reasons.
The most obvious risk is the possibility of Mayfield re-aggravating his injury. He may look good in practice, but taking hits from opposing defenders is an entirely different story. A less-than-100% Mayfield just isn't going to get the job done against a division rival with something to prove.
The reward hasn't exceeded the risk up to this point in the season. The Oklahoma product has thrown for 1,474 yards, six touchdowns, and three interceptions in six games. Those are pedestrian numbers for someone who's supposed to be the franchise quarterback.
Case Keenum isn't going to take this team over the top, but neither is Mayfield. Head coach Kevin Stefanski and the Browns have an important decision to make because it could make or break their season.
Mayfield is a former No. 1 overall pick who has underperformed compared to expectations. This is Cleveland's most talented roster in recent memory. If they miss the playoffs, red flags should be going off if they're not already.
The 26-year-old quarterback must be feeling the pressure to win and win now. However, if he gambles and it backfires, Baker Mayfield's future as the Browns' starter could end up even more cloudy.
All stats courtesy of Pro Football Reference.
RELATED: Ben Roethlisberger Throws Massive (and Hilarious) Shade at Cleveland When Discussing the Steelers-Browns Rivalry