ESPN's Matt Hasselbeck Has Changed His Tune on Lamar Jackson and the Ravens: 'He's an Artist, Not a Mathematician'
Article Highlights:
ESPN's Matt Hasselbeck has changed his tune regarding Baltimore Ravens quarterback Lamar Jackson
Hasselbeck admires Jackson's ability to extend plays and carve through defenses
The Ravens' fourth-year quarterback is making a run at his second NFL MVP Award
Baltimore Ravens quarterback Lamar Jackson has spent his four NFL seasons turning critics into believers. ESPN's Matt Hasselbeck is among those who will attest to the quarterback's conversion skills.
Now, Hasselbeck — himself a Pro Bowl quarterback in his day — never openly doubted Jackson the way the likes of former Indianapolis Colts general manager Bill Polian infamously did in 2018. However, the Seattle Seahawks legend is eating the crow, albeit for a far different reason compared to most other critics.
Matt Hasselbeck is extremely confident in Lamar Jackson and the Baltimore Ravens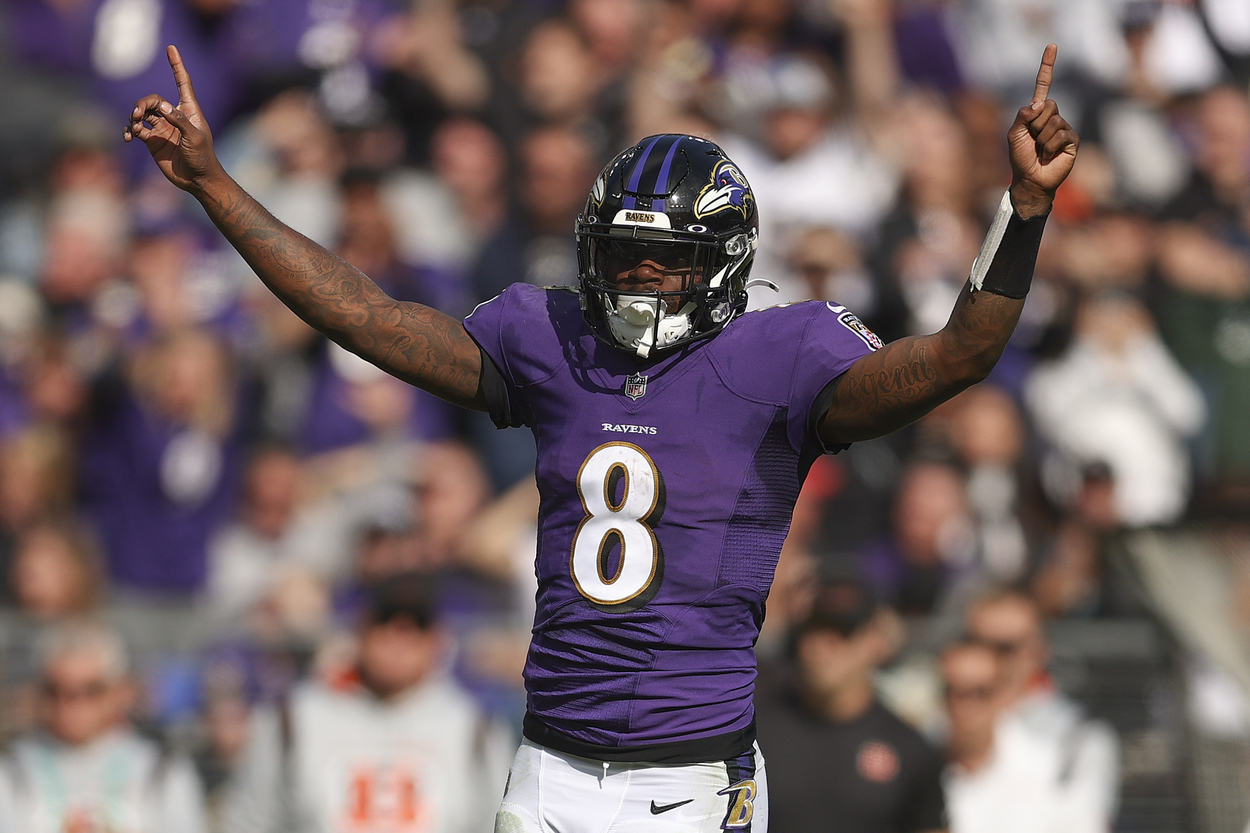 As injuries ravaged the Ravens this summer, it became easy to write Jackson and teammates off. Knee injuries knocked running backs Gus Edwards and J.K. Dobbins, along with star cornerback Marcus Peters, out for the season before Week 1 even arrived.
Jackson has put the team on his back in an impressive fashion, and he's caught Hasselbeck's eye in the process. On the Oct. 24 episode of Sunday NFL Countdown, the Boston College product admitted the 2019 NFL MVP helped him changed his perception of this year's Ravens team.
"Sometimes you go back, and you watch a game, and you say, 'Well, what could we have done differently as a defense?' When I look at Lamar Jackson play, I say to myself, 'There's really nothing the defense could have done.' … He's an artist, not a mathematician. You bait him into certain things, and he does something else. You think he's gonna run it on you with scrambles or designed runs, and he throws 23 or 24 passes from the pocket and beats you that way. He does it all."

Matt Hasselbeck
Jackson completed 64.9% of his passes in the Ravens' first seven games for 1,943 yards, 10 touchdowns, and five interceptions, in addition to rushing for 480 yards and two touchdowns. Perhaps most importantly, he's already led the team on three game-winning drives.
Baltimore ended Week 7 at 5-2 and tied for first place in the AFC North. Joe Burrow and the Cincinnati Bengals, who defeated the Ravens in Week 7, hold the head-to-head advantage.
"I'm telling you, Lamar Jackson should be on everybody's MVP list," Hasselbeck said. "He's playing great football."
Hasselbeck precisely noted why Jackson has the Ravens still alive in the AFC playoff race
For years, we've heard about how defenses will eventually learn to stop Jackson and knock him down to size. ESPN talking heads and Twitter pundits have suggested teams will limit him as a passer and finally stop him as a runner.
Hey, good luck with that. We urge any teams that crack that code to let us know when they also find the Holy Grail.
The Ravens needed Jackson's arm to help them rally in a Week 5 matchup with Carson Wentz and the Indianapolis Colts. All the 2016 Heisman Trophy winner did was complete 37 of 43 passes for 442 yards, four touchdowns, and no interceptions in bringing the Ravens back from a 22-3 deficit.
Three weeks earlier, Baltimore trailed Patrick Mahomes and the Kansas City Chiefs in the fourth quarter. Jackson rushed for 107 yards and scored two goal-line touchdowns in the final quarter en route to avoiding an 0-2 start.
We can go on and on because there are enough of these stories from Jackson's first four seasons. He's never going to beat teams as a pocket passer the way Aaron Rodgers and Tom Brady have and still do, and that's fine. Even if his aggressive playstyle puts him at risk of injury, everything that Jackson does now still works for the Ravens.
At the end of the day, the Ravens are 5-2 in what is quickly proving to be a mediocre AFC. Given his play and a relatively soft schedule stretch involving the Minnesota Vikings, Miami Dolphins, and Chicago Bears, it's not out of the question that Baltimore enters a Week 12 matchup with Baker Mayfield and the Cleveland Browns at 8-2.
Jackson can continue building his MVP case even after a Week 7 loss
If the season ended today, Jackson would have the Ravens in the postseason for a fourth straight year. He'd also possibly earn an MVP vote or two for his troubles, especially considering all he's done given the injuries.
As of publication, Bet MGM gave Jackson +1200 odds (bet $100 and win $1,300) of winning his second career MVP Award. Arizona Cardinals quarterback Kyler Murray's +350 odds lead all players, and Dallas Cowboys quarterback Dak Prescott (+400) is right behind him.
The next few weeks are an excellent chance for Jackson to pad his MVP case. He's facing three mediocre teams, and his offense has looked sharp in recent weeks, even after a 41-17 loss to the Bengals in Week 7.
Even if he doesn't win the MVP, Jackson is going a long way in silencing his critics and showing he's worthy of a massive contract extension. It certainly sounds like Hasselbeck is excited to see what the Louisville product has in mind for his next trick.
How to get help: In the U.S., contact the National Council on Problem Gambling helpline at 1-800-522-4700.
RELATED: Lamar Jackson Just Broke a Record Set by Dan Marino in 1986, and the Ravens QB Has 2.5 More Months to Add to It