ESPN's Matt Hasselbeck Just Revealed the Biggest Misconception Regarding Dak Prescott and the 2021 Dallas Cowboys
Dallas Cowboys quarterback Dak Prescott is healthy, happy, and turning ESPN's Matt Hasselbeck into a believer.
Cowboys fans likely care far more about the first two objects in that list, especially with Dallas riding a four-game winning streak entering Week 6. Still, there's no reason to dismiss Hasselbeck, a three-time Pro Bowl quarterback in his own right, after he offered lofty praise for America's Team and revealed what he believes is a massive misconception regarding the 2021 Cowboys.
Matt Hasselbeck dismissed the idea that Dak Prescott and Ezekiel Elliott carry the Dallas Cowboys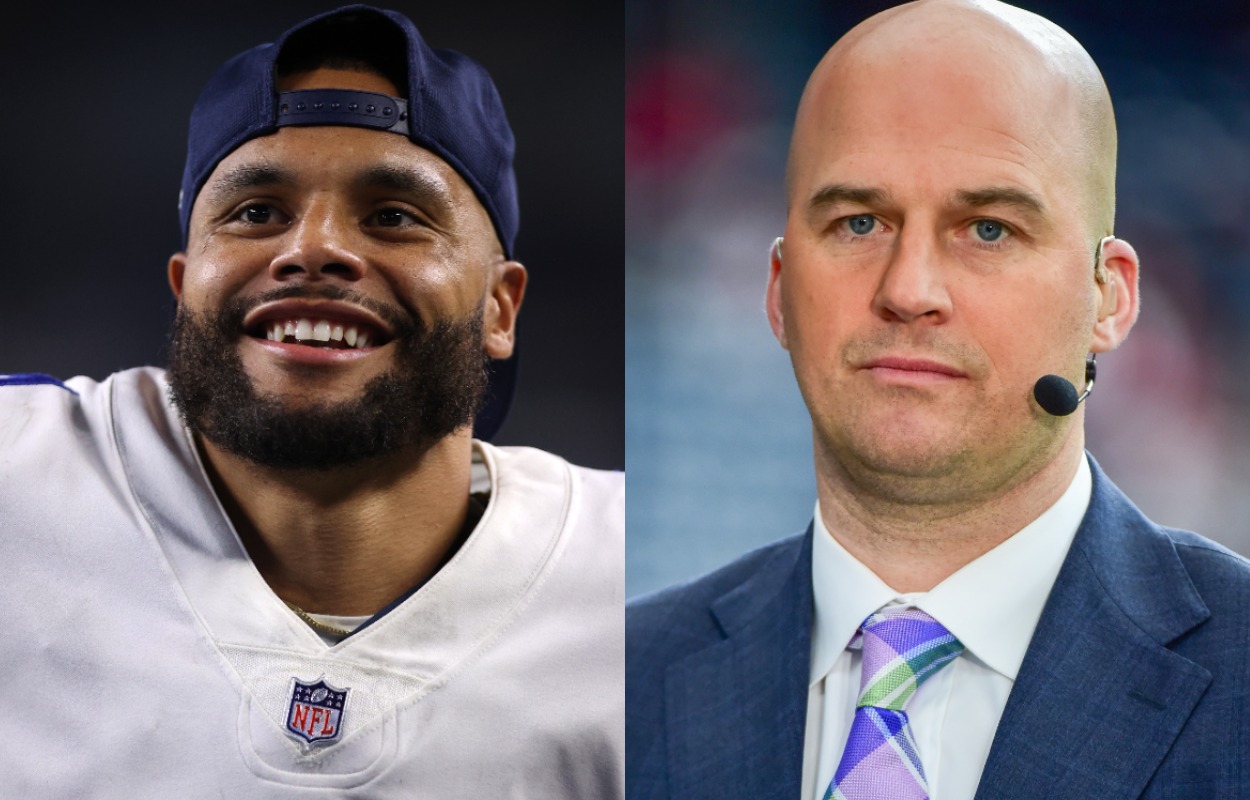 The duo of Prescott and running back Ezekiel Elliott entered the NFL together in 2016. They've partnered for numerous clutch victories, two postseason appearances, massive contracts, and enough frustrating losses to make Cowboys fans consider watching something far more painful: the Star Wars sequels.
Elliott and Prescott's names have, and will continue to be, linked together. They're less successful versions of Tom Brady and Bill Belichick and Kobe Bryant and Shaquille O'Neal.
On the Oct. 10 episode of Sunday NFL Countdown, Hasselbeck explained why he believes that narrative needs to change. The longtime Seattle Seahawks quarterback praised the resurgent Cowboys, who moved to 4-1 later that afternoon following a blowout victory over the rival New York Giants, and zeroed in on a crucial misconception regarding the team.
"I'm starting to really believe in this team because I'm believing in Dak Prescott. Everything starts with this offense with the perimeter players, which is kind of weird because we're always thinking it's Dak and Zeke … but it's really just not. [Prescott is] spreading it around; you don't know where that ball is gonna go, and they're using the tight end position. … Even though, Sam [Ponder], they have let us down time after time, I'm believing."

Matt Hasselbeck
Hasselbeck is jumping on the Cowboys' bandwagon at the right time. Dallas ended Week 4 with a two-game lead in the NFC East division and are on pace to make the postseason for the first time since 2018.
It's hard to dispute Hasselbeck's arguments through the first five weeks
Let's clear something up before anyone misinterprets Hasselbeck's comments. He's not saying that the Cowboys are winning despite Elliott and Prescott's play. In fact, the opposite is true.
Hasselbeck is correct that for years, it appeared the Cowboys primarily relied on Prescott and Elliott to win games. The likes of Amari Cooper, Michael Gallup, and Jason Witten helped, sure, but the Cowboys belonged to their star quarterback and running back.
Let's briefly look back at the Cowboys' Week 4 victory over Sam Darnold and the Carolina Panthers. Prescott threw four touchdowns, each to a different target. Only Dalton Schultz, the starting tight end, had more than four catches for the Cowboys in a 36-28 win.
Compare that to the Week 5 victory against the Giants at AT&T Stadium. Second-year receiver CeeDee Lamb, who only had two catches for 13 yards in Week 4, rebounded with four receptions, 84 yards, and a score in the NFC East clash.
Offensive coordinator Kellen Moore's new approach is certainly paying off. Prescott is completing a career-high 73.9% of his passes through five games and has a stellar 13:3 touchdown-interception ratio this season.
Ezekiel Elliott is benefiting from not needing to carry the Cowboys anymore
Remember when Cowboys fans and fantasy football managers were collectively panicking about Elliott through two weeks? How naive and temperamental we all were.
The three-time Pro Bowler ended Week 5 with 452 rushing yards and five touchdowns on 5.3 yards per carry. Across a full-17 game season, that's a 1,537-yard, 17-touchdown campaign. The Cowboys will absolutely take that from their star running back.
After only recording two 100-yard games in 2020, Elliott matched that total through the end of Week 5. Things are looking up for the right time at the Ohio State product.
If Prescott, Elliott, and the Cowboys keep at their current pace, they'll have an excellent chance at accomplishing what Hasselbeck never had a chance to do: win a Super Bowl.
Like Sportscasting on Facebook. Follow us on Twitter @sportscasting19.
RELATED: Dak Prescott's Brother Blasts ESPN Analyst And Exposes His Freezing Cold Takes About the Dallas Cowboys