ESPN's Brian Windhorst Brings up Tyler Herro's Dating Life When Proving His High Confidence Level
We have a new star in the NBA — Tyler Herro. The Miami Heat are in the midst of an incredible playoff run this season, as they are just one win away from the NBA Finals. Herro is a big reason that they have had so much success too. What's most incredible about Herro's play so far is that he is only a rookie. To play the way he has been playing proves that he has a lot of confidence.
ESPN's Brian Windhorst, who has followed the NBA for years, can certainly tell that Herro has confidence oozing out of his pores. Anyone who has been watching him lately can clearly see that. However, Windhorst has another way to prove Herro's high confidence level — by looking at his dating life.
Tyler Herro has been incredible in the playoffs for the Miami Heat
In college, Herro had a spectacular season at the University of Kentucky in 2018-19. He averaged 14 points per game to go with 4.5 rebounds, and he shot 35.5% from 3-point range. Herro also helped lead Kentucky to a 30-7 record and to the Elite Eight that season.
His play was ultimately so good that the Miami Heat eventually selected him with the No. 13 overall pick in the 2019 NBA draft.
Herro then had a solid rookie season with the Heat this year, as he averaged 13.5 points per game and 4.1 rebounds, and he shot 38.9% from 3-point range. During the playoffs, though, Herro has taken his play to another level.
Through 13 playoff games so far, Herro is averaging 16.5 points per game and 5.7 rebounds. He is also shooting 37.8% from 3-point range. His biggest game so far came during the Heat's Game 4 win over the Boston Celtics in the Eastern Conference Finals. Herro couldn't miss in the game, as he scored 37 points, shot 14-of-21 from the field, and was 5-of-10 from 3-point range.
Herro's incredible playoff performances have helped him make NBA history too. Earlier in the playoffs, he became the first rookie this century to hit four clutch 3-pointers in one postseason, per the Miami Herald. Additionally, he is now in the same club as Magic Johnson. According to CBS Sports, they are the only two rookies in NBA history to score at least 35 points, pull down at least five rebounds, and record three or more assists in one of the two final rounds of the playoffs.
Herro is young, but he has the game and the confidence to take the Heat to the NBA Finals.
Brian Windhorst proves Herro's high confidence level by looking at his dating life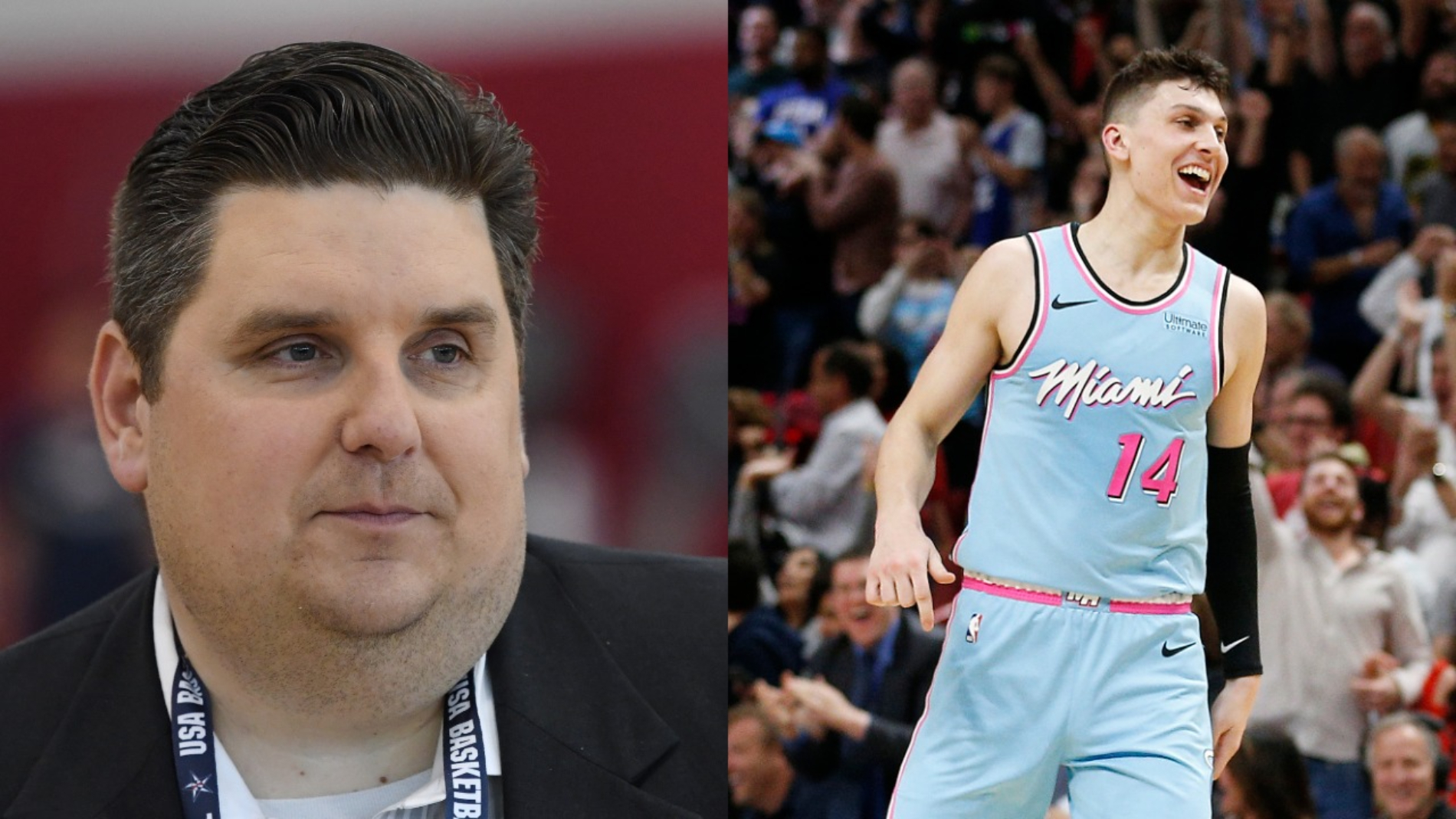 In a recent episode of Brian Windhorst's podcast, Brian Windhorst & The Hoop Collective, Windhorst brought up Herro's dating life when discussing his confidence level.
"I think it was in the movie Moneyball, where the scout was talking about evaluating a player's confidence based on his girlfriend," Windhorst said. "It's sort of an old trope and whatever; it's sort of a funny thing. Herro's confidence is portrayed in his girlfriend, who is an Instagram [model]."
Windhorst then said that he doesn't know much about Instagram models, but "she has seven million followers on Instagram."
He continued: "As far as I know, I haven't questioned Tyler about this, he basically started publicly messaging this Instagram model at the start of COVID, and now they're together, and she's in the bubble with him. … This is a guy who's sending cold messages to famous IG models."
Windhorst, who said he was making a joke, concluded by saying, "As if you didn't need more evidence of his confidence, there's another thing for his confidence.
Who is he dating?
So, since Windhorst brought it up, who is Herro dating?
According to an article that the New York Post posted in July, Herro is dating Katya Elise Henry, and they first connected during the early months of quarantine. 
Additionally, if the amount of followers does, in fact, matter, yes, she has over seven million followers on Instagram.
It'll be interesting to see if Herro can continue to display this unreal confidence level for the remainder of the NBA playoffs. If he does, the Heat will be tough to beat.
Stats courtesy of Basketball Reference