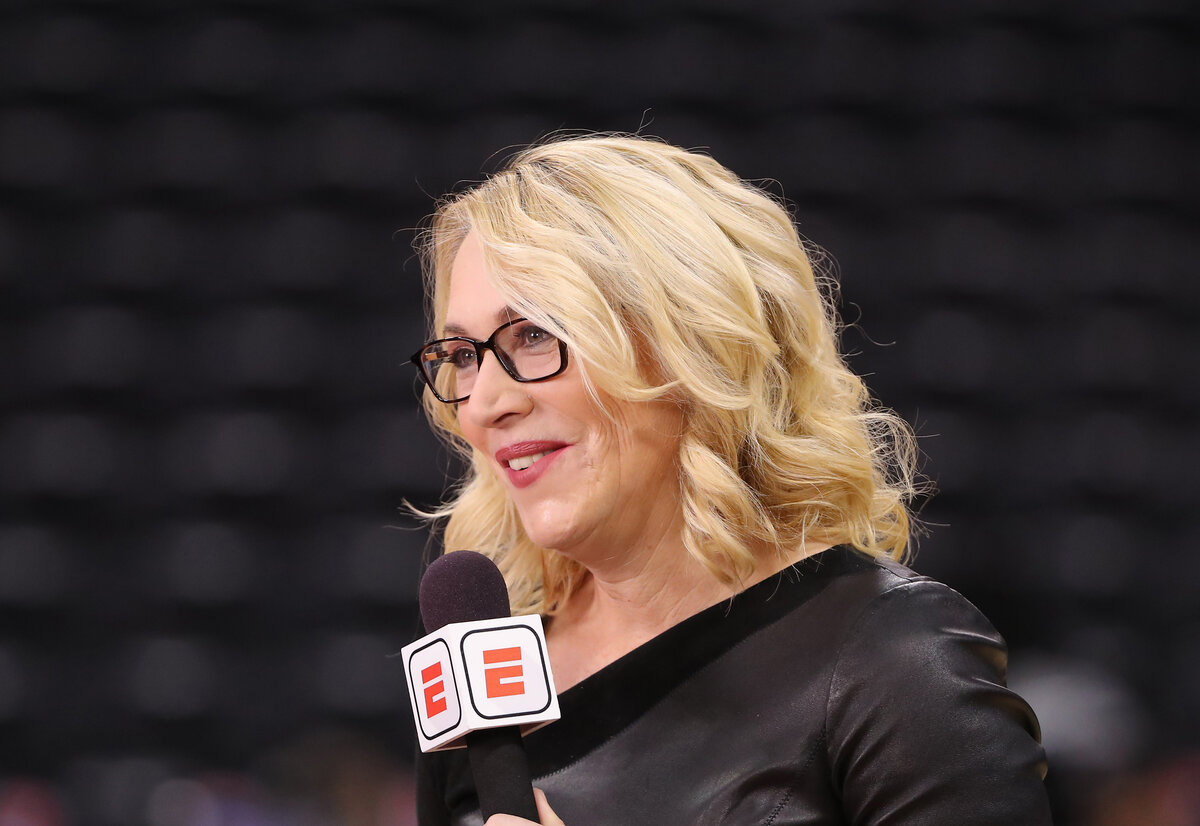 ESPN's Doris Burke Vowed That She Wouldn't Complain About the NBA Bubble
ESPN announcer Doris Burke worked in the NBA bubble last summer, and she had a commendable reason for why she never complained about anything.
As basketball's presence has grown around the world, so has that of ESPN broadcaster Doris Burke.
A sports media fan favorite, Burke has become an instrumental part of ESPN's NBA and college basketball coverage. Burke joined the likes of Malika Andrews and Mike Breen among those from ESPN who worked in the NBA bubble last summer.
Although the bubble had some well-publicized problems, Burke had her reasons for never publicly complaining about anything in Orlando, Fla.
Doris Burke is a popular NBA announcer on ESPN
Although Doris Burke has seemingly been around forever, few at ESPN experienced bigger breakout decades than she did in the 2010s.
Much like how ESPN prioritized Stephen A. Smith in its dedication to debate, the network made Burke a focal point of its basketball coverage in recent years. ESPN even named Burke a full-time analyst for games on both the Worldwide Leader and ABC in 2017.
Burke became the first woman to call NBA conference finals and NBA Finals games on the radio in 2020.
A former point guard at Providence College (Conn.), Burke received the Naismith Memorial Basketball Hall of Fame's Curt Gowdy Media Award in 2018.
Burke worked in the NBA bubble last summer
When the NBA announced plans to restart the 2019-20 season at a bubble environment amid the coronavirus pandemic last summer, companies had to decide who, if anyone, they would send.
ESPN included Doris Burke among the many reporters and broadcasters who traveled to Orlando. The network's No. 1 broadcast team of Mike Breen, Jeff Van Gundy, and Mark Jackson all also worked in the bubble.
ESPN sent numerous reporters, including Adrian Wojnarowski, to the bubble. Wojnarowski arrived later than others after he served a suspension for sending a profane email to Missouri Senator Josh Hawley.
The NBA bubble lasted from mid-July to the middle of October. LeBron James and the Lakers defeated the Miami Heat on October 11 to end the NBA Finals.
Doris Burke vowed that she wouldn't complain in the bubble
Players and media members alike documented their time in the bubble on social media.
Some complained about the food, while others — primarily media members who had to quarantine — discussed feelings of isolation and boredom. The NBA held virtual press conferences instead of traditional interview settings.
Burke spoke with The New Yorker while she worked in the bubble. At one point in the interview, Burke explained why she vowed that she wouldn't nag or moan about the conditions there.
"I don't want to complain, mostly because I am very mindful of the fact that there have been economic realities to this pandemic. The one challenge is that it's difficult to be away from your family for such an extended period of time and not be in the comfort of your own home, eating the foods you eat and doing all the normal daily things that give you comfort in your home."
Burke's stance is a commendable one, and it is clear that she understood the gravity of the bubble.
College basketball players and writers would be wise to follow in Burke's footsteps and adopt her mentality at the 2021 tournaments. According to NPR, the entire men's tournament will be held in Indianapolis and is expected to have a bubble-like environment.
It is not yet known if the women's tournament, which will be held in Texas, will also adopt a similar strategy.
Like Sportscasting on Facebook. Follow us on Twitter @sportscasting19.