ESPN's Mark Jones Is Getting Torched for a New Controversy Involving Misinformation and the Jacob Blake Shooting
Longtime ESPN announcer Mark Jones has developed a negative reputation on social media for a history of controversial actions and language.
Jones, who is also the Sacramento Kings' television play-by-play announcer, recently ignited another Twitter firestorm. However, unlike past incidents where Jones' Twitter account started the fire, his on-air comments created this problem.
Mark Jones spread misinformation about the Jacob Blake shooting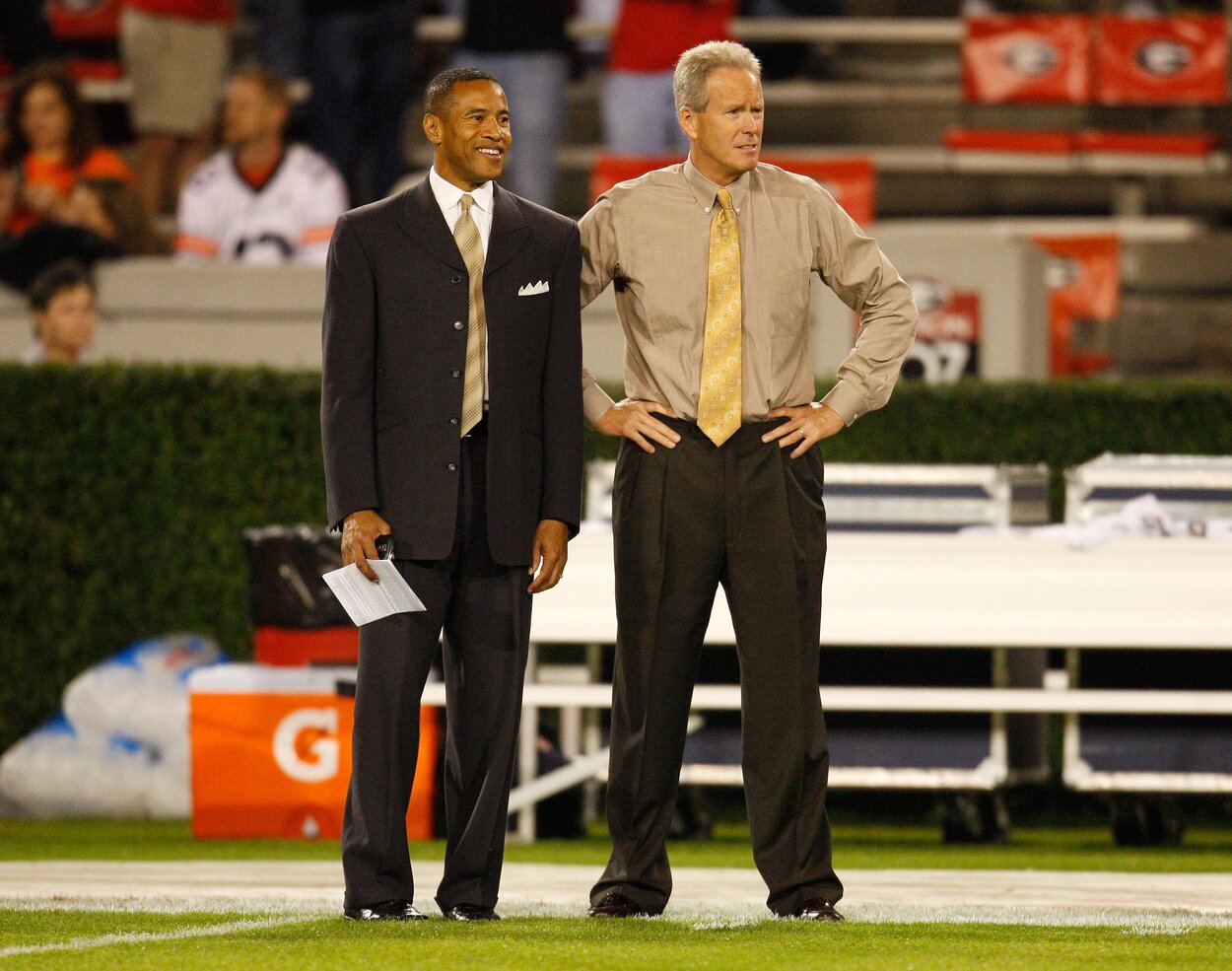 Mark Jones is once again in the middle of another controversy.
Everything began when ESPN honored legendary Lakers forward Elgin Baylor, who died on March 22, in a recent game between the Milwaukee Bucks and Los Angeles Lakers. Jones, who splits duties between ESPN and the Sacramento Kings, did play-by-play that night. 
During the brief segment regarding Baylor, Jones discussed the Hall of Famer's decision to boycott a Lakers game in 1959 to protest racism. Baylor refused to play against the Cincinnati Royals in Charleston, W.Va., because Black players were denied service in the team's hotel. 
Jones transitioned into discussing NBA players' decision to boycott playoff games last year after the shooting of Jacob Blake, a Black man from Wisconsin. When discussing Blake, Jones made comments that later became controversial.
"Blake, of course, was unarmed and shot seven times in the back."
According to ABC 7 in Chicago, Blake told Good Morning America in January that he dropped a "little pocket knife" while walking away from police. Blake said that he went to place the knife in his car after he retrieved it, but police said he tried to attack them.
ESPN has not yet commented on the Jones situation
Initially, Mark Jones' comments seemingly went under the radar.
It wasn't until Outkick's Bobby Burack reported on Jones and the misinformation that the story gained traction. Burack reached out to ESPN, and the network denied comment.
As of publication, ESPN still had not commented on the situation. The Sacramento Kings, who employ Jones as their television play-by-play voice, also had not said anything at publication.
Jones also had not issued a retraction or clarification on social media.
Jones has a history of controversial comments and behavior
Mark Jones has been a magnet for controversial incidents over the last year.
Many of those problems, however, happened on social media. Jones "liked" tweets that mocked San Francisco 49ers pass-rusher Nick Bosa for tearing his ACL last September. While at Ohio State, Bosa had made tweets supporting President Donald Trump. 
Outkick's Clay Travis reported in September 2020 that Jones retweeted a post calling Trump a "White Supremacist terrorist." That same week, Jones tweeted his plans involving the traditional police escort.
"Saturday at my football game I'll tell the police officer on duty to 'protect' me he can just take the day off. I'd rather not have the officer shoot me because he feared for his life because of my Black skin or other dumb ish. I'm not signing my own death certificate."
Jones has worked for ESPN and ABC for over 30 years, and that isn't by accident. He is a veteran play-by-play voice who has a storied background, especially in the NBA.
However, Jones has been in the news more for his behavior than he has for an exciting call or a humorous moment on air. The time may need to arise where ESPN and the Kings intervene before they start losing money and viewers.
Like Sportscasting on Facebook. Follow us on Twitter @sportscasting19.