ESPN's Max Kellerman Continues to Fight His Way to the Top After His Brother's Tragic Death
For years, Max Kellerman has been one of the most popular faces on ESPN. Through his years on SportsNation to now being on First Take with Stephen A. Smith and Molly Qerim Rose, Kellerman's thoughtful opinions have always polarized ESPN viewers. While he is undoubtedly at the top of his profession, the road to get there has not been easy for Kellerman. 
Max Kellerman started as a boxing analyst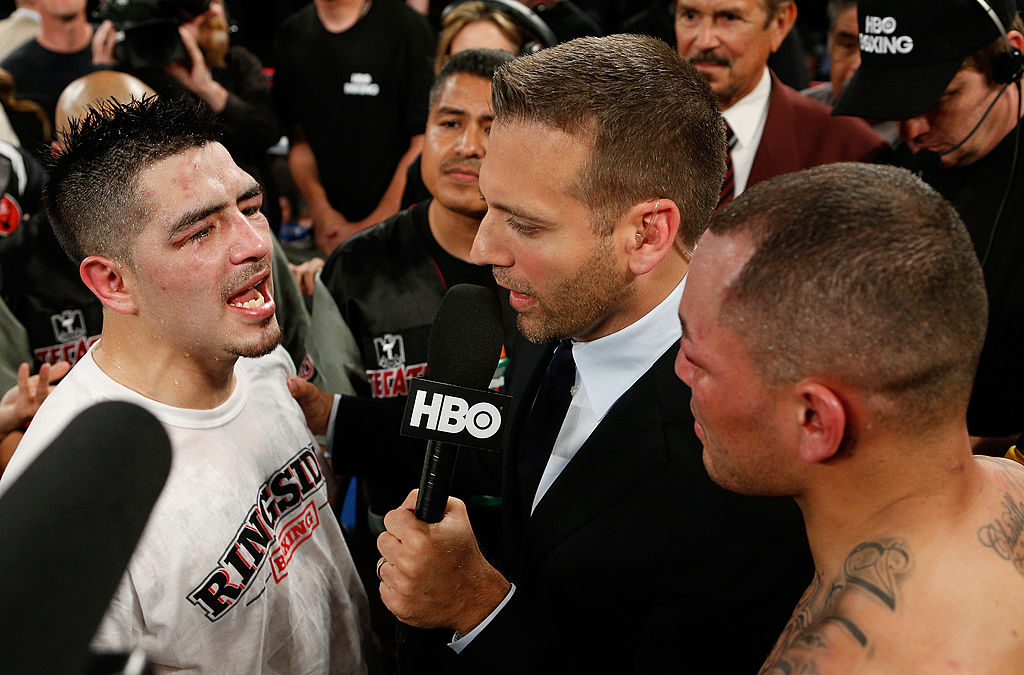 Throughout the years, Max Kellerman has had many different roles at ESPN. Being a huge boxing fan and expert, Kellerman was an analyst on ESPN's Friday Night Fights series. He also did ringside commentary on Tuesday Night Fights, according to ESPN Press Room.
He then also appeared on different shows and platforms over the years. This includes big shows like SportsCenter and Pardon the Interruption. Kellerman was also the original host of the long-running show, Around the Horn.
Kellerman did some boxing coverage on HBO over the years too and was then a co-host on SportsNation before joining First Take. He also hosted a radio show with his SportsNation co-host Marcellus Wiley called Max & Marcellus, according to ESPN Press Room.
Then in 2016, Kellerman really became one of the top personalities at ESPN.
Replacing Skip Bayless on First Take
Skip Bayless was at ESPN and on First Take for many years, but he left and joined FOX Sports in 2016. ESPN then announced in July 2016 that Kellerman was going to replace Bayless and join Stephen A. Smith and Molly Qerim Rose on the show.
"I'm thrilled to join the excellent team at First Take," Kellerman said in 2016, according to ESPN Press Room. "Years back, on-the-air and in the hallways of ESPN Radio New York, Stephen A. and I would engage in detailed and thoughtful discussions on sports and every other topic you can imagine. To do that again, now for the First Take audience, is going to be a lot of fun."

Max Kellerman
Kellerman has been on First Take since. Additionally, with HBO recently leaving the boxing business, Kellerman signed a multi-year contract extension with ESPN in 2019 that included an expanded role in boxing coverage, according to ESPN Press Room. Because of Kellerman working his way to the top, Celebrity Net Worth estimates that he is worth $6 million. 
Kellerman's brother was tragically murdered
Max Kellerman's rise to the top has truly been inspirational, especially when looking at what he has been through. In 2004, former boxer James Butler murdered Kellerman's brother Sam Kellerman who was a sports writer. The autopsy reports said that Sam was struck from behind with a blunt object more than 30 times, according to the New York Daily News. Sam and Butler were friends, according to ESPN, and Butler had been staying at his apartment.
Butler ultimately pleaded guilty to voluntary manslaughter and arson, according to the Los Angeles Times, as he also admitted to setting a fire in the apartment. Prosecutors did not give any motive for the murder, according to the Los Angeles Times. Butler reportedly had bipolar disorder and was arrested at UCLA Medical Center five days after the murder, according to the LA Times. He was at the medical center to seek psychiatric care.
"It was after that I lost my mind. I really didn't care what was happening," Kellerman said in 2009, according to the New York Daily News. Kellerman also talked about his brother's passing on Hot 97 in 2016.
"My brother Sam was also a genius, he was a brilliant guy," Kellerman said on Hot 97. "Nothing will erase your memory like trauma. I have patches in my memory that are gone. It was five years before I could function like a regular human being and then still – it's rough."

Max Kellerman
It is no doubt that Max Kellerman is one of the most successful personalities on ESPN. Even when you disagree with his opinions, his thoughtful arguments at least make you start to second guess yourself. His rise to the top has not come without some very tough trials, though, which makes his story an inspiration for everyone.