ESPN's Michael Wilbon Obliterates Kevin Durant For Calling Out NYC Mayor
Kevin Durant returned from an MCL injury on March 3 and hasn't missed a beat. The Brooklyn Nets star is averaging 32 points and 10.3 rebounds per game since then as he tries to help his team climb the Eastern Conference standings.
Those are good reasons to be in the news.
But KD threw himself in for all the wrong reasons on March 13 with his comments about New York City mayor Eric Adams and the city's current vaccine mandate.
Durant has since walked back some of that criticism. But not before ESPN's Michael Wilbon had his say on the 12-time All-Star's remarks.
Kevin Durant criticized NYC mayor Eric Adams after a Brooklyn Nets win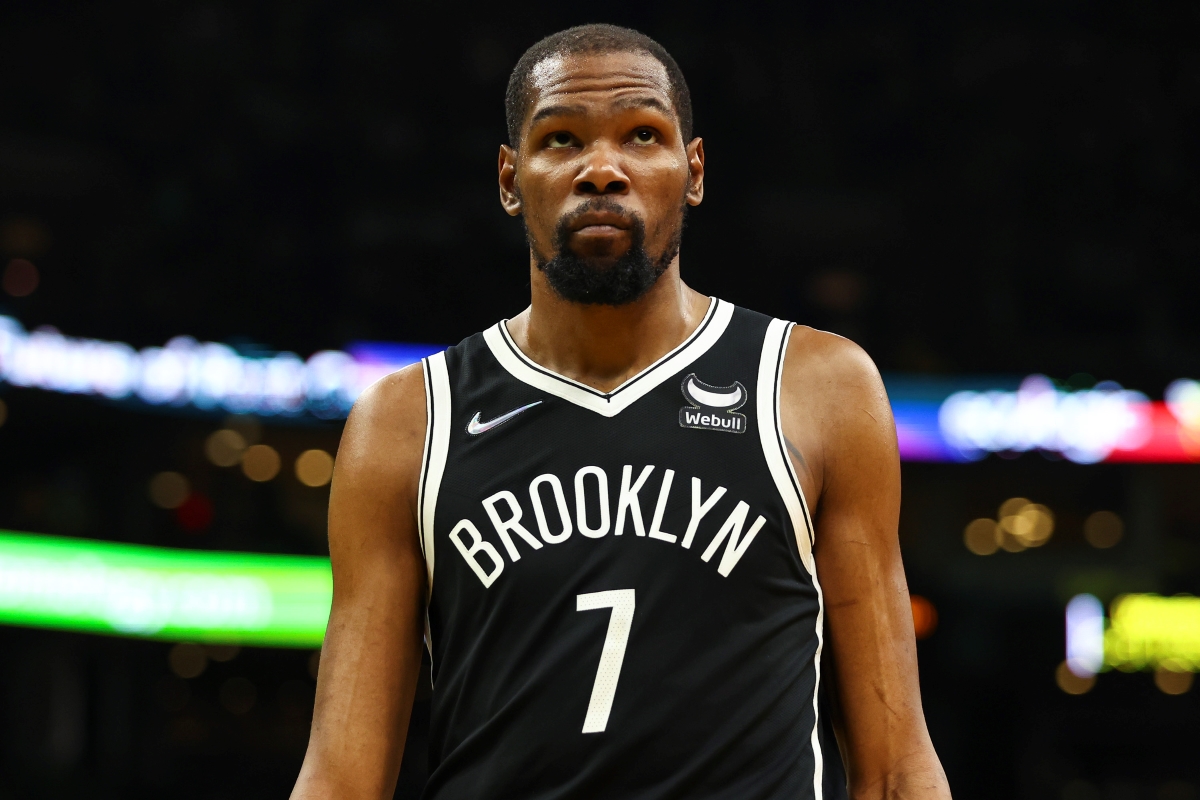 The drama stems — and continues to stem — from Nets guard Kyrie Irving's inability to play home games. Except this time, it wasn't even a home game.
Irving wasn't allowed to play in his team's matchup with the New York Knicks in Madison Square Garden, but he was allowed to show up to the arena. As a fan.
Kyrie had the opportunity to be in the building (did he buy a ticket? How exactly did this work?) but couldn't take the floor as an actual NBA player.
Some of the city's restrictions were lifted by Adams, but the ones that would allow KD's partner to play are still in place.
Employees who work for a New York-based business are still required to be vaccinated. As an unvaccinated employee of the Brooklyn Nets, Irving cannot play.
Durant grew frustrated with the rule that saw his teammate able to attend the game but not play alongside him, per SI.com.
"It's ridiculous," Durant said. "I don't understand it at all. … It just feels like at this point now, somebody's trying to make a statement or a point to flex their authority. But everybody out here is looking for attention and that's what I feel like the mayor wants right now, is some attention."
Wilbon wasn't picking up any of what Durant was throwing down.
Michael Wilbon went after KD for his "impertinent" comments
Wilbon, Jalen Rose, and Stephen A. Smith discussed Durant's comments on ESPN's NBA Countdown. And the longtime NBA reporter didn't hold anything back.
"Kevin Durant is too aware and too plugged in to say something that impertinent. … You wanna call out somebody, call out your teammate, tell him to get a shot.

"All these guys want to be so irresponsible and not accountable enough to look at this dude and tell him, 'You want to play with us? Put a shot in your arm.' The vaccine is not about attention. People died. Hundreds of thousands of them from this virus.

"You think the mayor of New York needs to attend to a basketball team's needs? Your needs? Before he needs to attend to the needs of a metropolitan area, the biggest in America? Are you kidding me?"

Michael Wilbon on Kevin Durant's comments about NYC mayor Eric Adams
Needless to say, Wilbon was not a fan of what KD had to say.
Durant walked it back but Brooklyn's dilemma remains the same
The Nets star released a statement the following day, pulling back on some of his harsher comments and saying in part, "I do appreciate the task the mayor has in front of him with all the city has been through."
Vaccines and mandates aside, however, Brooklyn is still eighth in the Eastern Conference standings and needs to start winning games.
Even with KD's 32 and 10 stat line since returning, his team has lost two of those five games. The Nets are closer to dropping to 10th place in the East (1.5 games) than approaching the seventh-place Toronto Raptors (three games).
The simple fact is that Irving is not allowed to play in New York. That limits Brooklyn's second-best player to a part-time role. And Ben Simmons, who arrived in the James Harden trade, still hasn't played.
Durant needs to pay more attention to what's happening on the court than what's happening with vaccine mandates because his team's season depends on it.
All statistics courtesy of NBA.com.
RELATED: Kevin Durant Ruthlessly Called Scoreboard On Philadelphia 76ers Fans