Esteban Ocon is Not Fred Flintstone, Blames Damaged Floor for Losing Saudi Arabian GP Podium to Valtteri Bottas
Esteban Ocon could have thought he was Fred Flintstone.
Over the final two laps of the Saudi Arabian Grand Prix on Dec. 5, Ocon's Formula 1 machine had a gaping hole along the floorboard.
Like the classic cartoon character who ignited his stone-aged vehicle by lowering his feet to the ground and started running, Ocon, who lost the podium on the last turn of the final lap, probably thought about putting his legs through the hole and start running himself.
That would have been a sight.
Esteban Ocon was one turn away from a P3, but the floor came out from under his effort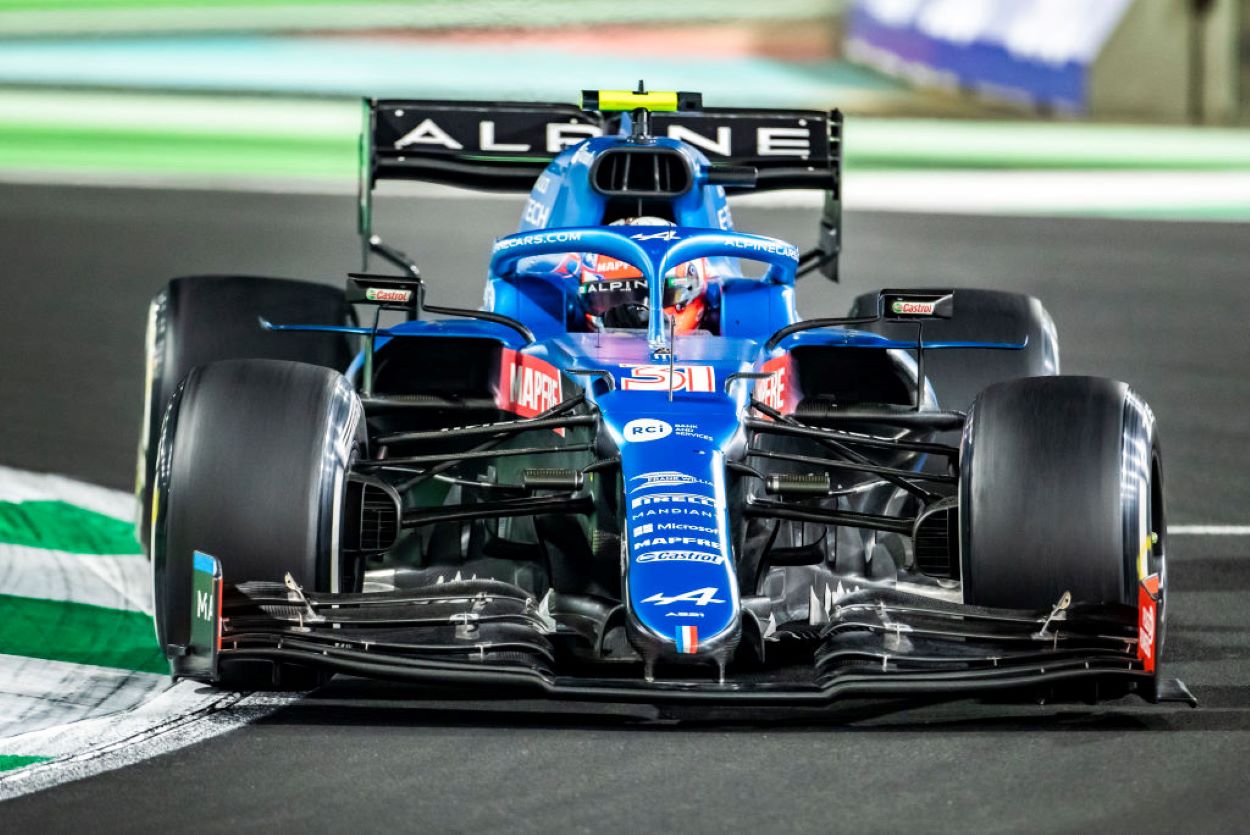 Valtteri Bottas, summoning some Mercedes magic, targeted the Alpine F1 Team driver and took advantage of Ocon's age-old problem. Who can drive with a hole in the floor besides Fred Flintstone?
Otherwise, Ocon was strong, running a distant third to the embattled eventual winner, Lewis Hamilton, and runner-up Max Verstappen. The top two F1 drivers are tied in the drivers' standings, with one event remaining in the 2021 schedule.
Ocon started the Saudi Arabian GP at P9, but had an eventful early spin. He fought off Yuki Tsunoda, earned track position by foregoing an early pit stop, and climbed to high as first place following the second red flag. Both Hamilton and Verstappen surged past him on the restart as Ocon settled into third place.
In 88 career F1 starts, Ocon has one victory and two podiums. Entering the season's final race, Abu Dhabi GP, on Dec. 12, he sits in 11th place in the drivers' standings with 72 points, five behind Alpine teammate Fernando Alonso.
Alpine appeared poised to earn its second-straight podium after Alonso placed third during the Qatar GP on Nov. 21, snapping a seven-year hiatus from standing on a podium.
But then, Ocon's floor started to deteriorate.
His parents' sacrifice and determination helped Ocon rise to F1
Ocon learned two things from his parents while he was young: sacrifice and overcoming adversity. When he was growing up racing karts, he showed flashes of potential. His parents decided to invest everything they had in their son. They sold their family home, quit their professions, and hit the road.
The vagabond Ocons lived in a caravan, traveling from one race to another.
In 2014, Ocon enjoyed a breakthrough campaign, capturing the European F3 title by edging a young Verstappen. The following year, piloting a Mercedes single-seater, he claimed the GP3 championship.
He joined Alpine in 2020.
His path to an F1 seat has been long and bumpy, but sacrifice and determination drove him this far.
Indeed, a hole in the floor wouldn't deny him.
Ocon: 'We suddenly lost quite a lot of performance in the last two laps'
Over the final two laps at the Saudi Arabian GP, Ocon sensed a drag on his machine.
He saw Bottas coming on strong and blocked his advance until the final corner. Ocon and Bottas raced to the finish line. With a hole in his floor, Ocon failed to maintain the advantage. The banged-up car withstood clashes against Tsunoda and Hamilton off the second restart.
"We suddenly lost quite a lot of performance in the last two laps," Ocon told formula1com after the race. "So, we lost a big chunk of the floor two laps from the end, and I was quite a lot slower."
Too slow for the podium.
Bottas, utilizing Mercedes' straightaway power, blazed by Ocon, beating him to the finish by approximately one-tenth of a second.
At the end, Ocon probably wanted to get out and push – or at least put his feet through the opening of the floor and start running, like Fred Flintstone.