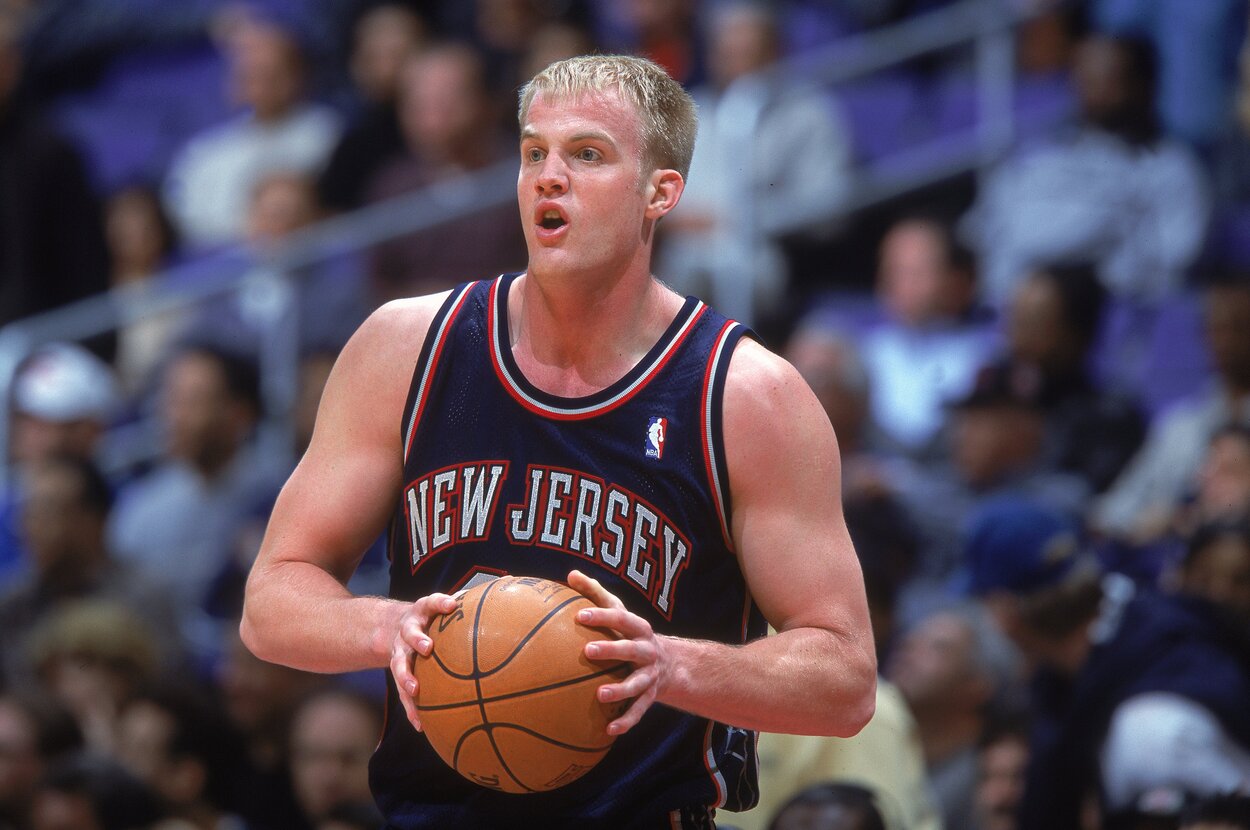 Evan Eschmeyer Joined Barack Obama's Presidential Campaign After His NBA Career Ended
Evan Eschmeyer went from the New Jersey Nets to working on Barack Obama's presidential campaign within a few years. This is his story.
What do the Brooklyn Nets and Barack Obama have in common? Just ask Evan Eschmeyer.
Technically, Eschmeyer played for the Nets when they were still in New Jersey, but the point remains. After his NBA career ended, Eschmeyer went from Nets center to helping Obama reach the White House.
Evan Eschmeyer played four NBA seasons
Earning All-American honors at Northwestern wasn't enough to propel Evan Eschmeyer into the 1999 NBA draft's first round.
The New Jersey Nets, still over a decade away from moving to Brooklyn, used the fifth pick of the second round on Eschmeyer, a 24-year-old center. Eschmeyer averaged 3.3 points and 4.5 rebounds across 105 games and 56 starts in two seasons with the Nets.
The Dallas Mavericks thought highly enough of Eschmeyer that they signed him to a six-year, $20 million deal in 2001 after he averaged 3.4 points during the 2000-01 season. Injuries, including knee problems, limited Eschmeyer to 1.6 points and 2.6 rebounds in 48 games and nine starts for the Mavericks over the next two years.
Eschmeyer added 0.8 points, one rebound, and 0.6 steals across five minutes in eight playoff games with the Mavericks.
That move is likely one that Mark Cuban might want to take back. Lingering knee problems forced Eschmeyer to retire in August 2004, only a few months after turning 29.
Eschmeyer later joined Barack Obama's presidential campaign
Evan Eschmeyer returned to Northwestern after retiring and enrolled in the school's law-business double-degree program.
A few years later, Eschmeyer helped an important Illinois figure achieve a lifelong dream. Eschmeyer was involved in Barack Obama's 2008 presidential campaign.
Maybe having a former NBA player among his ranks gave Obama, a devout Chicago Bulls fan, some extra luck. Obama secured the Democratic nomination and defeated John McCain in the election.
Obama served two terms as President of the United States. He recently appeared in ESPN's The Last Dance, a documentary about Michael Jordan and the Chicago Bulls.
Where is Evan Eschmeyer now?
Evan Eschmeyer, by his own admission, struggled with the mental toll of having injuries that ended his NBA career at age 29.
In a 2008 interview with Northwestern Magazine, Eschmeyer reflected on how his knee problems forced him to re-evaluate his life and start over.
"Being forced out of the NBA was one of the most difficult things I have ever been through. Imagine you take a world-class painter and cut off his hands so he can never paint again. All of a sudden basketball was gone, and I couldn't even play pickup with my dad."
Eschmeyer has stayed busy in the nearly 15 years since he worked on Barack Obama's campaign. According to his LinkedIn, Eschmeyer is the CFO of Atlas Tower Group in Boulder, Colo.
Eschmeyer joined the company in 2013. According to Basketball-Reference, Escmeyer earned over $17 million in the NBA.
All stats and contract figures courtesy of Basketball-Reference.