Evan Mobley Garners Wild Comparisons to Anthony Davis and Chris Bosh Ahead of NBA Draft
Evan Mobley will be one of the first picks off the board in Thursday's NBA draft, and some evaluators feel he could be an intriguing blend of Anthony Davis and Chris Bosh.
Mobley starred for the USC Trojans this past season, averaging 16.4 points, 8.7 rebounds, 2.4 assists, and 2.9 blocks per contest. He dominated the paint with his size and length and also impressed with his explosive athleticism and ability to handle the ball in the open floor.
The 7-footer is unlikely to be selected before Oklahoma State guard Cade Cunningham and G League Ignite star Jalen Green. Still, evaluators are conjuring up images of Mobley that would suggest he could be the best player in the 2021 NBA Draft.
Evan Mobley's tools give him immense upside as an NBA draft prospect
Mobley's size is obvious, but it's how he complements the size that makes him one of the top prospects in the NBA draft.
The California kid is remarkably athletic and skilled for a player of his size. Mobley routinely showed he was comfortable handling the ball in transition. He boasts a strong second jump and excels at rotating to block or contest shots.
Additionally, Mobley was unafraid of expanding to the perimeter. He averaged 1.2 three-pointers per game. The same goes for the defensive end. Mobley can hedge on screens and force guards to pick up their dribble while still having the agility to recover and get back to his assignment.
Mobley can do some of the things a more traditional big man might do. He can leverage his size to get off hooks against smaller opponents on the low block and uses his quickness to score in the paint. Mobley also rolls hard to the rim on screens and can finish through contact.
However, it's the more nontraditional skills Mobley possesses that practically has NBA draft scouts wetting their pants.
One scout envisions Mobley as a blend of Chris Bosh and Anthony Davis
Mobley's potential as an athletic stretch-big and the generational defensive playmaking are resulting in some wild comparisons.
Longtime NBA draft analyst Chad Ford said an insider told him Mobley is comparable to a certain Hall of Famer on the offensive end and a surefire future Hall of Famer from a defensive perspective.
"I had one scout tell me the other night that Mobley is Chris Bosh on offense and Anthony Davis on defense," Ford said, via Chris Fedor of cleveland.com. "That's an NBA superstar. That's crazy."
The comparisons are not without merit. Bosh transformed his offensive style as his career went along, eventually becoming a floor-spacing big who could knock down triples while still executing on the low block. There are similarities between him and Mobley in body type as well.
Many basketball fans probably remember Davis as the supreme and slender defender in college basketball before becoming a superstar in the NBA. Davis' own length and athleticism keyed his dominance on that end, and he hunted blocks. Mobley is much the same and can easily recover to swat the ball when smaller guards drive past him.
Those comparisons place a lot of pressure on Mobley to live up to the hype. However, he seems ready for the challenge.
Mobley is buying into his "unicorn" status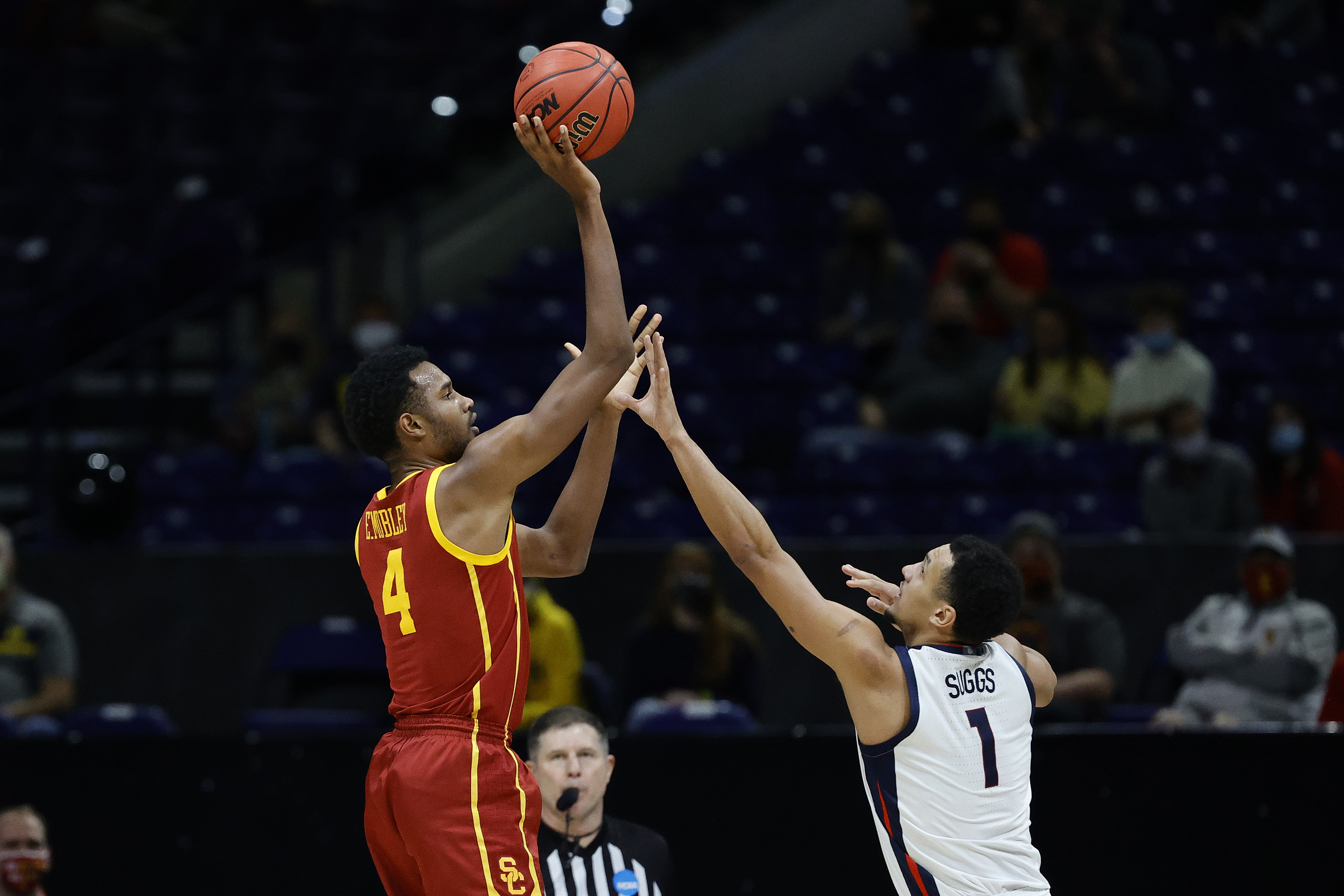 Mobley doesn't want to be lumped in with the rest of the top prospects in the draft. He thinks he's meant to be different. The scouts apparently agree.
"I think I'll be a generational player that no one has really seen before," Mobley said, via Fedor. "That's what I'm aspiring to be, and I'm just going to keep working and staying in the gym until I get there."
Mobley said he doesn't think there is any one perfect comparison for the things he can do on a basketball court. Still, if he is anything like Bosh or Davis, he should supply a lucky fan base with endless thrills.
It remains to be seen where Mobley is drafted on Thursday, though many expect he could go No. 3 to the Cleveland Cavaliers.
Stats courtesy of CBB Reference.
RELATED: Jalen Suggs Issues a Stern Warning to Teams Who Pass on Him in the 2021 NBA Draft